A history lesson that becomes an immersive walk through a long-lost city; a business presentation that transports you to a time when a proposed project is completed; or an event where, instead of staring at a screen, participants see a digital world assembled before their eyes. With this vision of the future shared by enthusiasts of virtual reality (VR) and augmented reality (AR) across the globe, the technology could soon sweep the region.
Virtual Reality Cambodia, founded by VR and AR enthusiast Saraboth Ea, signed a memorandum of understand with Hiverlab last week that set up a framework for the two companies to expand immersive technology solutions among companies, organisations and schools in the region.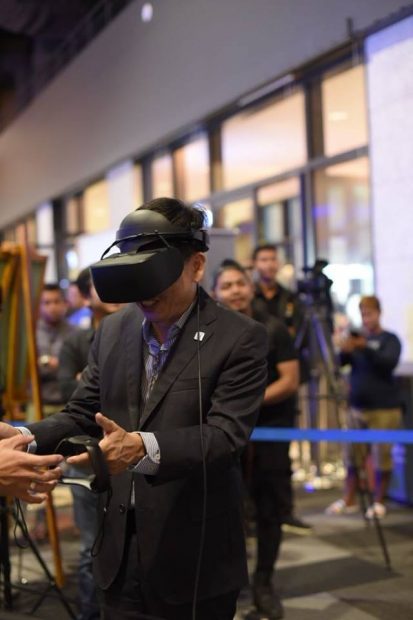 "Businesses and organizations can tap on AR and VR solutions for more advanced internal and external communication experiences," said Jiang Shutao, founder of Hiverlab. "Event companies can tap on the technology to offer more engaging experiences for the public, and schools can benefit from AR and VR too, especially for modules which require visualization and simulation."
According to Shutao, the partnership will also see the expansion of Hiverlab's Storyhive platform, which allows users to bypass previous tech barriers and create their own AR and VR presentations.
Virtual Reality Cambodia's Saraboth Ea has been providing VR solutions to companies and event planners in the Kingdom for the past year. He hopes the partnership will result in more widespread uses of AR and VR, which he believes could revolutionise communications, marketing and creative media.
"Normally if you wanted to communicate with clients, you were limited to print media, billboards, online, TV and radio, but the visuals were flat and uninspiring," he said. "[Our tech] helps to decentralize the message platform from fixed physical locations and assets to virtual locations wherever your customer goes."
The market for virtual- and augmented-reality technologies is sizable, with their total value reaching nearly $3 billion as of 2017. This regional partnership comes at the forefront of what experts anticipate will be a massive surge in the AR and VR market globally, with applications for augmented reality in particular expected to soar in the next couple of years.
With VR technology, users can strap on a set of goggles and become completely immersed in a different world – whether they be swimming with whales or flying through the air – with virtual sights and sounds blocking out all signs of reality.
As exciting and immersive as a VR experience might be, it's also more restrictive than augmented reality because it requires a headset and other hardware. With AR, people can use their phone or laptop to view the world around them through a virtual lens, as in the popular Pokémon Go app that saw millions of people wandering their neighborhoods in search of virtual creatures they could find using their smartphones.
By 2020, AR technology is expected to have more than a billion users, AR glasses are expected to sell more than 5 million units and some analytics companies estimate that the total revenue generated by AR technologies could reach as much as $120 billion. By contrast, VR solutions are expected to generate around $30 billion by the same year.
In keeping with these global trends, Saraboth Ea expects AR technology to grow rapidly in the region in the next few years. While he is an advocate for VR tech, he believes AR solutions – which can be applied without the need for additional equipment like goggles – are more accessible than their immersive counterpart.
"One of the biggest opportunities here for growth is with AR because nearly everyone with a smartphone is already carrying an AR device," Saraboth said. "Our plans are to make businesses, organizations and schools fully enabled to integrate AR into their customer environment… ensuring that the world around us will no longer appear static and immobile."
Both Saraboth and Shutao expressed their vision of a world changed by constant exposure to AR and VR solutions that are at once creative, stimulating and transportive.
"AR and VR mean new ways for us to interact with information and interact with our world," Shutao said. "We will work together to explore the possibilities – and we will lead the change."