Trinh Xuan Tung could be the poster boy for the benefits of wearing a motorbike helmet in Vietnam. It wasn't a crash that killed him; the police who arrested him beat the 54-year-old to death in 2011.
Tung was on the back of a xe om – motorbike taxi – when he got a phone call. Removing his helmet to hear better, a policeman spotted him and ordered the driver to pay a fine. Tung, as the offender, agreed to pay VND100,000 ($5) at the police station and get a receipt in accordance with Vietnamese law. The policeman demanded VND150,000 on the spot, and a fight broke out on a busy Hanoi street. Tung's daughter, Trinh Kim Tien, 24, recounting these events to Southeast Asia Globe in Hanoi, said that Vietnamese policemen prefer to pocket fines and demand extra for the convenience of avoiding a trip to the station.
Tung's insistence on following procedure got him handcuffed, taken to a police station and tortured for 11 hours. On the brink of death he was finally sent to hospital, where he died a week later from a broken neck and other injuries all over his body.
This is not an extraordinary way to die in Vietnam.
Phil Robertson, deputy Asia director for Human Rights Watch (HRW), said that the organisation's research into police brutality found that "use of torture to elicit confessions is pervasive in the Vietnamese police force and that, as a result, ordinary people are dying in police custody all over the country".
HRW published a report in September detailing 28 deaths in Vietnamese police custody between 2010 and 2014. They also mention examples of police abuse in 44 of the country's 58 provinces. And these cases where "victims' families have actively sought justice and spoken to the media" are just the tip of the iceberg, according to HRW.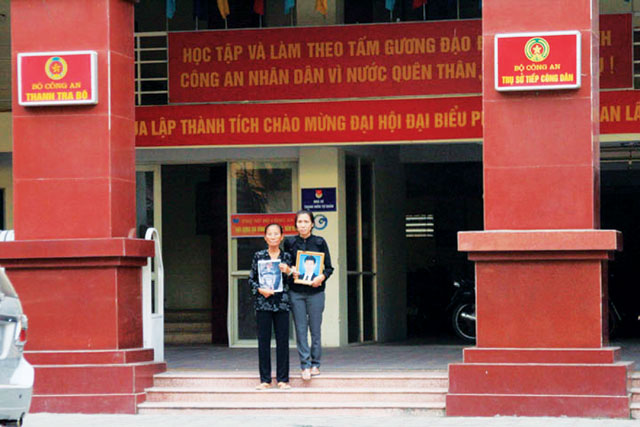 Seeking justice is not a mainstream practice in Vietnam, where free speech is frowned upon, the media is heavily censored and legal consultants play almost no role during the period that crimes are being investigated and suspects are held and questioned, according to HRW.
Tien's husband, Nguyen Ho Nhat Thanh, a human rights activist who met his wife through her campaign to bring her father's killer to justice, said police accountability in the country will not improve until people are no longer afraid to speak up. "In general, people know they don't stand a chance against the authorities. So they keep their heads down and ignore a lot of what they see," he added, using the silent witnesses of Tung's ordeal in the street as an example.
Like many Vietnamese activists, Thanh has suffered at the hands of the police.
I used to fear their beatings but I stand them because I know I follow the right path.

Nguyen Ho Nhat Thanh
Hanh Nhan is yet another activist who rolls with the punches. During last year's protests against China's activities in the South China Sea, he was suspected of being an organiser and taken to the police station for a questioning that involved repeated blows all over his body. "When police act like that, our resolution just gets stronger," he said.
Thanh and Nhan are part of 'A Network of Vietnamese Bloggers', a group promoting human rights and documenting violations of them around the country. "We're always alert, and we act faster than mainstream media," said Nhan as he played a video of a frenzied scene from the previous day that showed people marching through the streets in Quang Nam province carrying a coffin – that of a suspect in a non-fatal shooting, who died at the police station.
Police claim he killed himself there, while his community insists he was beaten to death. Nhan explains that the mainstream media reported the bare basics: A man died and his coffin was carried through the streets. "That's selective truth only," he said, adding that smartphones have become a key tool for his network to get the bigger picture out.
Bloggers and independent journalists are widely considered watchdogs of human rights. In Vietnam, however, there is a vaguely worded law called Article 258, which Nhan describes as "a trap for dissident voices". It reads: "Those who abuse the rights to freedom of speech… and other democratic freedoms to infringe upon the interests of state… shall be subject to… a prison term of between six months and three years." This means that people criticising the police – who are essentially the state – do so at significant personal risk.
In its report, HRW included a list of recommendations to the Vietnamese government for ending brutality in the police force. Increasing the freedom and protection of bloggers, as well as their sources, is a critical requirement in ensuring that they "can play the necessary role of watchdog on allegations of police abuse".
Nhan's network is dedicated to getting Article 258 repealed and, in November, it held meetings with several foreign ambassadors in Hanoi to get them onside. However, "[the Vietnamese] government continues to calumniate us in the mainstream media and lock our members up" despite international support, Nhan said.
Systemic reforms are also needed within the police force. The semi-professional status of commune-level policemen – volunteers who don't even need to pass high school to qualify – leads to cases such as Le Minh Phat's, a communal policeman who beat a teenage boy to death because he suspected the boy was going to start a fight.
"I just joined the police force and was not clear about all the regulations yet," Thanh Nien news reported Phat saying at trial in November. He was sentenced to six years and nine months in prison.
Robertson believes that lack of training is a root cause of death in police custody.
These police think that the only way to secure a conviction is with a confession, and they take the easiest and quickest way to secure such confessions by beating and torturing just about anyone they take into custody.

Phil Robertson
With the force emphasising communist credentials over education, impunity can flourish. HRW found that in most cases where abuse was officially admitted, officers faced only light internal disciplinary procedures. "Police are the government and the government protects itself," said Tien.
Tung's official cause of death was suicide, though his family did not trust the assigned doctor's diagnosis and refused to bury his body for two weeks until an impartial autopsy could be carried out. The results showed that Tung's neck bones were cracked in a way that could not be self-inflicted.
"A lot of families want to bury their loved ones as soon as possible, to preserve their dignity," said Tien. "But once a body is in the ground, any evidence is as good as gone and the investigation ends." She is convinced that this practice has been the downfall of many cases of suspicious death in Vietnamese police custody. "Initially, my family fought because the situation was intolerable. Yet too many had given up before – we had to set a precedent."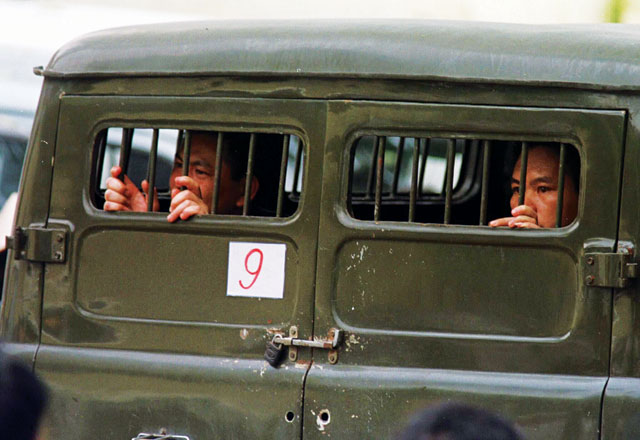 Eventually, Tung's killer – Nguyen Van Minh – was taken to court and received a four-year prison sentence. He was released after two years for good behaviour.
The Vietnamese government responded to HRW's report with "a pretty straightforward 'shoot the messenger' reaction", says Robertson, who was denied a visa to visit the country in September. However, since HRW published its report, there have been a number of harsher verdicts handed to policemen accused of custodial killings.
In October, Thanh Nien reported a record sentencing of between eight and 17 years of jail time for four Hanoi cops accused of torturing a burglary suspect to death in 2012. However, Robertson said it is unclear whether this was "a defensive reaction to deal with the embarrassment of being called to account… or whether it will herald any systematic reforms".