As a child, Trang Nguyen spent her holidays frolicking with puppies at her uncle's house near Hanoi. One summer she asked: "Where's my friend, the fluffy black dog?" And her uncle replied: "We ate him." Trang was not surprised. Her family, like many in Vietnam, eats dog quite regularly. Raising your own for slaughter is cheaper than dining out at a thit chó (dog meat) restaurant.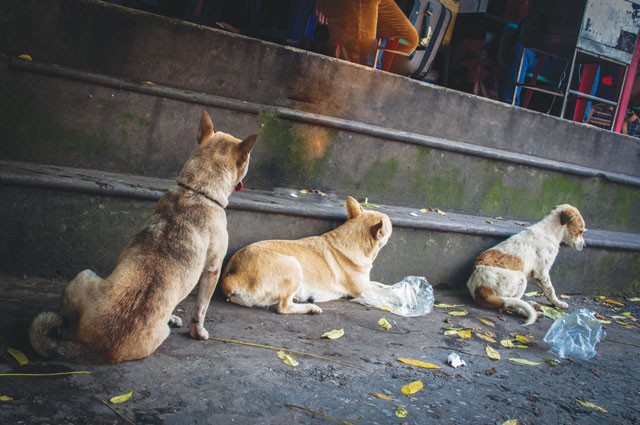 Trang, now 27, eventually decided she couldn't bear eating her friends any longer. Nowadays she buys live dogs from butchers to re-home and is part of a growing community opposed to Vietnam's canine consumption. There is far more to the matter than the Western-centric notion that dog is man's best friend. While concerns over animal welfare are an obvious issue, devouring dog is entrenched practice in Vietnam, steeped in superstition. Disputing it is often likened to debating the existence of God.
Activists estimate that up to 300,000 dogs are crammed into cages and trucked from Thailand to Vietnam each year – a journey of several days without food or water through mountainous Laos. Domestically sourced dogs are often stolen pets. Their owners may, like Trang's uncle, have planned to eat the animal themselves.
Facebook groups demanding a boycott on dog meat are on the rise in Vietnam. "We post videos and personal accounts of dogs' partnership with humans, coordinate adoptions and share information about properly caring for pets – which does not involve eating them when they die, contrary to some people's beliefs," says Nguyen Ngoc Linh, administrator of the popular 'Stop Eating Dogs' page. She predicts that eating dog will die out within the next decade.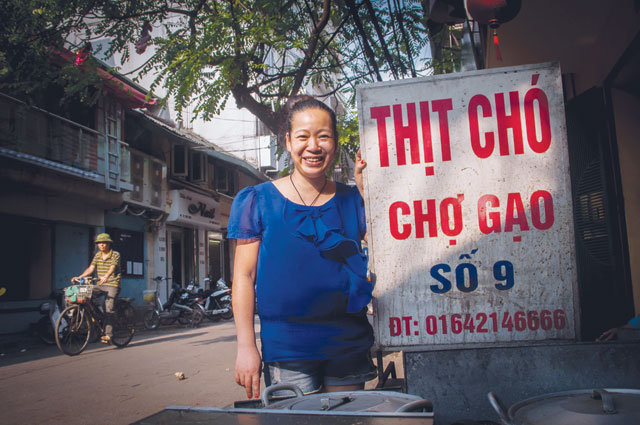 Loan Khoan, editor of Forbes Vietnam and a respected blogger on Vietnamese culture, believes social media is the key to reaching younger generations, who "are open to suggestions on how to live, while older generations who have eaten dog their entire lives are unlikely to change". Khoan thinks eating dog is a development issue. "People who can't fathom women's rights won't be moved by those of an animal," she says.
An estimated five million dogs are eaten in Vietnam each year. Quang Ninh, an art teacher from Hanoi, says he'd only give it up "if a better meat was discovered". Savouring slivers of grilled dog topped with lemongrass and wrapped in a fragrant leaf, Ninh extols the meat's deliciousness ("like rich lamb"), its health benefits (scientifically unproven) and its auspiciousness (also unproven). Would he eat his own dog? "Yes, it's just a dog."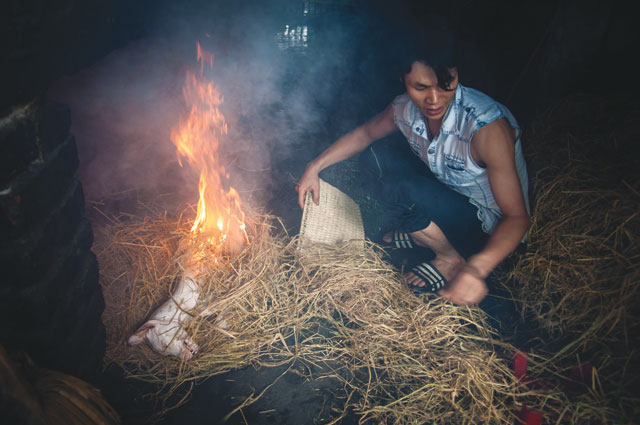 While sat on the low plastic stools of a dog restaurant, Ninh shows me a video that's gone viral in Vietnam. YouTube sensation Toan Shinoda accuses dog meat critics of hypocrisy, showing clips from cow and pig slaughterhouses just as harrowing as dog death horror stories. He also points out that pigs are smart and affectionate too, yet no one (in Vietnam) stands up for them.
Lola Webber, British co-founder of Change for Animals Foundation (CFAF), admits the transport and killing of dogs is similar to other livestock. "The welfare issues are the same," she says. So why all the fuss about dogs? Since eating dog is a grey zone in Vietnam – neither legal nor illegal – Webber sees an opportunity "to ban the practice before it becomes just another animal on the livestock list". That could lead to dogs being farmed, which according to Webber is neither humane nor economical for reasons including dogs' penchant for fighting and the high cost of feeding carnivores en masse.
Aware of Vietnamese ambivalence towards animal welfare, international organisations including CFAF have changed tact on the dog meat issue. Four of them joined forces to form the Asian Canine Protection Alliance (ACPA), which condemns the dog meat industry as a human health risk. "Rabies is the strongest argument we can use against the dog trade," says Webber. It is a stance that aligns nicely with the Asean pledge to rid the region of rabies by 2020.
According to the WHO, there is no risk of catching rabies from eating infected dog flesh, but ACPA says that the dog trade could contribute to the spread of the virus. The governments of Vietnam, Thailand and Laos have taken this idea seriously. Vietnam's Ministry of Agriculture issued a directive in January promising to coordinate with ACPA in "stopping and strictly prohibiting the illegal import of dogs".
"No dog trucks have crossed the border since February, and officials are strictly demanding papers documenting individual dogs' vaccinations and registrations," Tuan Bendixsen, Vietnam director of ACPA's Animals Asia, tells Southeast Asia Globe shortly after the alliance's third meeting with government officials.
However, motorbikes carrying up to 14 live dogs each still use smuggling tracks that perforate the jungle-clad border, says Bendixsen. He also admits that forging the necessary papers for official crossings is possible, "though Laotian officials are refusing requests for large quantities of dogs to cross the border, papers or not".
Choking imports may help curb rabies, but demand for dog meat in Vietnam remains high, as do incentives to steal and sell it. With a price point between $5 and $10 a kilo – three times that of pork – one fat Labrador could turn $300 of pure profit.
In lieu of effective laws, some angry dog owners take extreme action. Entire villages confessed to murdering dog thieves on three occasions in 2012 and 2013. This July, hundreds of people beat a thief unconscious in southeastern Dong Nai province.
Violence goes both ways. In June, three teenage vigilantes were killed while in pursuit of thieves in Ho Chi Minh City. The teens, armed with knives and driving a motorbike, crashed into a power pole after being electrocuted by the thieves' improvised stun guns. In the same month, at the opposite end of the country, a police chief was hospitalised after dognappers beat him with iron bars.
Even historical Hoi An, where hordes of disapproving tourists keep thit chó restaurants to a minimum, falls prey to dognappers. Catherine Besch, who runs an animal rescue centre in the popular city, says the thieves scope out her property every few weeks. "I just run to my gate yelling and waving a knife," says the petite American.
Vietnam's government seems loath to increase the punishment for dog theft. Thieves generally face an insubstantial fine of less than $100, though Thanh Nien newspaper reported that a thief caught with six especially valuable dogs in August was sentenced to one year in jail.
For many dog eaters, superstition will always trump the many grizzly facts. "When a student wants better grades, when a couple fight too much, when a man's business fails, they'll say: 'We need luck. Time to eat dog!'" explains Trang. "People mainly go crazy about things that [they believe will] make them better in bed. Dogs are most famous for that. Why do they believe this? There are a lot of 'why's' in my culture."