When gourmet burger joint Relish & Sons decided to get creative in Ho Chi Minh City, few would have expected them to transform Vietnam's beloved broth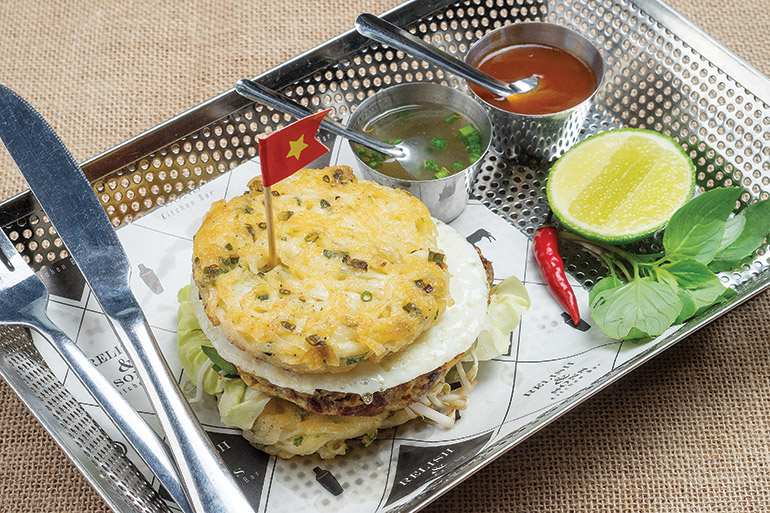 This article was published in the May edition of Southeast Asia Globe magazine. For full access, subscribe here. 
There are few more iconic culinary images of Vietnam than taking a seat on a brightly coloured plastic chair and sidling up to a steaming bowl of pho. Variations on the classic Vietnamese noodle soup have wooed the Western world in recent years, yet it is in Ho Chi Minh City that the dish has been sculpted into its most fascinating form yet, with Relish & Sons' pho burger.

Launched alongside a com tam burger – also based around an iconic Vietnamese dish, this one consisting of broken rice and grilled pork – Relish & Sons' co-owner Andy O'Brien says the adaptations have gone down well with locals and foreigners alike.
"They were received very well, so much so that they became a permanent item in our menu, having been specials before. We certainly received tips from the locals about how we can improve them," he says. "We listened to the experts and gave the burgers a few tweaks before they became permanent fixtures."
With Vietnamese customers on board, the trickiest part of the process is advising customers on actually eating the thing. With rice noodles fried into the shape of buns, encasing a braised beef patty, fried egg, onions and Vietnamese herbs, not to mention pho broth and sriracha side sauces, O'Brien recommends an unorthodox burger technique.
"Use a knife and fork," he says. "It's definitely not for the burger purists who would scoff at the sight of cutlery, but we think this burger is better enjoyed breaking it down and getting a bit of everything on the fork, including the traditional herbs, dipping sauce and pho soup that accompany it."