After discovering a dead baby in a plastic bag on his small coffee plantation, Ha Tu Phuoc began thinking about the desperate situations a family might find itself in. A compassionate man, the 48-year-old resolved to help where he could.
Shortly after erecting a tomb for the mystery baby, deliveryman Phuoc found a caged man in the house of one of his clients. "His parents told me their son was prone to violent outbursts, that they were afraid of him and that he's too crazy to roam free," Phuoc explains.
That was ten years ago, and the caged man became the first mentally ill person to be brought back to Phuoc's family home near Pleiku, a remote city in Vietnam's central highlands. Phuoc now shares his home with his wife Huynh, his 13-year-old son and about 100 mentally ill people.
The property is a patchwork of plywood and iron sheeting. Two slatted beds and an old TV are the extent of the furnishings, although 100 metres away sits the real manifestation of Phuoc's hard work. Built seven years ago, the large concrete compound features bunks and sleeping mats for the men and a small room for the sole female resident.
Some residents are shackled to prevent them "wandering off and finding trouble", Huynh said. "Trouble" could be getting lost in the surrounding hills or being mistreated; some local miscreants once persuaded a mentally ill man to indecently expose himself on the main street.
Although awareness of schizophrenia is on the rise, other mental health issues such as depression, bi-polar disorder and anxiety are outside the lexicon of most Vietnamese. Benh tam thanh – crazy person – is the usual label.
Stereotyped as being prone to dangerous and unpredictable behaviour, 'craziness' is still widely deemed karmic retribution for the wicked previous life of a family member – not necessarily the ill person.
The World Health Organisation reports that mental illnesses accounts for 16.2% of Vietnam's disease burden – calculated as years of life lost to a state of less-than-full health.
Although no doctor has ever visited 'The Valley of Crazies', as Phuoc's farm is locally known, it is fairly safe to estimate that its residents suffer from a range of mental illnesses. "I don't know if their sickness is spiritual or natural, and I'm not interested in their pasts," says Huynh, Phuoc's 38-year-old wife. Although neither one of the pair has had any medical training, Huynh takes charge of the residents' daily care because Phuoc works from dawn until dusk to fund the operation.
Built seven years ago, the large concrete compound features bunks and sleeping mats for the men and a small room for the sole female resident.
My presence at the centre is met with puzzled smiles and furtive requests for a cigarette. Residents surge forward to shake my hand and then squat in true Vietnamese fashion, some shyly asking in English: "How are you?" and "What's your name?"
Their regard for Huynh, half their size, is apparent. As she hands out the packets of cigarettes and milk I brought at prior request, the men visibly resist urges to gorge themselves on these luxuries. Only at her signal do they light up and start drinking. One man, dotted with circular scars – he used to compulsively burn himself with cigarettes – guzzles his milk so joyfully that it splashes all over his arms. He licks them clean.
Speaking with a selection of men through a translator, it becomes apparent that several have spent time in psychiatric hospitals. A court declared one man clinically insane when acquitting him of murder. This man, who now sings sweetly while his friend strums a guitar, stabbed his father to death in a psychotic rage. Cleared of jail time and disowned by his family, he wound up at Phuoc's.
"Many families don't ever want these people back because they're so afraid of violence, and some families are just too poor. We don't ask for any money and people can stay indefinitely," says Huynh. When asked why she accepts this responsibility, Huynh claims it is God's mission for her family. "At first I was apprehensive because I had little babies and a grandmother with an amputated leg to look after," she says. "But these men are like helpless children, and their vulnerability won me over." The family has had to make sacrifices though. Huynh sent her 15-year-old daughter to live with Phuoc's parents, away from the dozens of unstable men.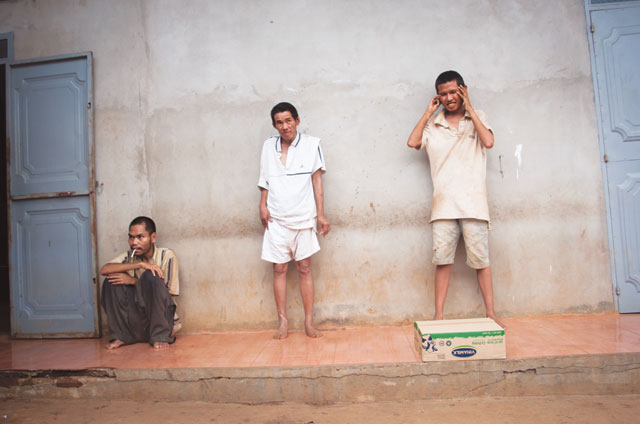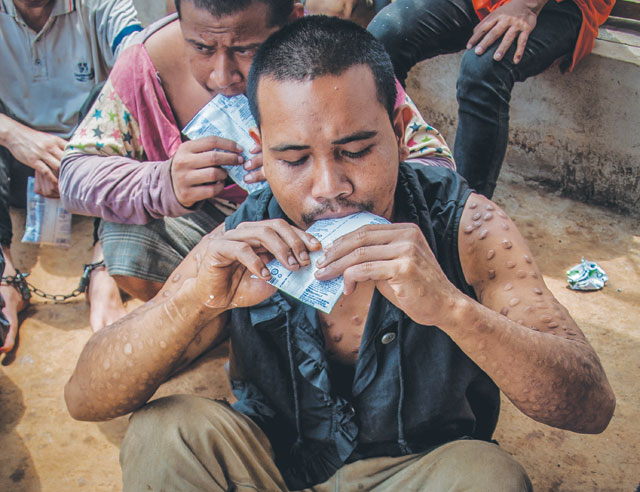 The men are largely idle until the evening, when everyone eats, prays and sings together. Huynh says they are not able to help out on the plantation, but some of the more reliable residents assist in preparing food.
Nguyen Van Dinh, 27, has been here one year. His father could not afford to send his mentally ill son to hospital when he heard about Phuoc in a local newspaper. "I feel good here and enjoy everyone's company. I'd be glad to stay forever," says Dinh.
Phuoc and Huynh do receive some support – mainly food from local donors such as Dinh Van Hung, a policeman who brings bulk meals every day. "My colleagues are happy to buy food and cook at the [police] station for the people here. We like to support good movements in the community," he says. Also, a government scheme distributes free schizophrenia drugs to commune health centres throughout the country; residents at Phuoc's get fed these every morning.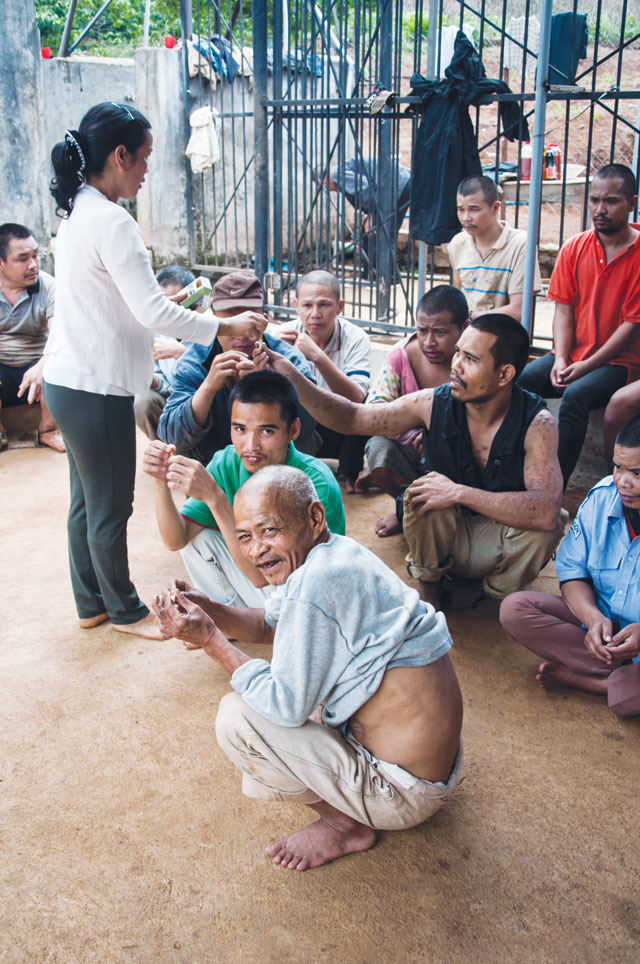 Dr Lam Tu Trung, head of Danang's psychiatric hospital, says this medicine is an old-fashioned tranquiliser, which would account for Huynh describing the residents as "gentle and sleepy". He believes that arrangements such as Phuoc's are a cause for concern. "The people running them don't know how to use medication, nor do they have any training in dealing with often dangerous and complex forms of illness," he says.
However, that the psychiatric knowledge at Phuoc's compound borders on nil doesn't seem to bother the patients or their families. It bothers the government even less – far from admitting that such an arrangement is worrisome, Phuoc has been lauded as a hero by state-run media.
BasicNeeds, a development organisation focusing on mental health, has been introducing psychotherapy, community-based rehabilitation and skills training in central Vietnam's Thua Thein-Hue province. "One of our biggest achievements is showing that the mentally ill are not useless. They're not just crazy people to be kept in some kind of prison," says Tam Nguyen, BasicNeeds' Vietnam director. "What we're doing is not rocket science, but it is a first for Vietnam."
Dr Bui Minh Bao, a GP at a health centre participating in this programme, says that it has benefited everyone, including members of the medical community. "That people here [in this commune] are no longer ashamed to receive treatment is a huge breakthrough," he explained. "My own capacity has also increased greatly, as previously I only knew about schizophrenia."
Budgetary and logistical restraints limit BasicNeeds' catchment area to just one of Vietnam's 63 provinces. Vicky Ngo, the psychologist who is supervising the programme, thinks it will be at least a decade before their model can be used elsewhere in the country. "The only things dealt with now are schizophrenia and epilepsy, and treatment is [usually] about isolation and drugs in a psychiatric hospital – which can be damaging," says Ngo.
After a few months in said hospital, where misdiagnosis is common, says Ngo, patients are usually sent back to their families. However, this is problematic because families are not taught how to properly care for the mentally ill and the 'crazy' stigma is still strong, according to Ngo. "It's not necessary for the government to spend all this money on drugs to make people sleepy and on removing them from society – which is the same in hospitals, in homes and in Pleiku," she emphasises.
At the very least, Phuoc's operation does help highlight some of the problems in Vietnam's health policies. As Nguyen says: "What kind of healthcare system lets a person with no background in mental health have more patients than a professional centre?"