Ho Chi Minh City's 3A Station is usually a tranquil place to spend a Saturday afternoon in the otherwise buzzing metropolis. Set in colonial-era warehouses by the Saigon river, the complex of galleries, offices and boutiques is a popular spot for teens to snap selfies and sip coffee.
But on a balmy Saturday in September, the venue played host to Hardcore United III, a 12-hour music and street art festival dedicated to the city's underground culture. Many of the bands playing at the festival, from Vietnam and beyond, offered their own interpretations of hardcore, a loud and aggressive genre of music typified by overdriven guitars and screaming vocalists.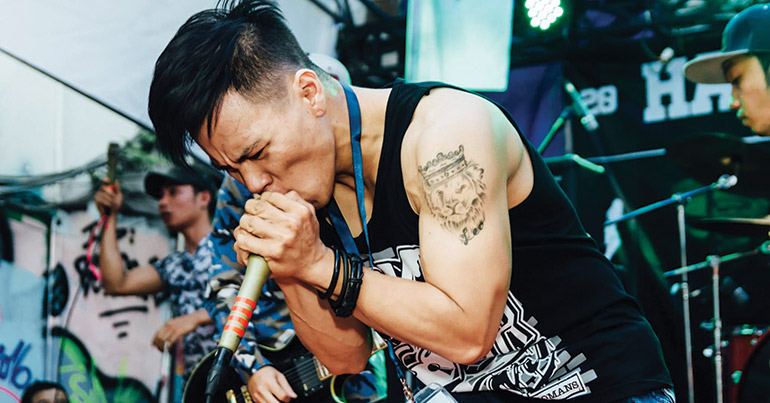 Vietnamese teens and twentysomethings, almost exclusively dressed in black, crowded near Hardcore United's alleyway entrance, taking long drags from their cigarettes. A woman pushing a baby in a stroller slowed down and stared inside, visibly confused by the otherworldly screeching emanating from beyond the check-in tables.
The music finds its roots in US hardcore, or hardcore punk, a basement-bred music scene that largely developed in Washington, DC, during the 1980s as a response to New York City's punk rock movement. The shows were small, the music fast and loud, and the lyrics, timely and angry, were a political panacea for the American Psycho consumer capitalism of the time.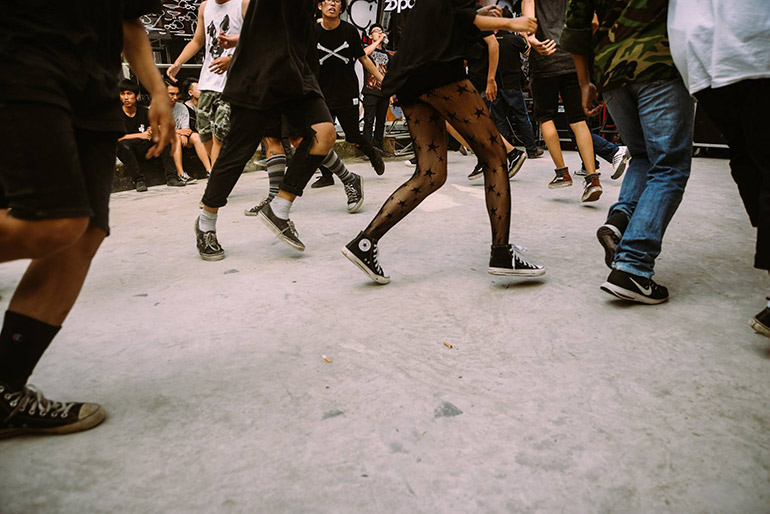 If people liked metalcore, they wouldn't even bother with the death metal scene.
Writing in the New Yorker, Kelefa Sanneh explained the evolution of the genre: "Hardcore was born as a double-negative genre: a rebellion against a rebellion. The early punks were convinced that rock and roll had gone wrong and were resolved to put it right… But when punk, too, came to seem lame, the hardcore kids arrived, eager to show up their elders. The idea was to out-punk the punks, thereby recapturing the wild promise of the genre, with its tantalising suggestion that rock music should be something more than mere entertainment – that it should, somehow, pose a threat to mainstream culture."
Thirty years later, hardcore continues to thrive in small pockets, with pioneering bands of the 1980s such as Black Flag, Minor Threat and Bad Brains still being name-dropped today. But there is now a near-endless and increasingly absurd array of genre offshoots – post-hardcore, grindcore, powerviolence and Nintendocore to name just a few. The music being played at Hardcore United could be classed as metalcore, or melodic hardcore, which combines the discordant guitars and abrasive shouting of traditional hardcore with 'clean' alt-rock vocals.
While hardcore is often associated with sweaty, packed basements and ear-splitting amplifier feedback, the production at Hardcore United was impressive. There were custom T-shirts, local vendors and sponsorship from Zippo, which put up banners bearing its logo and sent representatives to promote its brand of lighters.
By close to 3pm the festival had not yet gained momentum, with patrons sapped of energy by the midday sun. "It's too hot for fat Jews out here," lamented Gareth Katz, bassist for locally based foreigner punk band James and the Van Der Beeks, in a wry reference to himself that seemed to bemuse most audience members.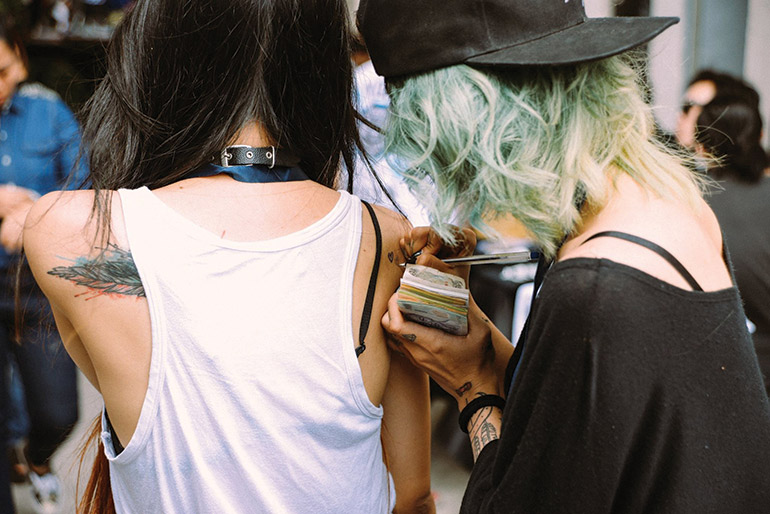 The crowd was spread thin, and except for a few intrepid concertgoers who were managing to mosh and crowd surf with a small squad, most attendees could be found wandering aimlessly about or standing near the graffiti-lined walls staring at their smartphones.
There was, however, one concertgoer who seemed utterly transformed by the music. Taking swaying sips of his beer, the bespectacled Vietnamese youth slam-danced his way through the crowd. Drenched in sweat, he climbed onstage, offering unsolicited backing vocals for the band performing. He motioned for the crowd to come closer, to catch him as he stage dived, but nobody heeded his call. Undeterred, he leapt down and resumed his dance, sweating and flailing in a Dionysian ecstasy.
Onstage strode Tran Vinh, the de facto leader of Hardcore Vietnam. He was doing his best to inject energy into the crowd, pacing back and forth and telling festival attendees to "open the fucking pit". Vinh, who is slim with long black hair, revealed an obvious passion for the festival that he and a group of friends spent hundreds of hours organising.
Hardcore Vietnam was set up roughly three years ago as an attempt to bring together Ho Chi Minh City's fractured underground music scene. Vinh, a 27-year-old graphic designer and Hardcore Vietnam's eldest member, said fans of the genre lacked a cohesive community back then, and they were forced to attend crowded festivals that catered to mainstream musical tastes.
There was also a divide between the city's alternative music genres. "If people liked metalcore, they wouldn't even bother with the death metal scene," he said. "It was like: 'Oh, fuck these guys.'"
Then, Vinh was contacted by a professional promoter who began to offer advice on marketing and management to his group. The hardcore community grew, with foreign acts such as Chelsea Grin and The Ghost Inside travelling to Ho Chi Minh City to perform.
"But then, the community wasn't strong enough and couldn't support the shows," Vinh said. Ticket sales were weak and did not cover the high price of bringing in foreign bands. "We couldn't even get enough people to come," Vinh added. "So it ended up being a loss for the promoter. He quit; he didn't want to do it anymore."
Vinh said he then took over the reins, working with a handful of volunteers. In the years since, Hardcore Vietnam has grown slowly and, sometimes, painfully. Vinh recounts a particular moment when a local band had an abysmal turnout at their EP release show. "They had been playing for a long time, and deserved much more recognition," Vinh said. "But the problem was that not enough people knew about the show."
Nor has Hardcore Vietnam been a profitable venture. But Vinh, perhaps espousing the do-it-yourself ethic of his 1980s US forebears, is sanguine about the situation.
"Everything we do, we do for free," he explained. "We have our jobs, and everything with Hardcore Vietnam is in our free time. We try to squeeze in as much as possible while keeping balance with our lives."
"I think for artists," he added, "we're happy enough if we can just sustain our art."
Back at the Hardcore United show, Nha Trang-based band Elevator was chugging their way through a particularly crunchy metalcore tune. Duc Dang, their stocky vocalist, bounced around the stage in time with the clamouring guitars.
Huynh Huy, vocalist for Stranded PXL, a local band and the festival's first performers of the day, quietly climbed onto a nearby ledge, preparing to jump into the crowd. There was a short, painful period spent wondering if the show would end in a trip to the hospital. He dived into the mass of people below, who just managed to catch him.
"I just wanted to give the band some good memories while they were playing," Huy later recounted. "Like something they could look back [at] and say: 'Hey, there was this dude stage-diving from really high when we were playing.'"
"It's like that in Hardcore United every year," he added. "When one person starts it, things get moving."
In Your Eyes, arguably Ho Chi Minh City's most notable hardcore band, soon took to the stage. Vinh has taken over vocal duties for their excommunicated singer – "That's their private story," Vinh said later – and was joined onstage by an entourage of at least ten people, many of them offering their own backing vocals.
Two months after Hardcore United, Vinh and his compatriots had taken a hiatus, citing school, jobs and the general demands of life.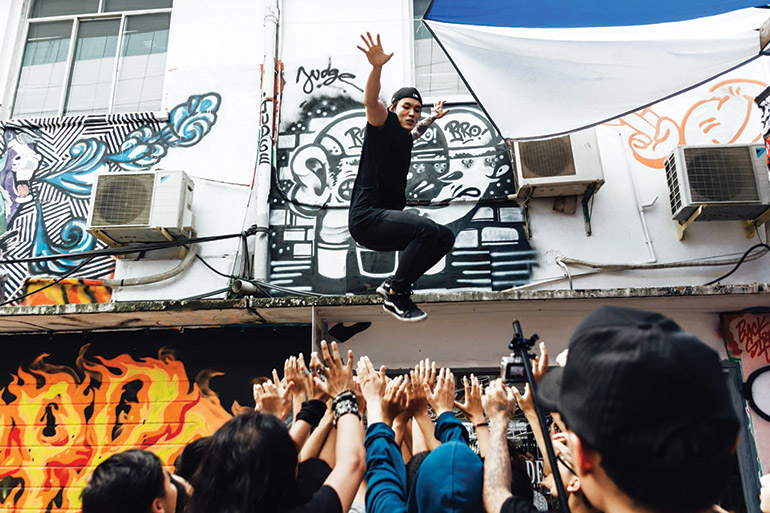 The crowd became considerably more energetic. A mosh pit opened and kids pushed and shoved each other, shouting along to fan favourite "The Loner". Huy, enraptured by the music, tossed a smaller concertgoer off the stage into the swirling maw. The crowd was unable to coordinate itself in time, and the individual hit the ground.
According to Susan Rogers, an associate professor in music production and engineering at Berklee College of Music in Boston, US, this seemingly reckless behaviour is a fundamental reason that many are attracted to hardcore music in the first place.
"[P]eople who like that kind of music tend to have a very high appetite for risk," she said, discussing heavy music with an articulate flair that can only be produced by someone who is simultaneously a fan of the genre and a university professor. "They tend to be risk takers… I've seen [veteran US metalcore band] Converge three times live now, and when you see that swirling mosh pit down at the front of the stage, you have to be open to injury to go and fully enjoy this music."
Rogers, who has worked on records for the likes of Prince and Barenaked Ladies, added that while many see those who enjoy extreme music as social delinquents, this perception is far from the truth.
"They're not what the public may think they are; they're not breaking windows and spraying [illegal] graffiti all over town," she said. "They're actually the opposite. They can get out all those assertive, aggressive tendencies passively and in a socially acceptable way by listening to music that's on the fringe. That listening experience scratches that itch."
Two months after Hardcore United, Vinh and his compatriots had taken a hiatus, citing school, jobs and the general demands of life.
"It's all very stressful, to be honest," Vinh said of his work promoting Hardcore Vietnam. The roughly half dozen people who are closely involved in the group will reconvene in March to begin planning the next Hardcore United, if they see fit. Many, however, are burnt out by the sheer amount of unpaid work that went into corralling 15 bands and 300 attendees for September's show.
"Organising these kinds of festivals, it isn't an amateur thing," Vinh said. "It's not do-it-yourself any more."