On this World Mental Health Day 2023, with the theme 'Mental health is a universal human right', we spotlight the mental health of children, adolescents and youth in Cambodia. The COVID-19 pandemic undeniably thrust mental health issues into the global spotlight, exposing a crisis that had been quietly unfolding worldwide for many years. The pandemic was merely the tip of the iceberg.According to UNICEF, one in seven adolescents aged 10–19 experiences a mental disorder. Globally, suicide is the fourth leading cause of death among young people aged 15–19.
UNICEF and UNFPA work closely with the Cambodian Ministry of Health, which is fully committed to providing adequate mental health care for the country's children, adolescents and youth. However, mental disorders or anxiety should not remain solely a public health issue but should be recognized as a societal concern. The magnitude of this crisis on children, adolescents and youth is unprecedented.
In 2022, at least 873 people died by suicide, most of whom were between the ages of 15–19. Approximately half a million people in Cambodia are affected by depressive disorders or anxiety, which are major contributors to suicide. Shockingly, an estimated 58 percent of secondary school students reported experiencing at least one mental health issue following the prolonged COVID-19 school closures.
The pandemic pushed almost half a million families into poverty, exacerbating their vulnerability and leading to a significant surge in abuse and gender-based violence. Alarmingly, an estimated 40 percent of children and adolescents endure physical and psychological violence and abuse, including sexual abuse and bullying.
Like many children around the world, the younger generation in Cambodia today also faces an uncertain future because of a climate crisis handed to them by previous generations, which can make them feel helpless or desperate.
The pandemic took a heavy toll on mental health, yet it also helped us break the silence.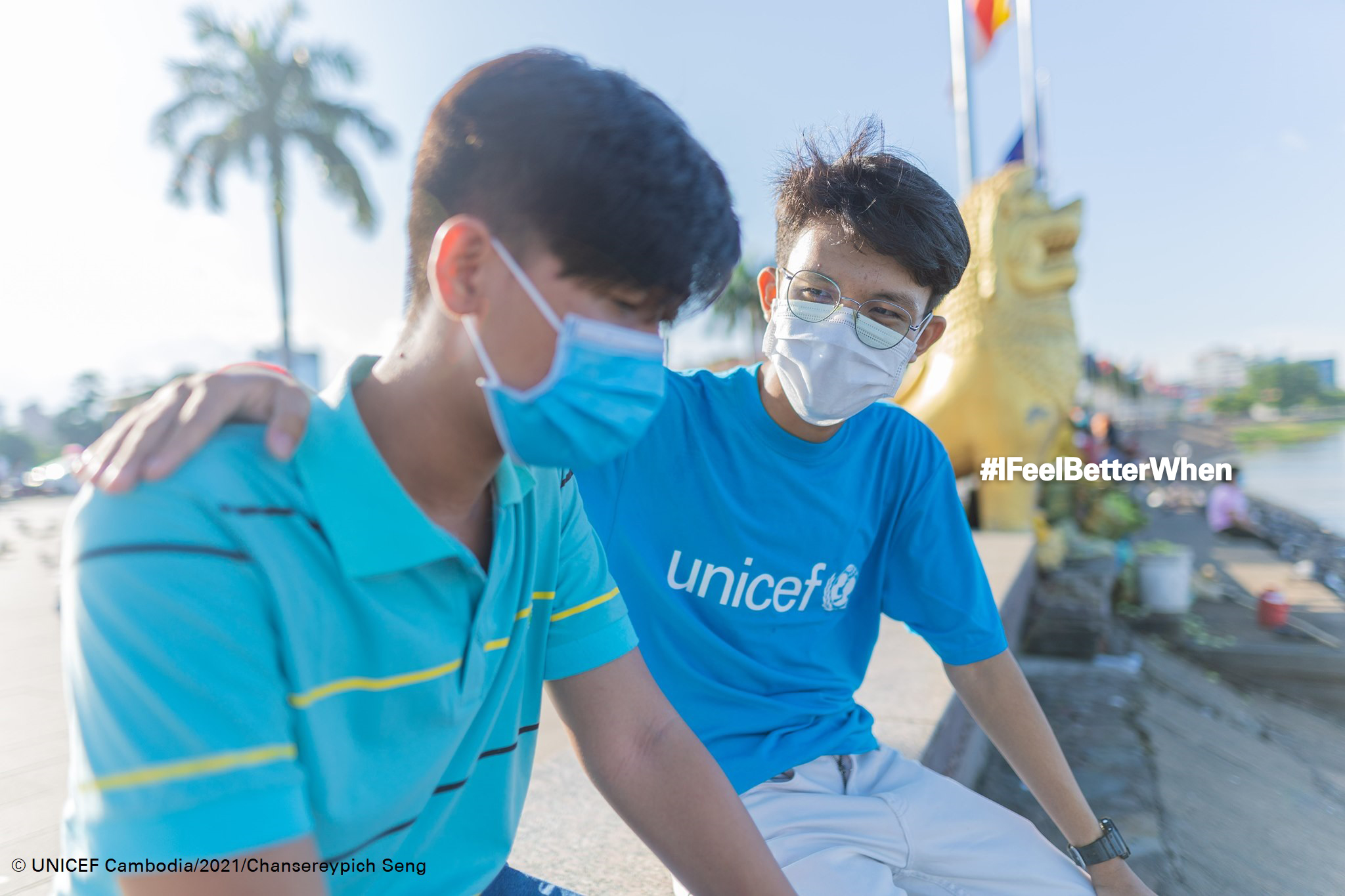 We took part in the conversation. Last year, UNICEF and UNFPA invested in digital and mobile platforms to create more opportunities for dialogue and to provide information on mental health as well as spaces to seek support. UNFPA, together with the national authorities, launched the Youth Health mobile app to connect adolescents and youth to comprehensive sexuality education, giving them access to information and free 24/7 helpline counseling services.
UNICEF launched the #IFeelBetterWhen campaign, reaching approximately 1.4 million young people and adolescents with online guidance to help cope with anxiety.
We took action. In schools, UNICEF and UNFPA are actively involved in life skills education, which helps students build positive mental health, establishing school health rooms that can provide care services and training youth-peer educators. Additionally, we collaborate with national institutions to implement Mental Health and Psychosocial Support (MHPSS) within public services and the Parenting Tips initiative, which supports public services by providing advice to parents and caregivers.
Cambodia is rapidly advancing its human capital and development through the implementation of its Pentagonal Strategy Phase One (2024–2028), which gave direction to the forthcoming United Nations Sustainable Development Cooperation Framework. However, reaching many of the nation's ambitious goals will be difficult without realizing child and youth rights, including investing in the much-needed expansion of mental health care services across the country. A generation unable to access necessary support becomes a generation of lost potential.
A recent analysis found that the economic benefits of investing in MHPSS interventions strongly outweigh implementation costs. For every US$1 invested in social and emotional skills education, an astounding US$225 of lifetime earning loss is averted.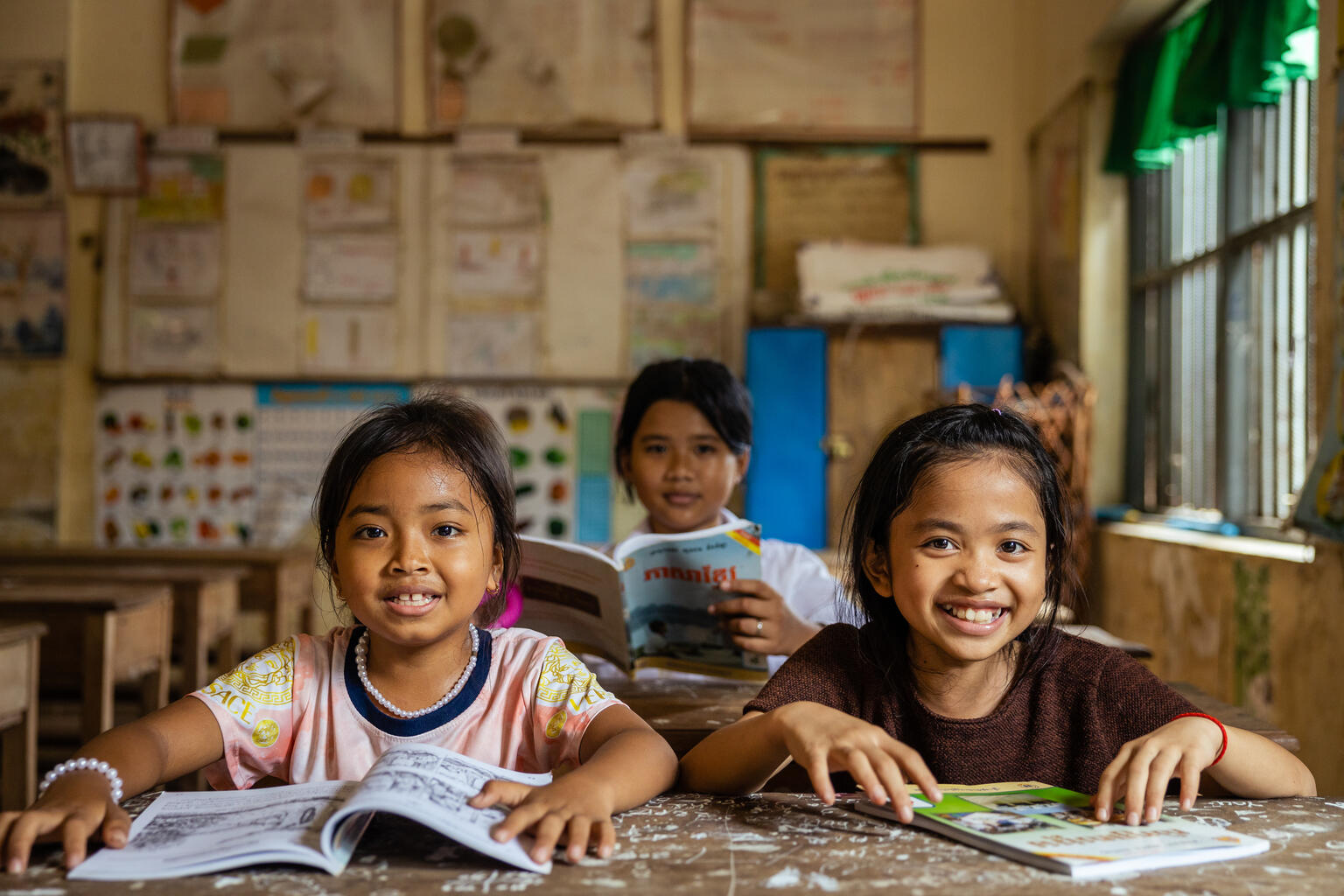 More needs to be done. We call upon the government, civil society and public and private-sector partners to commit, communicate and take collective action to better support mental health and promote the well-being of all children, adolescents and caregivers. Together, we need to take five actions immediately:
Break the silence surrounding mental health issues, combat stigma and empower communitieswith a better understanding of and ability to speak about mental health at home, school, work and in all forums and discussions. We need to promote mental health through education and peer support teams, support community awareness campaigns, use social and mass media channels to initiate dialogue, and provide quality information and guidance on how to cope with mental health challenges and ways to seek support.
Give children, adolescents, youth and caregivers access to quality, timely support whenever and wherever they need through urgent public and private investment in MHPSS services and adequate training of personnel across all sectors, especially health, education, child protection and social protection. Existing programmes and services for mental health need to be scaled up, with good coordination between public and private sectors. MHPSS interventions need to be integrated into hospitals and health centers, including maternal child health care and pediatric services across the country and in remote and rural areas, to ensure no one is left behind. Tailored and comprehensive support services for vulnerable groups, including disabilities, ethnic minorities, HIV/AIDS, migrants, LGBTQI+and survivors of abuse and violence, should also be widely available.
Engage communities and families in promoting well-being and good mental healththroughparenting programmes that give caregivers the tools they need to support themselves and their children, life skills education that helps adolescents build emotional resilience, and avenues for active and meaningful participation on MHPSS.
Generate more data and conduct further research on MHPSSto drive continued policy development and investment decisions.
Expand digitalized access to comprehensive sexual and reproductive health education to connect more young people to educational resources and mental health support services.
If we don't act now, we will undermine the next generation's chance to learn, develop, build meaningful relationships and contribute to the world. And when we ignore the mental health of parents and caregivers, we fail to support them to nurture and care for their children to the best of their abilities.
Mental health is a universal human right, and it is a universal child right, which supports the fulfillment of the Convention on the Rights of the Child. Let us envision a Cambodia where mental health is a foundation for building a brighter future. Unleashing the potential of Cambodia's youth means nurturing their mental well-being. And when the mind thrives, the country prospers too.
The time to act together is now.