The year's most powerful typhoon is on track to make landfall in northern Philippines on Saturday, as local officials order precautionary evacuations of thousands in preparation for the storm


Typhoon Mangkhut – also known as Typhoon Ompong in the Philippines – is expected to have a high humanitarian impact, as it threatens to affect 10 million people in the Philippines and continue on a trajectory that could see more than 40 million impacted, according to the Global Disaster Alert and Coordinating System.
Forecasts estimate that the "super" typhoon will hit Luzon island and the northern tip of Cagayan province in the Philippines before continuing on to threaten Taiwan, Hong Kong, and cities along China's southeast coastline.
First making landfall in northern Guam as a Category 2 on Monday night, super typhoon Mangkhut has grown in size by more than 300 kilometres since early Tuesday. With current winds of 205 km/h and gusts of more than 250 km/h, Mangkhut is projected to continue strengthening and will likely make landfall in the Philippines on Saturday morning as a Category 5 storm with winds upward of 240 km/h.
Philippines officials have ordered precautionary evacuations and school closures in northern coastal and island villages along the typhoon's path.
Ricardo Jalad, chief of the Philippines' Office of Civil Defence, said on Wednesday that as Typhoon Mangkhut nears the country's borders, more cities in the northern provinces have begun evacuating their residents from low-lying areas.
"The worst cases are those areas which will be directly hit by strong winds that can topple houses, storm surges and heavy rains that can cause flooding, and there may be landslides in higher areas," said Jalad.
Officials have also urged farmers to quickly harvest their crops to reduce potential damage. According to local governor Manuel Mamba, the typhoon is arriving at the start of the rice and corn harvest season, and has the potential to destroy crops in some of the country's major agricultural cities at a time when the Philippines is facing rice shortages.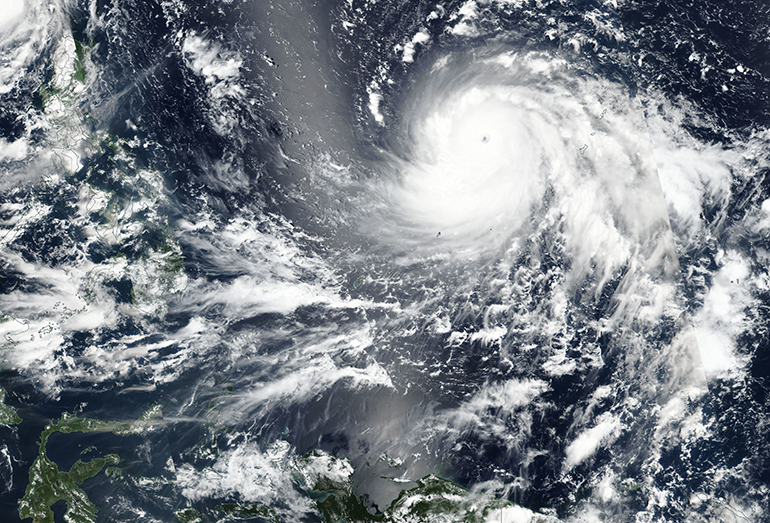 As Mangkhut nears northern Luzon, it follows a similar trajectory to super typhoon Haima, which destroyed 14,000 houses and damaged an additional 50,000 homes on the island in 2016.
The International Committee of the Red Cross is currently preparing emergency assets and relief teams, which remain on high alert in Luzon.
"We're worried for the 10 million people in the Philippines living in the path of this destructive storm, including those who have been displaced several times due to the monsoon rains last July and August," said Richard Gordon, chairman of the Philippines Red Cross, on Wednesday morning.
[manual_related_posts]
Philippines President Rodrigo Duterte has announced that the National Disaster Risk Reduction and Management Council will hold a meeting on Thursday morning to consider additional emergency procedures in advance of the storm.
Typhoon Mangkhut is currently on track to be as strong as Typhoon Haiyan, which made landfall in the Philippines in 2013 and left more than 6,000 dead, though Haiyan hit a more populated area of the country.
The northern hemisphere has seen a surge in storms over the past week or so, with three hurricanes currently spinning in the Atlantic and two more tropical storms brewing along China's coastline. According to the Washington Post, this year has seen an average rise in the number of tropical storms forming across nearly all major basins, with cyclone activity across the Pacific and Atlantic basins currently at its peak.