Through the gaps in the plywood floor of Belinda's home you can see the ocean, just metres below, that claimed thousands of lives when Typhoon Haiyan hit the Philippines three years ago. The 28-year-old housewife is one of tens of thousands still living a precarious existence on the coast of Tacloban city, on the island of Leyte, in houses they rebuilt themselves. "We feel left out," Belinda told Southeast Asia Globe. "People forget that we need help."
Super Typhoon Haiyan, known locally as Yolanda, destroyed 1.1 million homes and killed at least 6,340 people when it swept through the Philippines in November 2013. The Philippine government under former President Benigno Aquino III promised to build 205,000 homes for Haiyan survivors, especially to relocate those living in coastal 'danger zones'.
However, in September the new vice-president, Leni Robredo, said just 25,000 homes – or 10% of the promised number – had been built, and only 2,500 had been occupied. Robredo, who at the time chaired the Housing and Urban Development Coordinating Council (HUDCC), an umbrella organisation overseeing the work of government housing departments, blamed the delays on "red tape".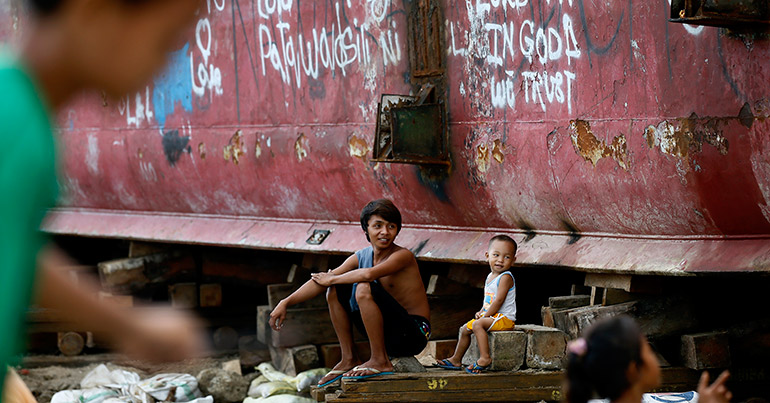 This is a view shared by Ildebrando Bernadas, head of Tacloban city government's disaster risk reduction and management office, who said there is a disconnect between local and national government. "Right from the very start the heightened and strict bureaucracy is the main factor as to why this is going very slowly," he told Southeast Asia Globe.
He said the Tacloban government was the first regional authority to submit a 'Comprehensive Recovery and Rehabilitation Plan' – a national government requirement for all Haiyan-affected regions – and that it was more than a year until this was approved by the government. After the approval, Tacloban officials expected to receive funds to carry out the rebuilding and rehabilitation works, Bernadas said, but instead the money went to national departments. "We never had any control about it," he said. "Not even the city mayor can intervene because the national agencies are doing it. We were not even informed about how much [funding] was for Tacloban."
More than 14,000 homes are being built on land to the north of Tacloban to accommodate between 60,000 and 70,000 displaced people, or about 40% of Tacloban's current population according to Bernadas, but so far only 2,000 homes have been built and occupied.
According to Joyce Sierra, advocacy officer at Social Watch Philippines, the delays have meant Haiyan survivors have become frustrated with waiting. "The resettlement has been taking so long that most of them have returned to the original sites or areas where they are not supposed to be," she said.
Belinda, who lives with five other members of her family in the two-room shack in Tacloban's Seawall barangay (neighbourhood), said she was offered space in temporary shelter but turned it down. "We were offered a place in the bunkhouses but we heard feedback from people that the conditions there are not good, that the water was dirty, and that most of the people who were there transferred back here," she said.
The lack of a decent water supply is also contributing to delays in making the permanent housing site in Tacloban liveable. Bernadas said an adequate supply to the relocation site was not provided under the previous government, adding that President Rodrigo Duterte's new administration has given Tacloban permission to secure its own water supply for the site, and that the city is in talks with water suppliers. "We cannot allow people to transfer to this area simply to prolong their suffering," Bernadas said.
But there is another concern. Many of those living in coastal areas like Seawall are fishermen and are reluctant to relocate because they fear losing their livelihoods. "We want to stay here because my husband works at the pier," Belinda said. "We don't want much assistance; we don't want a whole new house. We just want to be able to cover the holes."
Bernadas acknowledged that many Haiyan survivors were concerned about their livelihoods, but said this was unfounded. "Those that are now resettled permanently, that was also their sentiments: 'We don't want to move because we have been through our lives here, we are fishermen, [and] our livelihoods are in the city proper,'" he said. "But now they are there they feel happy about it. We provided them with livelihoods, we provided them with opportunities, we provide them with electricity." However, he tempered this by saying that not everyone who moved to the relocation zone would be able to keep the same jobs.
The Philippines has one of the highest populations of informal settlers in Southeast Asia, and many of them are crowded around the coastlines most at risk from typhoons. It is also the informal settlers, like those in Seawall, who are reluctant to move.
Marissa, who sells fish at the local market, said she declined to move from Seawall because she had heard the conditions at the relocation site were not good, and because her employment is on the coast. "We recognise the fact that we are informal settlers, but we want to secure the housing first and make sure that wherever we go we will have more or less the same conditions, or better, not worse," she said.
How to encourage these informal settlers to relocate will be a difficult issue for the Duterte administration, but so far the strongman president has taken a soft approach. Following his election in May, Duterte said no informal settlements would be demolished until homes and "economic activity" were ready for the people being relocated.
To deal with the relocation backlog, vice-president Robredo has also said that the HUDCC will start issuing "certifications" for urgent housing projects to speed up their delivery. She said processing documentation to give the go-ahead to resettlement projects can take as long as three years, and that she wants to speed this up to 15 days, adding that she has Duterte's support for her plans.
Reminders of the need to speed up recovery are ever present. Tens of thousands of people were displaced and at least 13 killed when back-to-back typhoons battered northern North Luzon province in the Philippines in October this year.
After Haiyan made landfall in 2013, UN secretary-general Ban Ki-moon said the super typhoon was an "urgent warning" about the impact of climate change. In October, Ban announced that the Paris Agreement, which aims to keep the increase in the global temperature to "well below" 2°C this century, would enter into force on 4 November – four days before the anniversary of Haiyan.
The Philippines signed up to the Paris Agreement under the Aquino administration, but Duterte has tracked back, calling the agreement "stupid". Speaking to typhoon-affected communities in North Luzon in October, he said the agreement would slow down industrialisation of the Philippines. Oxfam has called on Duterte to honour the Paris Agreement, saying it is important the president continues to be "the voice of the poorest, lowest-emitting and most vulnerable people on the world stage," such as the survivors of Haiyan.
Sierra, of Social Watch Philippines, said the survivors of Haiyan are "more vulnerable" now than before the storm hit because of a lack of livelihoods and shelter. Though this is seen as a failure of the Aquino administration, she warned that it is now "the responsibility of the current administration to work out how they are going to achieve this".
Research suggests climate change is causing typhoons in the region to become more severe. A study published in the journal Nature Geoscience in September said that during the past 37 years typhoons that hit East and Southeast Asia have increased in severity up to 15%. About 20 typhoons enter Philippine waters each year.
Forecasters described the latest typhoon to hit the Philippines – Haima – as almost as strong as Haiyan, though its path to the north of the country spared most, including the people of Tacloban, from its worst effects. It is not known when the 'next Haiyan' will hit the Philippines. The tens of thousands still living in Tacloban's danger zones can only hope it will not be soon.