Co-founder Aaron Sexton speaks with Southeast Asia Globe about the organisation's proposed system, which was among four of nearly 350 development concepts recognised in Seoul last month with a $5,000 award from the Global Green Growth Initiative director-general and former UN secretary general Ban Ki-Moon
---
Tell us a bit about Cambodia Green Infrastructure and what drew your interest towards problem-solving drainage in the country…
Phnom Penh is located at the confluence of the Tonle Sap, Mekong and Bassac rivers. The outskirts of the city are made up of wetlands and low-lying areas, and elevation across the city barely rises more than 10m. Much of the city has been developed on the alluvium deposits of previous flood events. Such topographical and hydrological features, combined with monsoonal weather patterns, result in Phnom Penh repeatedly suffering from storm water and flooding issues. Increasing population, urbanisation and rapid development continues to place strain and pressure on the city's infrastructure, which is already considered to be working at capacity…. Flooding incidents cost the economy an estimated $6 million each month.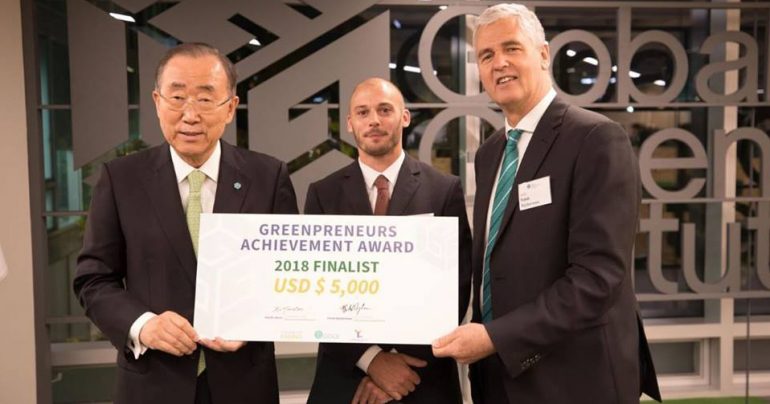 Flooding and storm water incidence are predicted to increase in urban areas across Cambodia unless action is taken. Cambodia Green Infrastructure [CGI] was developed out of a frustration of the impacts of flooding and storm water that continue to impact the city of Phnom Penh. CGI's initial focus is to design and install bioretention systems in urban areas across Cambodia as a retrofit solution to this issue.
What does the current drainage system look like?
The drainage network is unified, old and operating beyond capacity. Open storm water drains carve their way through Phnom Penh carrying heavily polluted storm water and wastewater. These open drains flood the streets when monsoon downpours cannot be contained.
Our research suggests one of the major causes of flooding is the inability of storm water to access the subsurface as the streets are predominantly impermeable and the drainage system is often blocked with sediment or waste. Twenty-five lakes in the city have also been filled in as the development agenda is prioritised. Climate change is predicted to cause more intense and unpredictable storms across Cambodia. Flooded streets impact families, businesses, homes, transport and schools.
How will CGI's system work?
Bioretention systems consist of areas of vegetated, shallow surface depressions that use the interaction of plants, soils and microorganisms to store, treat and reduce runoff. The systems act to mimic the natural hydrological cycle by reducing the flow rate and volume of storm water. Bioretention systems are one of the most commonly used storm water control measures globally, and their benefits are well reported. They improve the quality of urban living by enhancing health, well-being and the environment. A city with green space is likely to have healthier citizens, reducing demands on services and therefore contributing to a stronger economy. These benefits are particularly important for economically deprived communities.
Bioretention tree pits, rain gardens or a bioswale may be a preferential installation technique, depending on the characteristics at individual sites. Vegetation will be selected to be tolerant of certain conditions and be chosen for its low maintenance attributes to keep costs down. Our research illustrates a wide variety of suitable vegetation is available from both within Cambodia and in neighbouring countries, which could be applied to different sized systems at many different locations over the city. Importantly, the systems function well on flat topography, which is a predominant characteristic in Phnom Penh.
What drainage systems is CGI competing with, if any, and what sets your system apart?
Investment into other larger-scale engineering projects is vast. Drainage and storm water solutions installed by JICA will exceed $662 million by 2035. The cost of maintaining and servicing drainage pipes is a huge challenge, and costs will continue to rise. The cost of annually maintaining the system is over $1.2 million. This maintenance includes the removal of sediment and waste that restrict the system's ability to function. Bioretention systems reduce the amount of sediment and waste washed into the drainage network and therefore can reduce the massive annual expense associated with blocked drainage pipes. Our installations cost approximately $150 to $180 per square metre, compared to JICA's project, which equates to roughly $5,500 per square metre. No other green infrastructure company exists in Cambodia at this stage.
What stage of development is your system in? Do you have any plans for expansion to other countries in the future?
We are just beginning and hope to be at installation stage within two months. Our ambition is to install 500 square metres in year one, increasing to 3,000 square metres installed nationwide by year three. Our focus is Cambodia, as we have expertise and experience in delivering projects in country, as well as having ambitions to reinvest capital into other green infrastructure solutions across the country. We believe there is a lot we can achieve, and we are excited about the future.