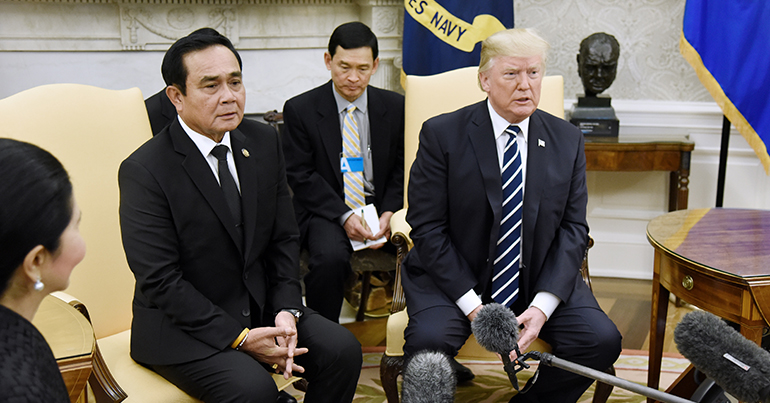 Dictators around the globe are now quoting and paraphrasing US President Donald Trump as justification for their own press crackdowns, Reporters Without Borders points out as 234 Americans face prosecution and decades in prison after their arrests during the Inauguration Day protests in January in Washington, D.C.
Thailand's leader just issued a threat to his country's media that mentioned "fake reports and hate speech."
"I don't want to make enemies. But society needs to function in an orderly fashion," the Bangkok Post quoted Prime Minister Prayut Chan-ocha, leader of the military junta that took over the nation in a coup in 2014. "No matter who you are, if you twist the facts, write what is not true or incite hatred, you will face legal action."
Cambodian leader Hun Sen, who's been busy shutting down media outlets such as the Cambodia Daily ahead of 2018's general elections, has backed Trump's anti-media fury.
"CNN deserves the rantings of President Donald Trump," the former Khmer Rouge official told law students at a graduation ceremony. "His rantings are right. I would like to send a message to the president that your attack on CNN is right. American media is very bad."
Trump's 'fake news' fuels dictatorships
This may be the first time that authoritarian regimes have been encouraged rather than discouraged by the United States in their stifling of speech and the press. Reporters Without Borders sees that as a dangerous precedent.
"The phenomenon of 'fake news' is a serious one—both at the national and international level," Margaux Ewen, advocacy and communications director for the group's North America Bureau, said in a recent interview. "Opponents of press freedom all over the world have used the term to silence and discredit the media. They have even gone so far as to quote statements from President Trump to support and justify their misdirected policies and draconian laws.
"Authoritarian regimes all over the world can now take full advantage of this anti-media stance by discrediting mainstream news coverage and calling it 'fake news.' There are serious global implications of President Trump's stance against the media."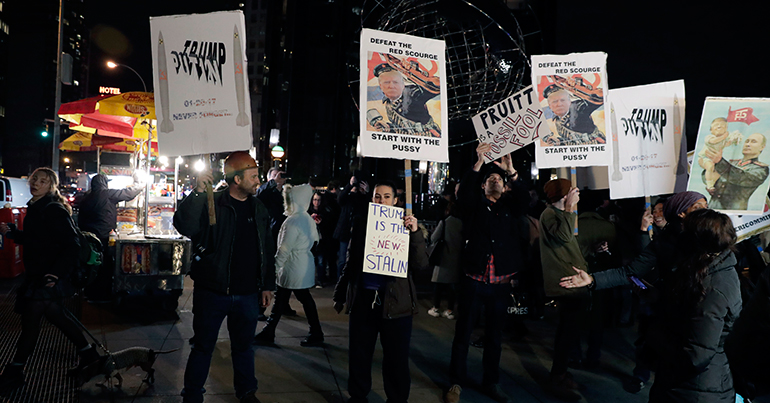 Reporter facing prison in US press crackdown
The 234 defendants, or the 'J20' as they're being called, include Santa Fe, New Mexico-based journalist Aaron Cantú. He was rounded up en masse during the Inauguration Day arrests while reporting on the ground, and now faces 70 years behind bars. Reporters Without Borders is watching his case with deep concern about the future of America's press freedoms.
"At the time of his arrest in January, we publicly admonished his arrest and charges," Ewen said. "No journalist should be arrested and charged with a criminal offense for simply doing their job covering a protest."
'Mass trials' a 'watershed moment' for Democracy
Cantú emailed this statement as he prepares his defense against the sort of crackdown we are used to seeing done only by authoritarian regimes.
"While I appreciate the outsized attention my case has gotten because of my profession, the entirety of the J20 prosecution is a watershed moment for how the state conceives of and persecutes political activism in the Trump era. These mass trials confirm some of the worst fears about a so-called law-and-order presidential administration that is hypersensitive to criticism, and should be watched closely by anybody concerned with the direction of this country."
'No easy fix' for US press freedom
Once America jumps down that anti-media rabbit hole, it's going to be an epic struggle to get out of it, says Reporters Without Borders.
"Unfortunately, there is no easy fix for this erosion of trust in the media," said Ewen.
Ewen places responsibility on Americans becoming more media savvy, which is probably a long shot.
"Double checking sources and facts, consuming news from established and unbiased outlets, and running the story by a few different sources are just a few ways to verify the information available to the reader," said Ewen.
Ultimately, the future of press freedom is in the hands of the man at the top. Unless he changes course, Trump could do lasting damage to American democracy, Ewen explained.
"Until President Trump learns to accept criticism from the media and starts respecting the First Amendment, press freedom in the US will continue to be undermined, putting American democracy at risk."
Tom O'Connell is an American independent journalist currently living and writing in Thailand.