A balloon of ash and cloud erupting from Mount Agung volcano in eastern Bali has shifted away from Lombok and toward Denpasar, leading to the evacuation of thousands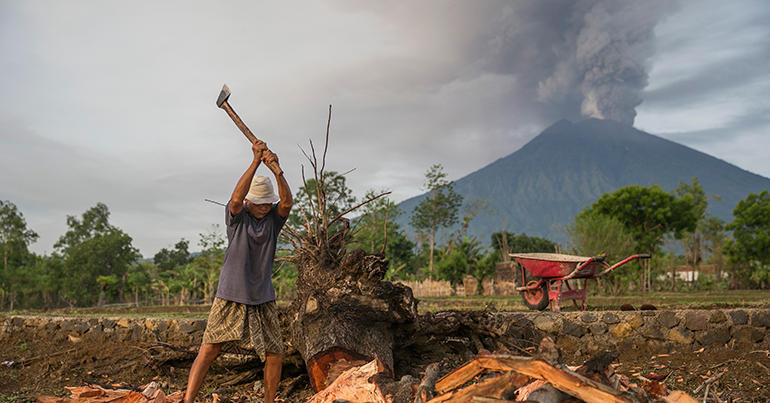 Indonesian authorities raised the alert level for Bali's Mount Agung volcano to the highest grade on Sunday and ordered for the immediate evacuation of 100,000 residents amid warnings 'a potential major eruption could happen any time'.
Indonesia's Center for Volcanology and Geological Hazard Mitigation raised its aviation notice to level four at 6.00am local time because of "the possibility and imminent risk of disaster" after the volcano shifted from steam-based eruptions to magmatic eruptions.
Spokesman Sutopo Purwo Nugroho from Indonesia's Disaster Mitigation Agency announced during a news conference in Jakarta on Monday that the hazard zone will now include a 10 kilometre radius from the volcano, which will affect 22 villages and around 100,000 people.
Nugroho revealed that only around 40,000 people have evacuated thus far with many refusing to leave for fear of deserting their cattle.
"Authorities will comb the area to persuade them. If needed, we will forcibly evacuate them," he announced.
Following an initial eruption on Saturday evening, three subsequent eruptions on Sunday produced a noticeable orange glow around the volcano's summit and sent ash billowing almost 4,000 metres into the atmosphere.
The ensuing ash forced the complete closure of Ngurah Rai International Airport in Denpasar, resulting in the cancellation of 445 flights and throwing the travel plans of 59,000 passengers into turmoil.
"We got reports from pilots that volcanic ash has reached the area above the airport. We did an observation and found out that is true. So we decided to close the airport operation," Bali and East Nusa Tengarra Airport Authority announced in a statement on Sunday. "Although the closure is planned for 18 hours we will evaluate every six hours."
On Sunday, the National Board for Disaster Management fared similar caution, initially warning residents in an 8 kilometre radius around the volcano to evacuate immediately after announcing molten rock had been detected close to the volcano's surface, indicating the imminent potential for a larger eruption.
"Continuing plumes of smoke are occasionally accompanied by explosive eruptions and the sound of weak blasts that can be heard up to 12km from the peak," the Disaster Mitigation Agency said in a statement. "Rays of fire are increasingly visible from night to the following day. This indicates the potential for a larger eruption is imminent."
The level four notice comes after Mount Agung began erupting small amounts of smoke last week, after initial volcanic movements were detected back in September. The intense surge in volcanic tremors that began in September has seen 140,000 villagers who live on and around the mountain to flee to safety in temporary shelters.
A major eruption from Mount Agung would be the first in half a century, tailing the eruptions of 1963, which saw the volcano claim the lives of more than 1,100 people after sending spewing hot gases over the mountainside.