As reporters were being escorted out of a press briefing in Manila, they began to shout questions at Trump about whether or not he would raise the issue of human rights with Duterte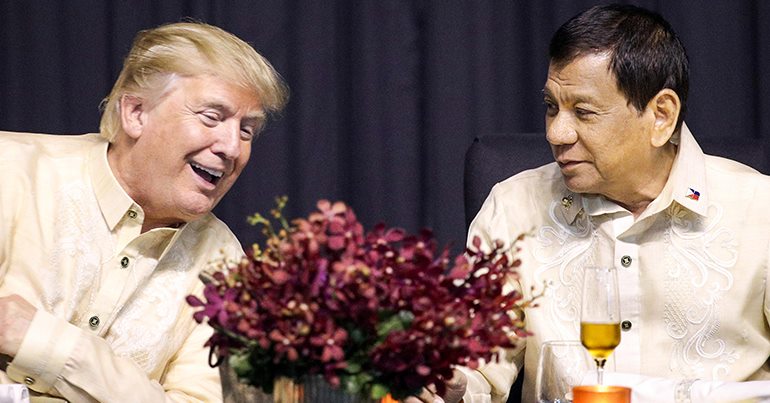 The much-anticipated meeting between the Philippines President Rodrigo Duterte and US President Donald Trump was met with disappointment from the reporters attending a press briefing on Monday as both men tactfully dodged questions concerning human rights violations.
Instead of delving into the topic of the Philippines leader's alleged human rights violations, President Trump decided to centre the conversation around less contentious topics.
"I've enjoyed being here. The weather is always good. Today it's pretty good. But one thing about the Philippines: eventually it gets good no matter what," he was quoted as saying in front of a group of reporters in Manila.
Politico reported that following Trump's remarks the journalists attending the briefing began to shout questions to both men about whether or not there would be any discussion about the host's violent crackdown on drugs.
"We will be discussing matters that are of interest to both the Philippines and…with you around, guys, you are the spies," said Duterte in response to the questions.
The Washington Post reported that the US president seemed to enjoy his Filipino counterparts remarks, saying that the two men shared a laugh afterwards.
Duterte, who has been waging a violent war on drugs in his country, has denied the allegations from human rights advocates around the world who estimate that a possible 9,000 people have died at the hands of police officers and others who have taken the justice system into their own hands.
After the reporters had been escorted from the press conference, the White House released an email to Politico that indicated that the topic of human rights violations did come up "briefly" during the closed-door meeting.
The spokesperson for Duterte, however, denied this claim and said that human rights issues did not come up at all.
President Trump's handling of Duterte's bloody war breaks with the tradition of his predecessors, as the US has long been an outward and staunch opponent of leaders who embrace violating human rights.
Just last year, when then US President Barack Obama was visiting for the Asean Summit, he made the statement that his country would refuse to engage with leaders, with particular emphasis directed towards Duterte, who are not consistent with the international rule of law and respect for human rights.
"We're not going to back off on our position that if we're working with a country, whether it's on anti-terrorism, whether it's on going after drug traffickers, as despicable as these networks may be, as much as damage as they do, it is important from our perspective to make sure that we do it the right way," the former president said during the 2016 Asean Summit.
Trump, however, has taken a much different approach by cozying up to leaders and autocrats with rap sheets that would certainly fall outside of what Obama's administration deemed acceptable.
Saudi Arabia's King Salman, Egyptian President Abdel-Fattah el-Sissi and Russian President Vladimir Putin are just a few of the leaders who Trump has engaged in diplomatic discussions with since taking office in January.
He also notably avoided discussing human rights abuses earlier in his five-nation Asia trip when he was visiting with Chinese President Xi Jinping in Beijing.