Southeast Asia Globe talks filmmaking, crowdfunding and Clint Eastwood with the three winning directors at this year's Tropfest Southeast Asia short film festival

By Dan Riley
The art of storytelling was in sharp focus over the weekend as the second edition of Tropfest Southeast Asia (Tropfest SEA) short film festival wrapped up in Penang.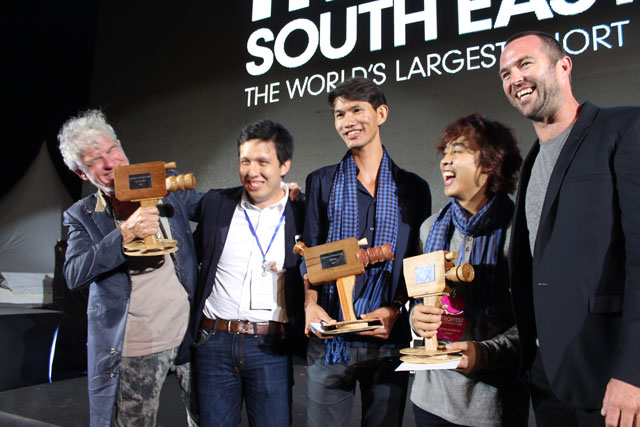 "Tropfest is all about celebrating creativity among talented filmmakers, and I am constantly inspired by the incredible films we receive," said Tropfest SEA's managing director Joe Sidek. "The fire of storytelling burns strong in Southeast Asia, and we will keep working to make Tropfest SEA a platform for stories that might not otherwise be told."
A total of 16 young filmmakers from the region made the shortlist and went on to see their work premiered in front of thousands at the Esplanade in Penang's George Town on Sunday night. A panel of five judges, including renowned cinematographer Christopher Doyle, Australian actor Sullivan Stapleton, director general of Malaysia's National Film Development Corporation Kamil Othman, Infinite Studios CEO Mike Wiluan and Astro vice-president Teng Lee Yein, selected their top three for trophies and prizes.
Cream of the crop was 25-year-old Polen Ly, who was crowned overall winner for his emotive seven-minute short Colourful Knots, a story of friendship between a rich, young cancer sufferer and some street children selling bunches of jasmine flowers at a traffic light. This was the second successive victory for a Cambodian director at the annual competition following Sothea Ines' winning submission Rice last year.
The plight of impoverished youngsters inspired many of the filmmakers – six of the shorts this year featured leading roles for child actors in scenes of economic hardship.
Former medical student Polen came runner up in last year's Tropfest, but he went one better this time around to collect the $12,000 cash prize along with an industry immersion trip to Los Angeles to meet some of the biggest names in the business. "After winning the second prize last February, I knew I wanted to make another short film, so I began the project in April," he said. "It was made by online crowdfunding [via Indiegogo]. I got a budget to pay the crew and actors from donations. [My success last year] played a part in that. It was a big achievement, so people began to trust me."
Polen said that his biggest challenge during the filming of Colourful Knots arose from casting first-time actors for all of his characters. "In my profession, I think acting is the most important aspect. A director has to know how to direct the actors to capture the emotion," he said. "I found my child and adult actors either on the streets of Phnom Penh or in the suburbs. They've never acted before so they were very excited. I spent a lot of time talking with them because they were curious about acting. Their performances were very spontaneous, but the children have experienced poverty, so they know how to act like real street kids because they are street kids."
And what next for Cambodia's newest star filmmaker?
"Being a writer and director, you have plenty of ideas every day. You get inspired by everything around you," said Polen. "Next I would love to write another short film, but not about children, about the old people. Also, I'm preparing a script for a feature film. Hopefully in one or two years."
A photo finish
Second place was awarded to 23-year-old Jake Soriano of the Philippines for his heart-warming film The Steel Child, which featured a canny young boy figuring out a way of making money through street performing.
"The story had been with me for several months," said Manila-based Soriano, whose first project was a music video for a local record label when he was 19. "Tropfest came along and I decided that this was the time to make it happen. I procrastinated a little bit, and I ended up writing the script just three or four days before shooting. And then we shot the film the day before the deadline… It was a photo finish."
Much has been made of the rise to prominence of Cambodian filmmakers despite the lack of film schools in the country. However, the Philippines fares better in the film school stakes, and Soriano collaborated on The Steel Child with his former De La Salle College of Saint Benilde classmate Inshalla Montero – a fellow Tropfest SEA 2015 finalist with The Little Reader, also about a Manila street kid.
"This film was a challenge for me," said Soriano. "I relied on so many camera angles, so many visual effects, on my last project. So I said to myself: 'I'm only going to use one lens, one camera. I'm not going to use tripods or anything else. No lights, no nothing.' I just wanted to go back to the concept. It goes to show that concept really is king."
East meets Western
Coming in third place, and making it four podium places for Cambodia in two years at Tropfest SEA, was 23-year-old Somchanrith Chap with his film A Fistful of Pebbles, a clear hit with the crowd for its slick action scenes and entertaining dialogue.
"The idea is really simple – a hero, a villain – but we wanted to make it different, something that has never been done before in Cambodia," said Somchanrith. "And that's why the film is how it is, a Western-style film shot in the East. We watched a load of Clint Eastwood films – A Fistful of Dollars, The Good, The Bad and The Ugly and Unforgiven. We weren't trying to recreate that style but trying to adapt it slightly."
The young director, who has only been working on films for the past year, said the most demanding aspect of the process was managing the pressure associated with production.
"Being on a set, you have to make sure everything arrives on time, but sometimes things go wrong," he said. "For example, I got to the set first and checked my Facebook account and saw that another vehicle had broken down with my DOP [Director of Photography] and half of the cast."
Another common problem, and one beyond most directors' control, is the weather.
"Sometimes you're shooting and it starts raining like crazy. Sometimes we wanted it to rain but then it didn't rain. So we had to improvise some things," he said. "It was written in the script as a normal sunny day, but when it started raining we had no choice. We only had three days of shooting."
But the hard work was worth it in the end, according to Somchanrith.
"During filming I saw my team having fun – I was having fun. The cast were amazing. I've never worked with them before but they were all amazing. I've never been so proud."
***
Videos for all 16 finalists' short films this year can be watched here, where viewers can also vote until February 16 for their favourite to win the Audience Choice Award.