Paying attention to nature's details on Phu Quoc
By Massimo Morello
You have to go, it's unique. You'll understand when you get there. And there are the most beautiful sunsets." So said Mauro, an Italian expat in Vietnam, many years ago. He was talking about Phu Quoc, a teardrop-shaped island 45km west of the Vietnamese coast and 15km south of Cambodia. The diminutive island's surface of 565-square-kilometres is covered in ancient woodland and surrounded by shorelines that form what some have called "the last great unspoiled beaches in Asia".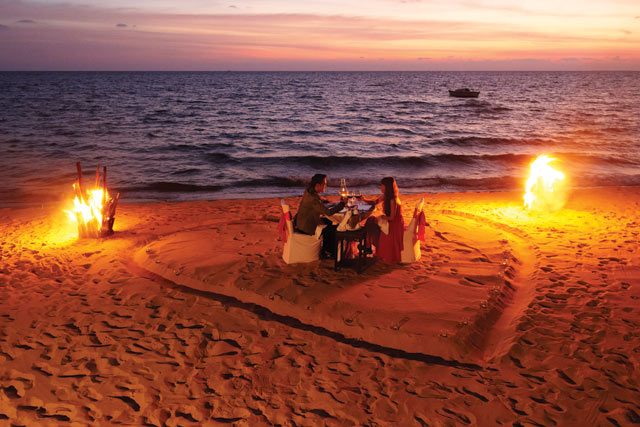 Mauro had happened across one of the island's most beautiful stretches of coast, Xe Beach, which is also called Mango Bay due to the trees that almost overhang the shore, providing shade for a small Taoist temple. There he bought some land, where he planned to build a hotel and a home for his family. Back then, as had been written, Phu Quoc was "a mystery for the outside world".
As time passed, that mystery has gradually been revealed and the island was discovered by hordes of travellers. Its charm, however, was not lost, only changed. The same happened to Mauro's plans. The small hotel he originally had in mind – just big enough to accommodate friends and family – became the first boutique resort on Phu Quoc.
Chen La was an eco-compatible version of the small hotels frequented by colonial officials. It then underwent another transformation, following an agreement with the Centara hotel group, to become Chen Sea Resort and Spa.
The sunsets, beach and atmosphere are the same as all those years ago, with the resort embracing an ethos far removed from the larger tourist developments. Guests are able to enjoy a sophisticated version of the Robinson Crusoe experience, with all the villas designed for maximum privacy, relaxation, comfort and exclusivity. Jacuzzi Villas are traditional timber Hoi An houses that have been moved and fully rebuilt. The restaurant, Il Ristorante, teams international cuisine with Mediterranean influences and local flavours. Sunset views are available. Naturally.

History
The island's recorded history began at the end of the 18th century, when French missionary Pigneau de Behaine landed ashore. Always the subject of contention with Cambodia, the dispute was resolved by the French occupation of the island in 1869. A penal colony for the Viet Minh was later built, which was used for Vietcong between 1967 and 1972.
Duong Dong
The island's main centre is a haven for lovers of not-yet-global exoticism. A canal harbour edged with palm trees and coloured with hundreds of cuttlefish boats with sea blue hulls is joined by white or aquamarine bridge houses and crews that look like the pirates in Singing Behind Screens, a film by Italian director Ermanno Olmi.
Spa Cenvaree
With its sea views and deliciously relaxing atmosphere, the resort's spa boasts the highly regarded Cenvaree brand. It offers a wide range of treatments to rejuvenate the mind and body, including traditional Vietnamese and Thai massage, hot stone treatments, reflexology and aromatherapy, as well as beauty and facial treatments, a lemongrass herbal bath, sea salt crystal bath and milk bath.
Choices, choices
This resort can team relaxation and fitness like few others. The numerous recreational activities available include meditation and Tai Chi. More active visitors can choose from bicycle rides, a clay tennis court and a wide variety of water sports, such as sailing, windsurfing, kayaking, and wakeboarding. The locally run Padi Dive Centre offers high quality services. But don't forget to leave time for cooking classes.
Essentials
Website: centarahotelsresorts.com. Tel: +84 (0)773 995 895. Email: cpv@chr.co.th. Rates: from $289 to $585 per night. Suggested accommodation: beachfront villa ($346).