Thearith Yang is one of the designers behind Acleda Bank's new building in Phnom Penh. He sat down with Southeast Asia Globe to explain how Cambodians can shape their country – literally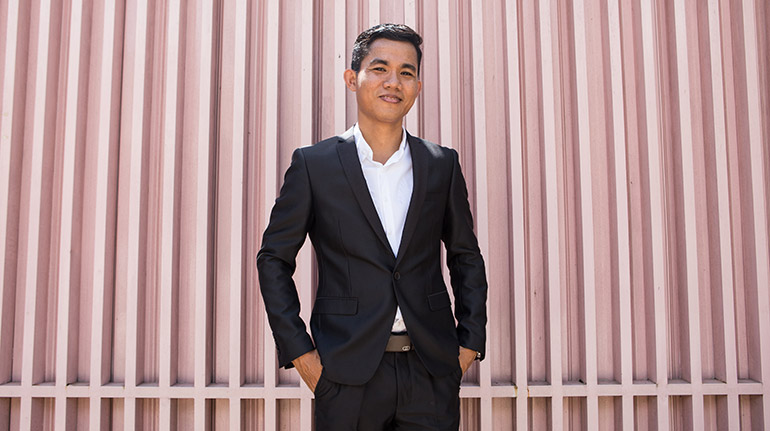 How did you start down the road to becoming an engineer?
When I came to Phnom Penh for the university test I chose two majors. I liked medicine, and engineering – that was my father's choice. I failed the medicine test, so I chose engineering, but when I came to the university [the Institute of Technology] I found myself really enjoying it.
Would you recommend engineering as a career in Cambodia?
I really recommend and support any young person who wants to become  a professional engineer, because now Cambodia has a booming construction industry. As you can see, there are a lot of high-rise buildings going on here. Most of them are designed by foreign companies, not by Cambodians. What I want to see in the future is buildings designed by Cambodians, not designed by foreigners.
What do you think were the most important career decisions you made?
To get where I am, I have only three things in mind. First, you have to define your position. You can be an employee who needs only money and work only for that money, or an employee who is working less than the money he gets, or an employee who wants to work more than the money he gets. I always do the thing that is more than the salary [Otherwise, your boss] will not want to give you anything to do. You won't improve, will lose face at your job and you will not be successful in your life.
Which skills do you think are most important for engineers?
You need to be struggling with problems and trying to solve those problems. I know engineers who always want to avoid problems. I tell my guys if you see a problem, don't skip it. You need to solve it now. The main thing for engineers is that we need to be problem solvers.
How important do you think studying abroad is?
In Cambodia, we have to admit that our education system is a bit poor. I always encourage [students] to go and develop more knowledge for their career. I was studying in Jakarta and it was a good experience. It gives you a good idea of the development going on around you.
What needs to change to develop better Cambodian engineers?
Now we don't have a real engineering ministry or any government office that supports the engineering field. Right now, we have only one [relevant body]: the Board of Engineers. I want to see more of this kind of support so that young engineers can get technical training and improve their knowledge.