People were not invited – they went there," says Nick Carraway in F. Scott Fitzgerald's classic American novel The Great Gatsby. Carraway, a sheltered young Yale graduate, is attempting to sum up the incredible allure of the eponymous character's extravagant mansion and the lavish parties held therein.
Although it lacks a charismatic yet reclusive millionaire pulling the strings, Phnom Penh's Tama Hotel seems to owe a great deal to Fitzgerald's tale of imprudent excess. When crafting the hotel's aesthetic, Japanese designer Yuki Fukumoto created in his mind's eye a fantastical Gatsbyesque character of his own, known only as 'Mr X'. The hotel's open-plan lobby, restaurant and bar represent the penthouse home of this fictional travel- and design-loving gentleman. The area is peppered with antiques and kitsch curious such as old typewriters, suitcases an model galleons, lending it a certain 1920s playboy richness. This carefully selected bric-a-brac from across the globe is tempered by local touches, such as black steelwork and furniture that is 95% handmade in Cambodia.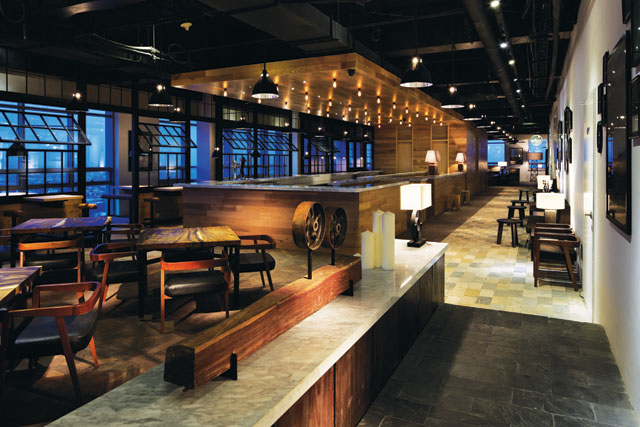 Striking enough at ground level, Tama is – literally – elevated to greater heights by its location on the 22nd floor of the Phnom Penh Tower, one of the Cambodian capital's tallest buildings. The sweeping views from the deluxe rooms, as well as the restaurant, are truly magnificent, offering a new perspective on a city that is growing and developing at an exceptional rate.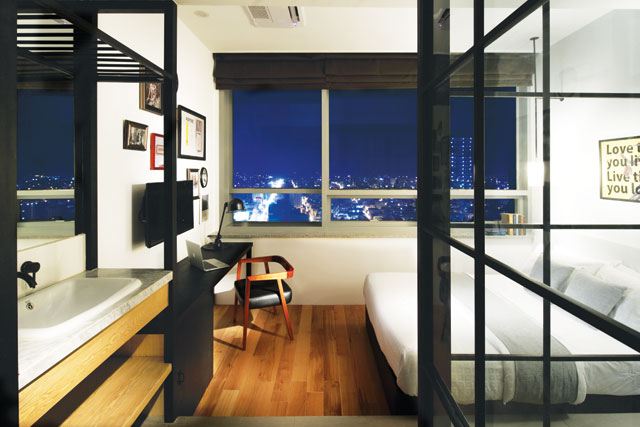 There has never been a better time to visit Phnom Penh, which has become a wonderfully kaleidoscopic destination. The skyscrapers are just beginning to soar, while on ground level life continues as it has for decades on the vast majority of the city's streets, where elderly women sell fresh baguettes from giant baskets, and precariously balanced moto drivers catch a snooze on the back of their steed. For visitors who travel using their tastebuds, street vendors toss their woks with decades of experience, offering a variety of local dishes for a dollar or two. At the other end of the scale, diners with more buxom wallets can sample some of the region's finest food – but at a fraction of the price in other capitals.
Leave it another five or ten years and Phnom Penh may well have morphed into yet another identikit Asian metropolis. Go now while it is perfectly balanced on the cusp of modernity and watch the future unfurl from Tama Hotel's privileged position.
Room for one
What can an interior designer do with five square-metres? Nothing, right? You couldn't be more wrong. Taking inspiration from Japan's famed 'pod hotels', but moving the idea onto a whole new level of comfort, Tama's unique Compact Rooms manage to squeeze a bed, TV, sofa, sideboard, desk, skylight, bookshelves and hanging space into an area not much bigger than most closets. And it doesn't even feel that cramped.
Shaken, not stirred
For those fond of a good sup on ol' grandma's cough medicine, Cambodia's capital is teeming with bars just falling over themselves to provide great drinks at even better prices. Try Rahu on the Riverside to watch Cambodia's elite sip chic cocktails, or head to Deco for locally brewed craft beers. Of course, with regular events in the bar area, Tama offers some tasty entertainment morsels of its own.
Space for dessert?

Phnom Penh is rapidly becoming something of a foodie paradise, with enough exciting options to easily fill lunch and dinner every day for a month-long stay. Debates over the city's best restaurant will rage long into the night, but nobody could deny that the exceptional artisanship on show at Common Tiger, the rambunctious Venezuelan tapas at Tepui,
and the elegant French classics at Le Residence provide truly exceptional dining experiences.
Help with your bags

The opening earlier this year of Aeon Mall finally put Phnom Penh on the regional shopping map. Of course, Central Market and Russian Market are still the places to go for those fond of sweaty bargain hunting. But for international brands in air-conditioned comfort, Aeon has definitely become the capital's key address.
Essentials
Website: tamahomecambodia.jp/tamahotel. Facebook: facebook.com/d22h22. Tel: +855 (0)23 964 020. Rates: from $35 per night for Compact Rooms and from $80 per night for Deluxe Rooms. Suggested accomodation: a Deluxe Room, complete with floor-to-ceiling windows for unparalleled views of the city.
Keep reading:
"The duality of beauty" – The Shinta Mani Club offers tired temple-trekkers and loved-up couples a central Siem Reap retreat dedicated to delicious details and the development of the Kingdom