In the last days of 2016, a warning from the Thai government spread across Cambodia's social media like a stain: canned food manufactured in Thailand had been contaminated with HIV. At the urging of some nameless supervisor, the story went, more than 200 HIV-positive workers had intentionally infected countless products with their blood. On Facebook, on Twitter, in mass texts, the message was clear: no Thai product was safe.
It wasn't until the Thai embassy in Cambodia released a furious statement that rumour gave way to reality: nothing about the story was true. Although exposed as a lie, it had already gone viral.
As Cambodians increasingly turn to social media for their daily information fix, the fervour for 'fake news' – which has saturated Western media since it came to define the 2016 US presidential election – has taken hold of a nation where lies and libel have long been used as political weapons.
"[Many social media accounts] just spread rumours instead of posting about confirmed news, and they can also be biased," said 24-year-old human resources worker Hak Sreypov, a view shared by many of the Phnom Penh residents Southeast Asia Globe spoke to. "So when I read those [sources], I lose confidence and trust in them. Also, sometimes they try to attack certain individuals with their posts. When I see that, I think the page can't be trusted."
Sreypov said Facebook remained her main source of news despite its unreliability.
And with some news sites getting plenty of clicks even with dubious content, they are not shying away from publishing material yet to be proven either true or false, choosing instead to regurgitate unsourced information that falls in line with their own political biases.
In early February, a Facebook account under the name 'Seyha' posted an unverified recording allegedly exposing then-opposition leader Sam Rainsy working his Parisian charm on an unknown woman. With it came a warning: "All the CNRP [Cambodia National Rescue Party] supporters, please listen: Sam Rainsy, our president, always seeks sexual intercourse with a masseuse and now even a waitress, known as Phal."
As scoops go, they don't come much better. Digital news site-cum-government mouthpiece Fresh News soon had the story. Poised above the pained smirk of Cambodia's most famous opposition face, the black text almost seemed to burn a hole into the screen: "Sam Rainsy Allegedly Seduces a Waitress".
Alongside the article – an admirable exercise in economy of language at just four paragraphs – was the recording itself: "Today is Thursday," the man's voice cooed. "Tomorrow is Friday, then Saturday. Saturday we'll meet with each other."
"2017 is the year that CNRP's heads have faced many alleged mistresses," Fresh News added helpfully.
Last month, several opposition lawmakers found themselves facing public humiliation after Fresh News faithfully reproduced a barrage of unsourced accusations from the same Facebook page suggesting they were caught up in illegal gambling, extramarital affairs and – most sordidly – public sex within the National Assembly. Never one to miss an opportunity, Prime Minister Hun Sen called for an internal investigation into the rumours and, should it be required, a Buddhist ceremony to thoroughly "cleanse" the building.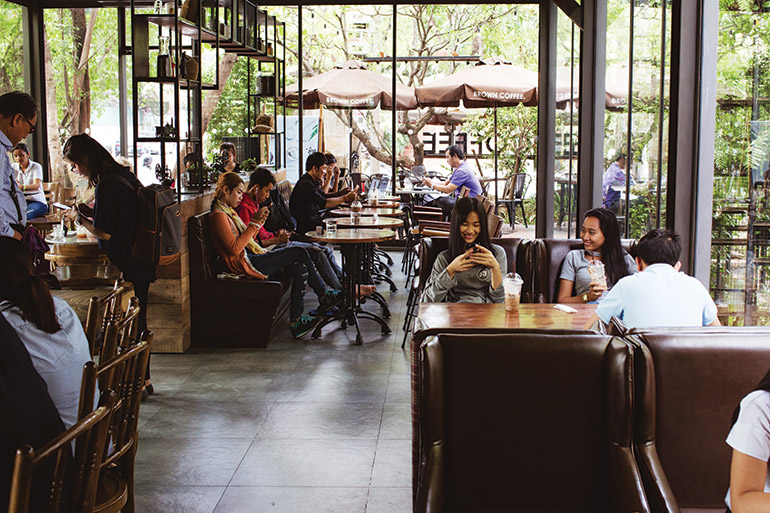 Coming less than a week before Cambodia's exiled opposition leader resigned from his post, in what he framed as an effort to save his party from dissolution at the hands of the ruling Cambodian People's Party (CPP), this latest round of rumour and raunch may have seemed the least of Rainsy's worries. But as the international media works itself to fever pitch over the spectre of so-called 'fake news', the regime's relentless attacks on the reputations of its enemies has taken on a grim new character.
Days after Rainsy's resignation, a letter allegedly written by him was circulated on social media after appearing on Fresh News. In it, "Rainsy" pushed CNRP leaders to appoint his wife as the party's new president ahead of his deputy Kem Sokha. Although Rainsy dismissed the document as fake, Hun Manith – head of military intelligence and one of the prime minister's sons – held it up on social media as proof of infighting within the opposition.
For Cambodian Centre for Human Rights executive director Chak Sopheap, it is a pattern of deception that shows few signs of easing.
"The recent leaks targeting CNRP politicians may be conducted over a new medium, but the political game being played is a familiar one," she said. "Then, as now, these personal matters are used as an attempted distraction from the severe human rights issues plaguing the country."
Council of Ministers spokesperson Phay Siphan said the leaks were a matter for private individuals.
"We don't have any law to regulate social media – we don't have that," he said. "But we are worrying, everyone in Cambodia, about fake news."
On 1 March, Rainsy raised the stakes by distributing an extensive cache of alleged text messages involving senior CPP figures, members of Hun Sen's family and prominent businesspeople. As Southeast Asia Globe went to print the content of the alleged logs had not been verified but appeared to highlight links between the ruling party and several high-profile business moguls.
Rainsy, who claimed he had not even read the files before forwarding them from an anonymous source to the media, appeared unaware of the hypocrisy of leaking unverified personal information while telling the Cambodia Daily: "I am not going to take part in one way or another in this despicable game with very cheap people."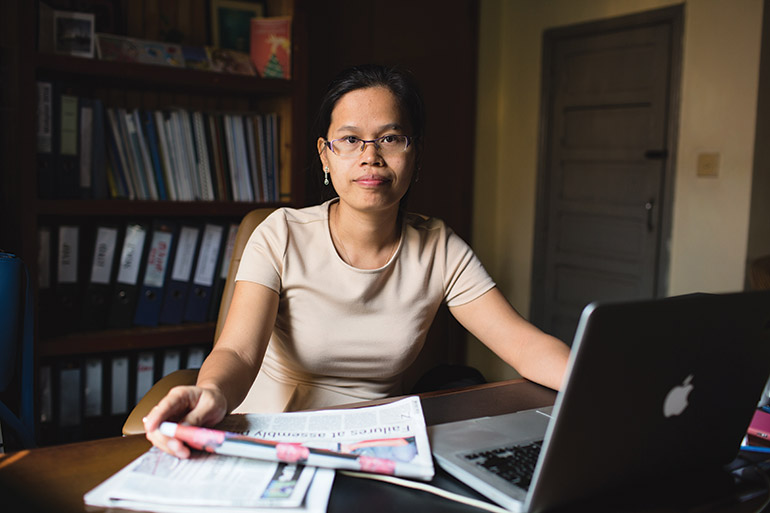 The opposition has not been entirely innocent of stretching the truth to further its own agenda either – though there's no doubt that the consequences of their claims have been more severe in a country where defamation suits are frequently wielded as a blunt instrument by the ruling party. In November, opposition senator Hong Sok Hour was sentenced to seven years in prison on forgery-related charges for his involvement in a 2015 video posted online that presented a fake 1979 treaty between Vietnam and Cambodia to "dissolve" the border between the two nations. This accusation – echoing the long-held CNRP line that Hun Sen and his party are little more than Vietnamese stooges – continues to resonate among the CNRP and its supporters: in December, Rainsy and two of his assistants were sentenced in absentia to five years in prison for a Facebook post once again holding up the treaty as legitimate. Six months earlier, Rainsy was ordered to pay almost $40,000 after falsely claiming that the 1980s regime led by now-National Assembly president Heng Samrin had sentenced King Norodom Sihanouk to death. No such sentence was passed.
Long Sokunthyda, an 18-year-old majoring in global affairs at the American University of Phnom Penh, said she was sceptical of information spread across social media by politicians from all parties.
"They're promoting themselves," she said. "It's all about the good deeds that they do, so we don't really know whether it's true or not because they're just trying to self-promote."
CNRP vice-president and rights activist Mu Sochua rejected the idea that the opposition manufactured information to match their own agenda.
"I don't think we have used social media to spread false documents or news – it's not part of our strategy," she said. "We do not create false documents. If we have information, we will share it with the public, but we don't produce fake documents."
For 22-year-old salesperson Hun Chanpisey, though, not all consumers of online news are savvy enough to filter fact from fiction.
"Most of the time people don't take the time to really think about the news – they just eat the information up, and even agree with the ideas that the news posted without trying to confirm it," he said.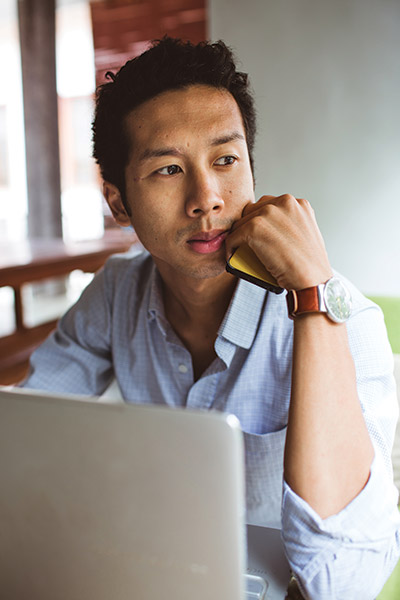 Noan Sereiboth, an active blogger and a core member of political discussion group Politikoffee, said anonymous and unsourced rumours targeting opposition politicians on social media were only becoming more frequent as commune elections scheduled for June draw closer.
"It is a big concern when [social media users] share [a story] without knowing if it is true or not or reading it in detail – because sometimes it is just propaganda," he said. "Now some fake account users are trying to spread sexual and gambling rumours of opposition party members to defame and attack them… Whether it is true or not, it can destroy their reputation and dignity and… disturb their ability to campaign in the upcoming election."
Sopheap said that while social media had freed many young Cambodians from a media landscape previously dominated by government-aligned networks, its lack of accountability made it a minefield of dangerous misinformation.
"The rise of social media can be seen as a double-edged sword," she said. "For the first time, enriched information is accessible to a large section of the population, marking an improvement to the prior situation in which people mostly relied on pro-government news sources. However, as we have seen, this also leaves people very vulnerable to manipulation by fake news."
It is a problem that will only continue to grow as Cambodia's youth become more and more entrenched in social media. An Asia Foundation report into mobile use in Cambodia released last year revealed that Facebook had overtaken other media as the number one source for news among Cambodians, with 30% of respondents reporting that social media was their primary way of getting informed about news and current events. As with the rest of the world, it is a transition driven by rising access to technology: the survey found that almost half of Cambodians owned at least one smartphone – more than double the percentage reported three years ago.
Sereiboth suggested that a dearth of independent mainstream media was partly to blame for driving young Cambodians toward alternative news sources. "When media outlets affiliated with the ruling party provide biased news, the youth turns to social media to access news to see the real Cambodia rather than to believe what one side tells them," he said.
The murky ownership of Cambodia's Khmer-language news outlets has long been criticised by human rights groups, but the extent of Hun Sen's domination of the Kingdom's media was dragged into the spotlight once more with the publication of Global Witness' Hostile Takeover report last year.
The report listed Hun Sen's eldest daughter Hun Mana as one of two media moguls with extensive holdings across radio, television and the print media. The three television stations and one radio station broadcast by media company Bayon Media Hight System, of which Mana is both chairperson and majority shareholder, are notorious for their bias toward the ruling party. Popular Khmer language newspaper Kampuchea Thmey Daily, which frequently publishes pro-CPP articles, is similarly chaired and owned by Mana.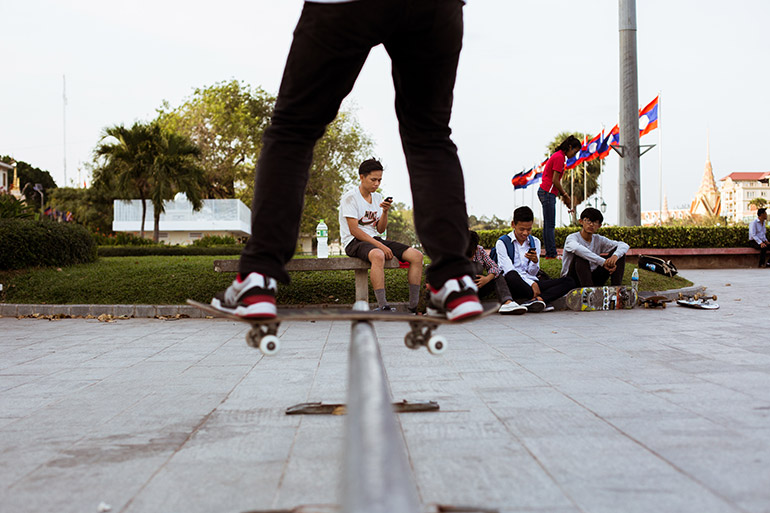 Pa Nguon Teang, executive director of the Cambodian Centre for Independent Media, said the prime minister's grip on Cambodia would not be possible without his family's stranglehold on the nation's news outlets. "Hun Sen has ruled this country by media, not by a system of authority," he told Southeast Asia Globe after the report's release.
For Vanaka Chhem-Kieth, a lecturer at Paññasastra University and co-founder of Politikoffee Media, the lack of trustworthy mainstream news sources in Cambodia made the potential pitfalls of social media even more concerning than in countries with reliable independent media. "Social media, Facebook and so on are a fact of life – it's the tool of our generation," he said. "And just like in any other country it's a learning process, except that some of the potential drawbacks here and cons of social media are potentially a lot bigger than [in the West]."
In the lead-up to the June commune elections, he said, the risk of an increasingly polarised population would only be worsened by the unsourced information saturating social media.
"It could [affect the election] in terms of fake news being spread around, in terms of people reacting in very emotional ways to events or news that can more easily be blown out of proportion through that platform rather than through balanced and less-instant media," he said. "So there's definitely additional risks."
The Kingdom remains rife with rumour, a situation that appears unlikely to change any time soon. And for Sokunthyda, the problem is reflective of a deep political divide within Cambodia's public.
"It depends which side you're on," she said. "You see what you want to see and you trust what you want to trust."
– Additional reporting by Hemmunind Hou