An old joke, on the eve of revolution:
The First World War is raging. The Bolshevik leaders are scattered across a ravaged continent. Trotsky, under his birth-name Bronstein, sits exiled in Vienna, whiling away his days with coffee and chess at the Bohemian Café Central.
And then the unthinkable. An aide to Austria's foreign minister bursts into his room with incredible news: Russia is in chaos; the tsar has fallen. A new world is tearing itself from the wreckage of the old.
The minister scoffs. "And who," he asks, "will lead this revolution? Perhaps Herr Bronstein from the Café Central?"
Decades later, the punchline would leave his nation in ruins.
Looking at the state of the the Cambodian opposition today, it is hard not to sympathise with the minister's cynicism. The Cambodia National Rescue Party (CNRP)'s self-declared acting president, Sam Rainsy, enjoys a lavish exile in Paris' 15th Arrondissement. His successor and rival, Kem Sokha, languishes under house arrest. Across the Kingdom, more than 140 former CNRP politicians and activists continue to suffer state suppression, some dragged through the courts for continued allegiance to their now-extinguished party.
But the second coming, it seems, is at hand. This month, CNRP leadership declared once again that Sam Rainsy would be returning to the Kingdom within months, where he will face a slew of arrest warrants for defamation – many in response to his denouncements of Prime Minister Hun Sen's rule.
Rainsy's return has been "just months away" for years. Local political blogger Noan Sereiboth was sceptical that this time would be any different.
"It may happen, but former opposition leader Sam Rainsy often tells lies for his political messages to his supporters," he told Southeast Asia Globe. "I will believe it when it really happens. He often breaks his promises – and right now, it's just a promise. So let's see if it happens."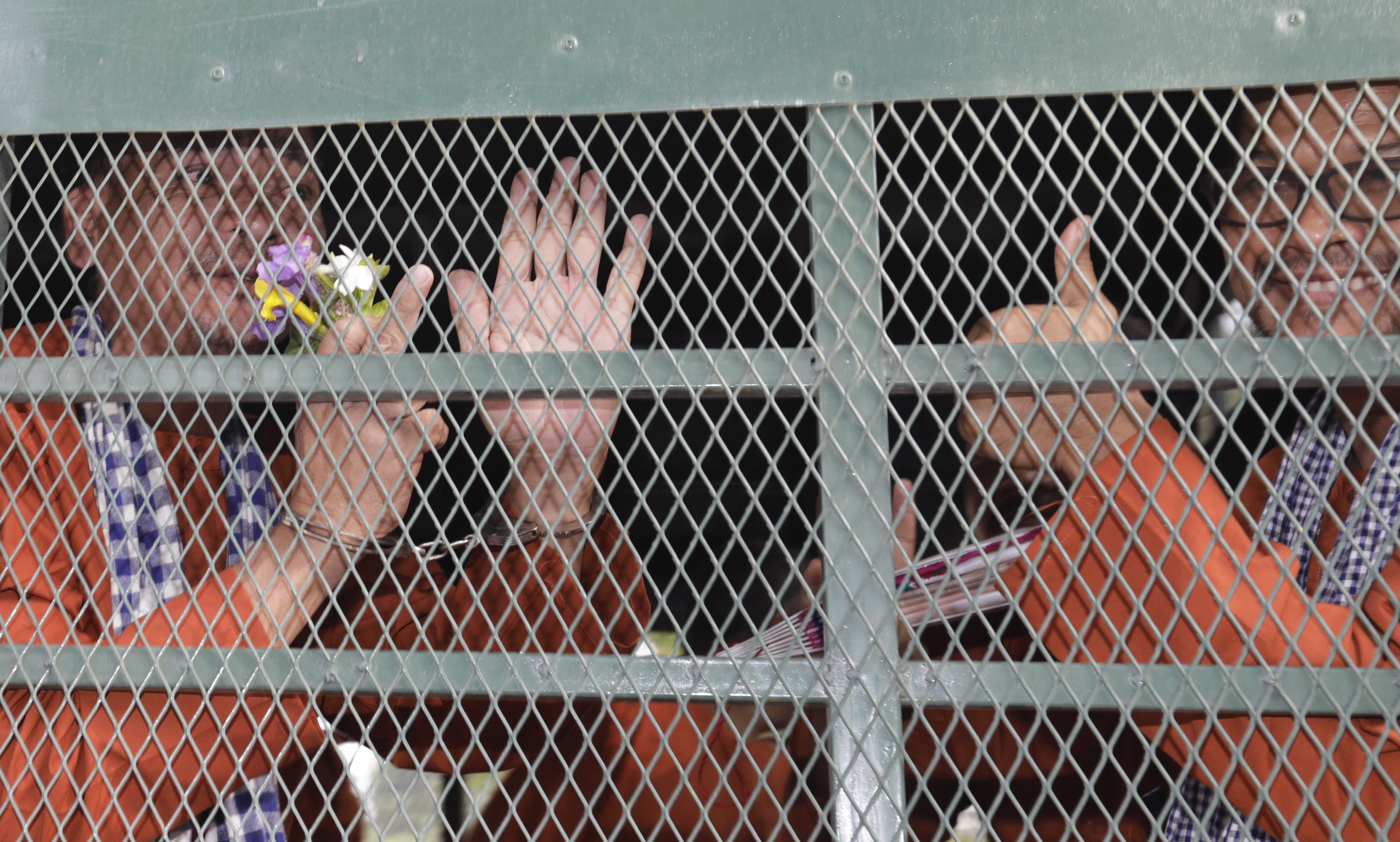 This time, though, things might be different. Outraged by the dissolution of the main opposition party and the imprisonment or exile of its leaders as well as years of labour rights abuses in the Kingdom's export industries, the European Commission has launched the months-long process of withdrawing Cambodia's Everything but Arms (EBA) trade preferences with the European Union. A delegation that visited the Kingdom earlier this month to investigate human and labour rights concerns was blunt in their assessment:
"Cambodia must show real, credible improvement on the issues of concern in order to avoid the withdrawal of EBA preferences," the delegation said in a statement.
Likewise, figures in the United States Congress have been pushing for a bill that would strip away many of the protections that give the Kingdom tariff-free access to US markets. For a nation that relies heavily on its garment exports to these two markets to sustain its economic growth as well as the employment of hundreds of thousands of garment workers who might otherwise struggle to support their families, the threat of sanctions is a serious one. And it's one that Rainsy and other senior CNRP figures have long lobbied for in the hopes of restoring the opposition to its former strength if the government is pressured into some form of rapprochement.
But professor of diplomacy and world affairs at Los Angeles' Occidental College, Sophal Ear said that the government had surely learned its lesson from the last time Rainsy was allowed to return before the close-fought 2013 national elections.
"Well, it used to be that Sam Rainsy would return – until recent history, that is," he said. "I think with EBA on the line, one would think that the stakes are raised even higher and that Rainsy's return would be more likely than ever. Alas, this time is different. I don't think Phnom Penh prefers Sam Rainsy's return over losing EBA. Phnom Penh has shown incredible appetite for playing with fire when it comes to Cambodia's economy, turning the EBA question into some red herring about sovereignty."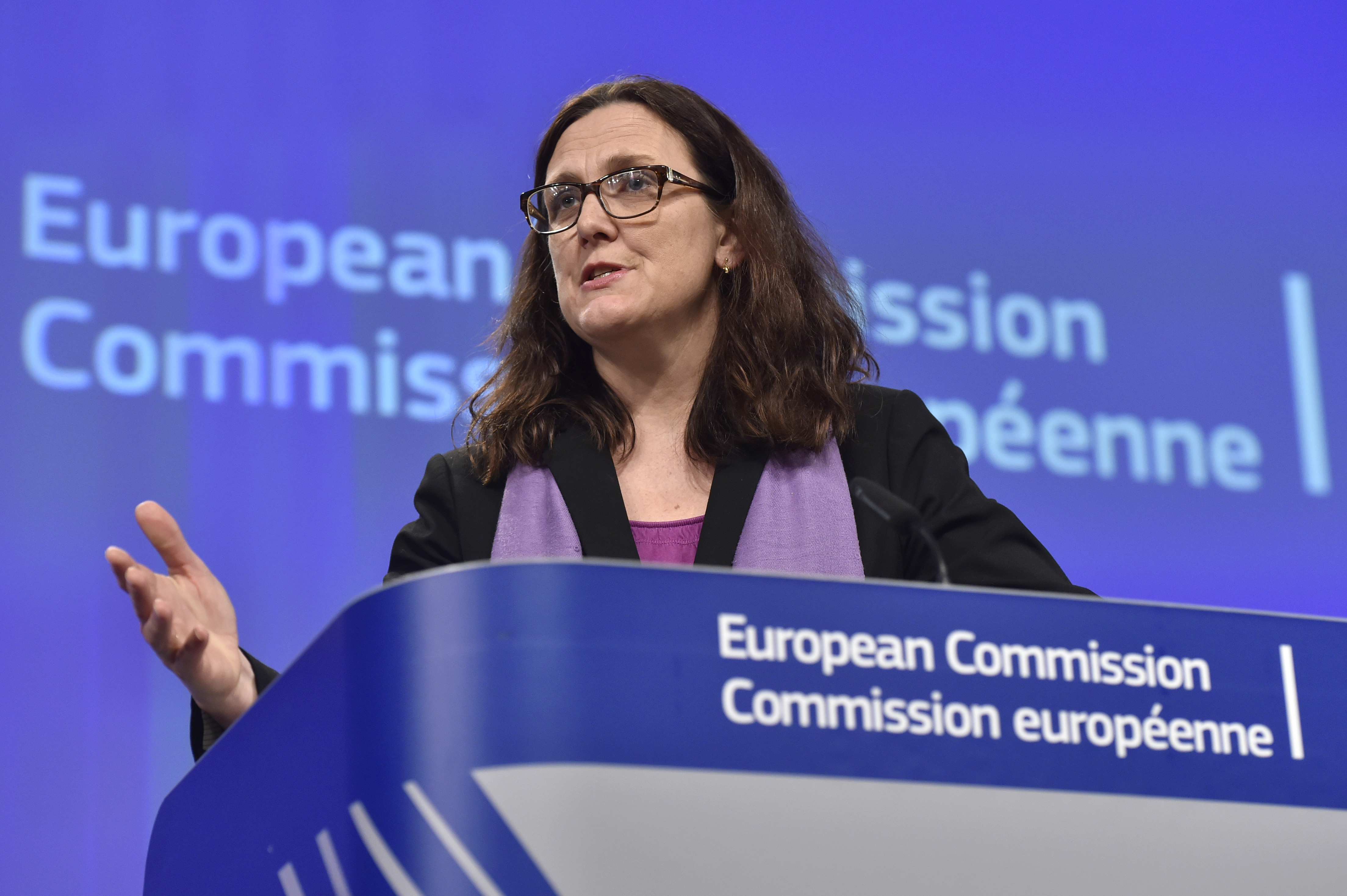 For all the cynicism about Rainsy's repeated promises to return in glory, it must be said that his re-entry into Cambodia ahead of the 2013 election was by all accounts a sight to behold. As protesters flocked to the streets to challenge the CPP's narrow victory, Rainsy found himself at the head of a mass movement that only crumbled when soldiers fired into the crowd, killing a handful of the panicked garment workers.
Now, though, the sight of streets thick with protesters crying out for change seems almost unimaginable in a nation where the arrest of Rainsy's successor and his party's dissolution less than five years later was met with little more than muted resignation, under the military's watchful eye.
"Rainsy's presence could cause turmoil – this is the CPP's perspective, and therefore the government will do everything necessary to prevent the return even of a weakened Sam Rainsy."

Independent consultant Markus Karbaum
Markus Karbaum, a political scientist and independent consultant specialising in Cambodian politics, said that Rainsy's power had waned considerably during his years in exile.
"Rainsy lost significant popularity during the last three and a half years," he told Southeast Asia Globe. "Popularity and charisma, along with his family background, is his only political power reservoir. Although he appears weakened, for the government he remains at least a potential threat."
In Rainsy, supporters of the opposition have perhaps found a man for all seasons. For some, he's a democrat fighting back against dictatorship. For others, a staunch nationalist prepared to prise Phnom Penh from the grip of Cambodia's ancient enemy, the Vietnamese.
For Sereiboth, Rainsy still fills an urgent gap in the Cambodian political imagination – a central figure around which the people opposed to decades of unchallenged CPP rule can rally.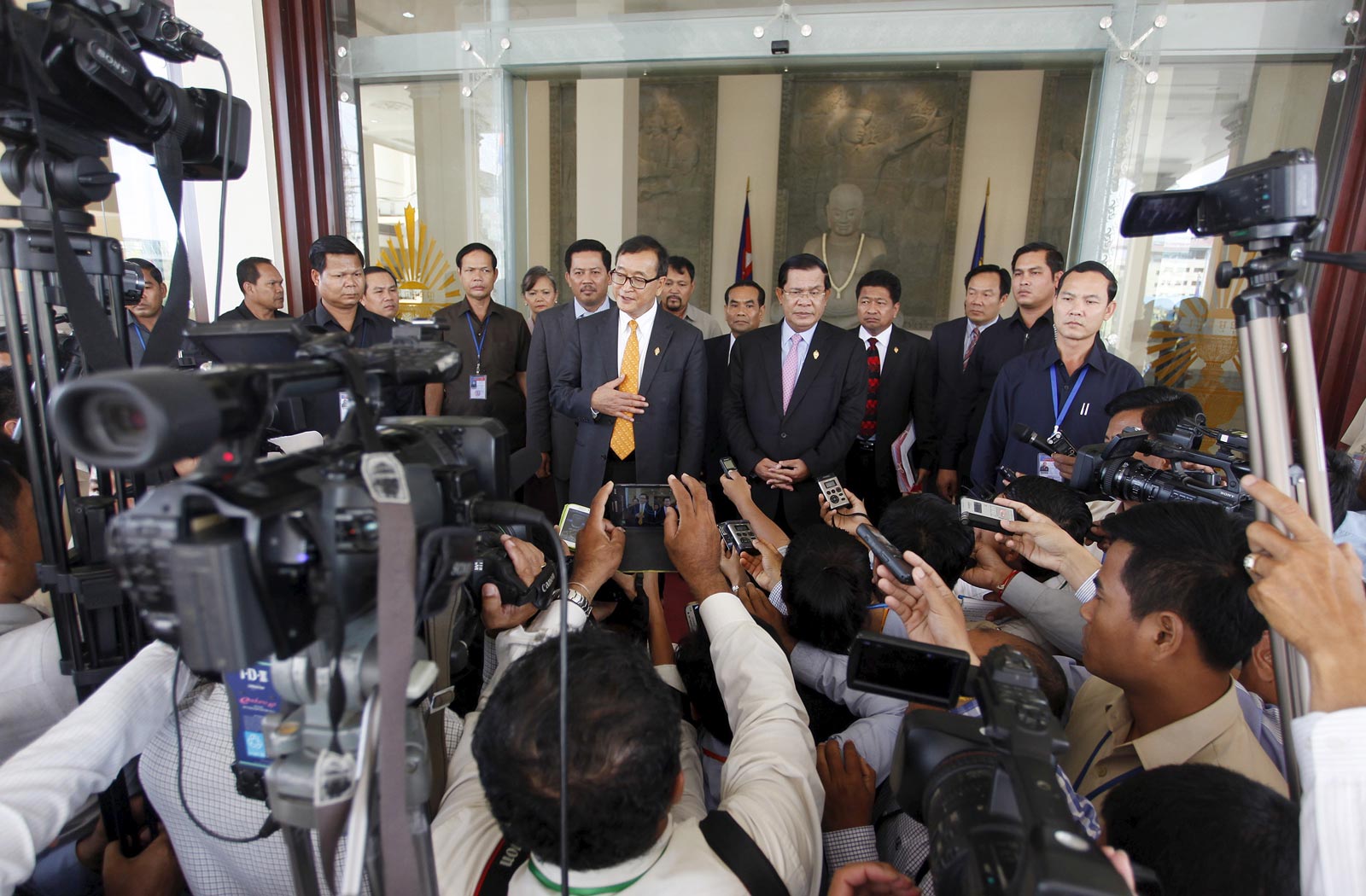 "People still support former opposition leader Sam Rainsy – even though he is a coward sometimes," he said. "He is still in people's mind as a strong political leader to play with Cambodian strong man – and people still believe it."
For Hun Sen, too, the image of Sam Rainsy the Strongman is a crucial one. Speaking in Tokyo last month, Prime Minister Hun Sen told a roomful of bemused journalists that he was girding himself for war with shadowy figures who sought only his overthrow and arrest. He pointed to a spate of international protests among the Cambodian diaspora in South Korea and Thailand as iron-clad proof that Rainsy was marshalling his forces for a military assault on the Kingdom.
For those who have watched the harsh suppression of any and all political dissent by state security forces fiercely loyal to their Phnom Penh patron, it paints an incongruous picture.
"I'm sure Phnom Penh will try to weave a narrative of us versus them," Sophal said. "To compare Sam Rainsy to North Korea, in the case of South Korea, Malaysia, in the case of Singapore, or Communist China, in the case of Taiwan, is a stretch to say the least. There's no Sam Rainsy army. There's no existential threat for the country; only for the Cambodian People's Party, and everyone knows that, even the CPP."
This has not kept the premier off the war path. Former CNRP deputy leader Mu Sochua, who is living in exile overseas, told Southeast Asia Globe that the prime minister had made it his mission to eradicate all opposition to his rule – both at home and abroad.
"He wants to totally destroy us, to eliminate us," she said. "He says it verbally, he says it at every single chance he has – he even said it when he was a guest speaker in Hungary and Tokyo, using very violent words and clearly making sure that inside or outside Cambodia, we cannot function as opposition."
But if Rainsy's relevance is dwindling, why then is he still propped up as the Great Satan of Cambodian politics? For Hun Sen, conjuring a Trotsky-ish figure slinking through the back rooms of the resented West bolsters the premier's status as a man standing up for Cambodian sovereignty against the hypocritical moralising of the international community. A more cynical perspective might suggest that the government has always been better at staring down adversaries than setting out a strong agenda for the Kingdom's development.
More critically though, said Karbaum, it reinforces the belief that only the CPP can be trusted to safeguard Cambodia's peaceful development – likely under the watchful eye of Hun Sen's own children.
"Currently, we are at the eve of a bigger generation change within the CPP," he said. "There is indication that it will be implemented in 2020. Rainsy's presence could cause turmoil – this is the CPP's perspective, and therefore the government will do everything necessary to prevent the return even of a weakened Sam Rainsy."
"The government will not take responsibility for EBA withdrawal while they have a scapegoat to put the blame on it"

Political blogger Noan Sereiboth
Just what that return would look like now is questionable. Despite repeated calls for the military and police to disobey orders to fire into protesting crowds, there seems to be little overt sign of defection within the armed forces – nor, for that matter, has the government's political crackdown been met with the kind of mass protests that would necessitate such an order being given.
"Rainsy has ever since lacked a strategy to take over power in Cambodia," Karbaum said. "Instead, he called on the 'international community' – that does not exist at all – to develop a solution for him. This became also visible when he recently promised a return when the people rise up against Hun Sen. Seen in this light, lobbying on the international stage is rather an expression of his helplessness and powerlessness."
In this way, Sereiboth said, Rainsy's years of lobbying in the back rooms of Brussels and Washington may well have set himself up to take the blame for a decision brought on by decades of land rights disputes and political repression.
"The government will not take responsibility for EBA withdrawal while they have a scapegoat to put the blame on it," he said.
Nor has his lobbying likely paved the way for concessions from his old enemies. Like Sophal, Karbaum was unconvinced that the government was prepared to allow Rainsy back into political life in the Kingdom – even at the expense of possible economic crisis.
"There is some evidence that the government might come to terms with an EBA withdrawal," he said. "In this case, there is no scenario imaginable that Rainsy returns."
Sochua maintained that the CNRP did not welcome EBA withdrawal except as a final resort.
"It's not the stance of the opposition to have the EBA suspended," she said. "We cannot rely on the international community to do the job for us. Cambodia doesn't belong to Mr Sam Rainsy alone, or to Mr Hun Sen. It belongs to the 16 million Cambodians."
And for many opposition supporters in the Kingdom, the dissolution of the CNRP has not been enough to bury their dissatisfaction with the government. And should the Kingdom's leading industry suffer as a result of any loss of trade preferences with the West, the blame may well fall not on those in prison or exile, but on those in power.
"The ball is in Phnom Penh's court," said Sophal. "Phnom Penh has taken the ball and gone home instead of playing, and that's really too bad for Cambodia's garment and footwear workers."
And if the garment factories close their doors to the hundreds of thousands of workers who rely on them to support their families, the government may soon find its favourite strawman fuelling a fire beyond its power to put out.
This story has been updated to include quotes from Mu Sochua.