At first he was nice to me," Samnang says, his eyes far away. "He made me feel important; made me feel special."
Samnang, whose name has been changed to protect his identity, was barely 15 years old when he left home for Ratanak Mony Rong Ko pagoda in Kralanh district on the outskirts of Siem Reap town. Born into a poor family in a run-down village, and desperate for a way out, he asked his parents to send him to study with the local monks.
"My family had so many problems – they were fighting a lot," he tells Southeast Asia Globe. "I wanted to be calmer. So they had to send me to live in a pagoda, where I could have free food and education with the monks."
Bearing the shaved head and saffron robe of a novice, Samnang says he took to his studies of scripture and the ancient Buddhist language of Pali with relish, rising every morning to sing the holy scriptures of his faith. Fifteen kilometres from the nearest village, Ratanak Mony Rong Ko was a small pagoda with just nine other boys studying alongside him under a handful of monks. Above these monks was 45-year-old Vong Chet, the abbot, or chief monk, of the pagoda. A man whose words carried great weight with the community, he soon began to take an interest in the pagoda's newest arrival.
"A lot of the other monks didn't like him… back then, I didn't know why."

Samnang
"A lot of the other monks didn't like him," Samnang says, staring at his fingers. "Back then, I didn't know why."
Over the course of the next year, Vong Chet repeatedly raped Samnang and the nine other novices living at the pagoda. The abbot would corner them in the stained toilets of the pagoda or lure them into his private quarters. For some of the boys, the abuse lasted years. Later, before the court, one boy would describe how he had been raped on as many as 25 separate occasions. Each time, when it was over, the abbot would hand him a crumpled fistful of 10,000-riel notes, each one worth $2.50. It was only when the last boy he attacked, new to the temple, told his parents what had happened that the police were called.
Now 18, Samnang works at a motorbike repair shop in Siem Reap town. Scrawny and sombre, his voice never rises above a murmur as he describes the betrayal he felt when he found out that every older monk at the pagoda had known about Vong Chet's abuse of the boys in their care – and kept silent for more than two years. "They knew before everything happened," he says. "No one dared to tell me. All the monks knew about what was going on, but no one told us kids. No one told us to be careful."
There is little anger left in him now, he says. He sips his water and falls silent.
Leafing through a thick red ledger in his office in central Phnom Penh, Child Protection Unit (CPU) director of operations James McCabe sifts through the hundreds of cases of torture, rape and death that his team investigates every year. Bathed in the light of twin computer screens streaming live reports of children beaten and brutalised across the nation, he passes over a photo of a drowned child, black and bloated, to stop at a double spread of gaunt young boys in saffron robes. Among them is Samnang. Although Vong Chet presided over the longest period of sustained sexual abuse that McCabe had uncovered in the nation's pagodas, he tells Southeast Asia Globe, it was far from the first.
"It's institutional abuse," he says. "They've got access to children, without any real monitoring. We've [been involved in the arrest of ] at least ten monks in the past three years for the abuse of boys. Quite often there were multiple victims – sometimes two, sometimes three, sometimes four. A majority of the time, it was only through the parents or a relative that the disclosure was made."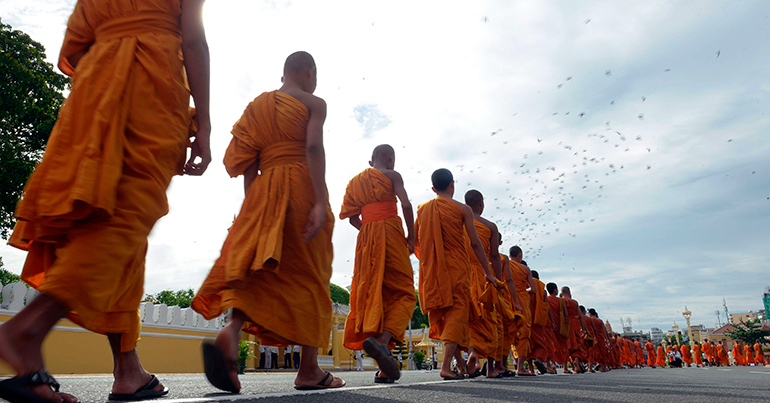 Set up to work with local law enforcement to bring forensic specialists and investigators to work on cases where children are abused, raped, assaulted or killed, the CPU was active in securing Vong Chet's arrest and 15-year imprisonment. Following reports that the abbot had previously served a series of short stints – no more than a year or two at a time – at a number of other pagodas across Siem Reap, Battambang and Kampot provinces, a task force was sent to hunt out evidence of earlier victims. The communities remained silent.
"There was a follow-up in regards to the wats that he'd been at," McCabe says, using another term for pagodas. "There were no disclosures – nothing that would allow us to further investigate. That's not to suggest it didn't happen, because leopards don't change their spots. But there were no disclosures that would allow us to investigate."
Adding that it would be almost unheard of for a man of Vong Chet's age to suddenly begin to abuse boys, McCabe drew parallels with the unfolding crisis in the Catholic church, where paedophile priests were found to have been purposefully shifted between parishes to reduce the risk of a scandal – allowing them to continue preying on thousands of children in sometimes decades-long campaigns of sexual abuse.
"It's the same as in the Catholic church – they move around, and they don't stop,"

James McCabe, Child Protection Unit
"It's the same as in the Catholic church – they move around, and they don't stop," McCabe says. "Is it likely that [Vong Chet] had offended [previously]? More than likely… He had abused, what, ten, 11 boys at one wat? Who's to say there weren't five more at another? He had to start somewhere – he didn't just start in Siem Reap, that's quite obvious."
Nor was he the only one. In 2014, a monk fled his pagoda in Kampong Cham province after being accused of raping 11 boys, all between the ages of 11 and 16. He was later caught by police and charged. Two years later, in Takeo province, another monk was arrested for the rape of a 13-year-old boy. McCabe told Southeast Asia Globe that, despite his initial arrest, the abuser was still listed as 'at large'. And just last year, two monks were arrested in Siem Reap and Phnom Penh for separately abusing two boys in their care. They were both six years old.
Jarrett Davis, an independent social researcher whose work largely focuses on those vulnerable to sexual exploitation and abuse, said that institutions invested with unchallenged authority and power over children in their care often left those same children at risk.
"Because clearly it's not their fault – they're pure, they're untouchable. So what have you done?"

Jarret Davis, Researcher
"In some ways, institutions provide a cone of silence," he says. "The big thing socially is the power, the authority, the purity that is ascribed to people – that they're sort of untouchable. You grew up in a household where the way your parents talk about the monk, or the priest or the rabbi – they ascribe this position to them. And they become untouchable. And when you see this ugly underbelly, it must be your fault; it must be something you've done. Because clearly it's not their fault – they're pure, they're untouchable. So what have you done?"
With more than 95% of Cambodians identifying as Theravada Buddhist, the faith is an inescapable fact of life in the Kingdom. Functioning not just as places of worship but community centres, schools, event spaces, residential care and retirement homes, the local pagoda is the beating heart of traditional Cambodian society.
As living symbols of the sacred teachings of the Buddha, monks remain a source of much-needed education and guidance for their communities. More than this, they serve as an invaluable way – by means of offerings, alms and donations – of earning good karma to ensure success not just in this life, but the next.
Yaim Chamreun, executive director of First Step Cambodia, a local NGO offering counselling and support to male victims of sex abuse in the Kingdom, says that he believes the high importance placed on pagodas in Cambodia had created a culture of gated self-preservation in the nation's largely autonomous Buddhist sanctuaries.
"Most people think that pagodas are very sacred places – a place where God is present," he says. "So, often, issues are not really being discussed or shared – it's all behind closed doors. And they always think about the reputation of the pagoda. So sometimes if the abuse takes place, they'll find ways to cover that up."
In cases such as Samnang's, where the perpetrator was none other than the chief abbot, it was this unassailable authority – and, it was rumoured, his past connection to the Khmer Rouge regime – that kept the other monks silent for fear of being cast out of the community they had lived in for most of their lives.
"[boys are] less likely to be seen as harmed in the case of sexual abuse, and law enforcement are often less likely to take it seriously."

Jarret David, Researcher
More often, though, the grim reality is that for many male victims of sexual abuse, their experience is simply overlooked or brushed aside. Davis says that Cambodia's strict gender roles, which dictate that men cannot be vulnerable to abuse and exploitation in the same way as women, seemed to be curiously reflected in broader international efforts to fight child abuse – efforts that routinely ignore the full extent of the harm perpetrated to young boys.
"A big thing that we've been working on… is looking at gender and some of the assumptions that apply to genders. Oftentimes we assume that victims are girls and perpetrators are boys or men – and that, often, particularly within institutions, can make an issue invisible," he says. "[Cases are] less likely to be reported, [boys are] less likely to be seen as harmed in the case of sexual abuse, and law enforcement are often less likely to take it seriously."
It is this imbalance that led to the founding of First Step Cambodia more than seven years ago. Although the NGO has recently expanded its Siem Reap operations to care for female abuse victims as well, it remains committed to educating the community on the struggle of male victims of sex abuse.
"Many Cambodians find it very challenging to understand and to believe that a boy can be abused – including family members," he says. "People still laugh – even some people who call themselves social workers. [In Siem Reap], these monks were already affected by the abuse, but then the community started mocking them, making jokes – asking them things like: 'Who was the first wife; who was the second wife?' and they were very ashamed. Their fear became greater, and they stopped going out to collect food. They were starving. When our staff met them, some of them hadn't had food for two days."
"One of the hardest perceptions to overcome is that they failed to protect themselves – they're men, and men are supposed to be strong,"

In Ponga Photra, Project Manager, First Step
In Ponga Photra, First Step Cambodia's project manager in Siem Reap, says that the shame the boys felt after their abuse could have a devastating impact on their mental health.
"One of the hardest perceptions to overcome is that they failed to protect themselves – they're men, and men are supposed to be strong," he says. "And monks are forbidden from having sex. So they feel like they have lost their value – and it's very hard for them to recover from that."
Even for victims who recognise what they have been through as sexual abuse, fear of their family and community finding out what has been done to them leaves them reluctant to speak out about their attacker.
When the police came for his abuser, Samnang says, he was terrified.
"After the monk was arrested, I just left. I didn't want to stay," he says. "But I didn't want to leave either – I liked the pagoda a lot, and I still wanted to study there, but I needed to get out."
It is this sense of shame, in part, that makes the full scale of institutional sexual abuse in pagodas so difficult to determine. Emphasising that reliable statistics on male victims of sexual abuse were incredibly difficult to come by, the World Health Organisation (WHO) cites studies suggesting that as many as one in ten men in developed countries reported a history of childhood sexual abuse. In some developing countries, that number rose as high as one in five.
The hierarchy of the Buddhist fraternity needs to have an office of integrity and child protection
The WHO also emphasises that the vast majority of experts believe that official statistics massively under-represent the number of male rape victims, suggesting that men are even less likely than women to report sexual abuse. A study conducted by World Vision Cambodia in 2005 found that almost one in five boys aged 12-15 stated they had been sexually abused after the age of nine. And a 2013 Unicef survey into violence against children in Cambodia found that out of more than 2,000 respondents, more boys than girls reported being sexually abused. Of those who reported being sexually abused as children, about 6% claimed to have been assaulted in a pagoda – all of them girls. The survey did not reach out to children actually living within pagodas, or specify the identity of the attackers.
McCabe says that trying to estimate the number of unreported male sex abuse victims remained a challenge.
"It would be hard to quantify what's actually occurring," he says. "And this is where the hierarchy of the Buddhist fraternity needs to have an office of integrity and child protection, to do inspections, to go out and visit – it's part of their responsibility of being a religious institution. They should know exactly who's in the wat."
Despite failing to respond to widespread calls for reform two years ago, the Buddhist religious community appears to be making grudging motions towards transparency. Unicef Cambodia chief of communications Iman Morooka told Southeast Asia Globe that the government was taking steps to address community concerns about child sex abuse within Buddhist institutions – though they had yet to finalise a system for reporting cases of exploitation and assault.
"The Ministry of Cults and Religion, with support from Unicef, is developing a Child Protection Pagoda programme with the aim of making pagodas a safer place for children, including establishing reporting and referral mechanisms if children face abuse in those settings," she says. The ministry did not respond to repeated requests for comment.
In October last year, the ministry published a curriculum on the appropriate Buddhist response to violence against children as well as a picture book teaching young monks the importance of setting an example for the community. Both of these texts are now mandatory for Buddhist graduate school students.
In the picture book, Novice Sokha, a young monk escapes the chaos and violence of his family life to take refuge in the teachings of Chav Athika, an older monk who teaches him that a monk must above all things advocate for the rights of children. On the final page, an adult Sokha sits serenely on his throne, receiving the respect and adulation of his kneeling community.
It is an image that jars with the boy sitting before us. Far from his friends and family, Samnang's boyhood dream of entering into the community of monks died somewhere back in Kralanh. Despite this, he seems to have attained a level of hard-won serenity that makes him seem older than his 18 years.
"I used to be so angry," he says. "I don't feel angry towards those monks anymore."
For First Step's Photra, though, the actions of predators such as Vong Chet are harder to forgive. "They use their status as a tool for getting sex – they say it is how you become a good monk," he says. "And if you don't understand sexual abuse, it works… I suspect it happens in many more pagodas."