Russ' first day on the job, and everything is amazing. There are lots of people around and plenty to investigate: fingers tapping on tables; mobile phones with their bright, colourful screens; aunties who gesticulate and chuckle. He darts from one side of the table to another, his eyes bright, drawing laughs from the assembled group.
Cat therapy might be for the benefit of humans, but it also appears to be great fun if you're a two-month-old black-and-white kitten.
Once a month, the residents at the Ren Ci Nursing Home in western Singapore enjoy a visit from the volunteers of the Love Kuching Project and their therapy felines. Elderly residents, some in wheelchairs, cluster around a large table on which docile cats sit, ready to be petted and cooed over.
It's part of an ongoing arrangement between the nursing home and the cat welfare group to liven up the residents' days and give them more opportunities for interaction and stimulation. Love Kuching Project isn't the only group to bring animals to Ren Ci, either – they also have regular dog therapy sessions with local dog shelter SOSD (Save Our Street Dogs).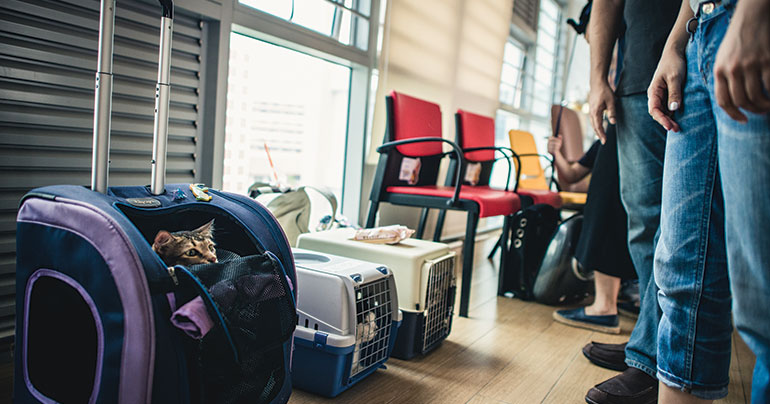 "We're one of the early ones to partner with these [animal welfare] groups. The elderly benefit because there are studies that show these interactions help," says John Tang, Ren Ci's manager of corporate communications.
Animal-assisted therapy, or pet therapy, refers to the use of guided interaction with animals to aid in recovery from or to help cope with mental or physical health issues. Research has suggested it can help reduce blood pressure, release endorphins and alleviate loneliness, pain and stress. It has also been found to encourage socialisation and empathy.
"Our nursing home residents have shown to be more alert and smile more often during and after the cat therapy," says Ding Xin Yi, an executive in Ren Ci's administration department. "During the visit by the volunteers and their cats, our residents are more relaxed. They also have the chance to speak to the volunteers who accompany the cats."
A resident named Valli cracks a wide grin when asked about these monthly sessions. "I like cats," says the 69-year-old. "I'm happy [when they are here]."
Pets can help to alleviate loneliness and calm fears and anxieties. People who own pets tend to have lower blood pressure, heart rate and risk for heart disease
For 80-year-old Mainam Binte Mahmood, the therapy cats trigger memories of a time long gone. "I'm happy because it reminds me of the old days when I had cats in the kampong," she says in Malay, referring to the days of her youth, when Singapore still had village communities where cats roamed with abandon. "[It makes me] reminisce about the time when I would boil fish for the community cats."
The Love Kuching Project also brings therapy cats to special-needs schools and care centres. But it's not just about the elderly or people with disabilities – pet therapy and animal companionship could be helpful to many of Singapore's residents.
The wealthy city-state is replete with the creature comforts available to developed countries: air conditioning to cope with the tropical climate, high-speed internet connectivity, shiny malls packed with products and cuisines from around the world and a reliable electricity grid to support it all.
But those comforts come at a price: living costs in Singapore are far higher than those of its neighbours, and much is demanded of young and old alike. A 2016 report by recruitment consultancy Morgan McKinley found that although Singapore's employers are offering more flexible work arrangements, the majority of working professionals said they felt obliged to work beyond their contracted hours. Meanwhile, the rigour of the education system puts pressure on parents and children; tuition centres even offer preparatory classes for six-year-olds fresh out of kindergarten simply to get them ready for the demands of primary school.
"In my line of work, I see a lot of individuals who are struggling with depression, stress and anxiety, from school-aged children to working adults," says clinical psychologist Marlene Lee of Solutions 4 Life psychological services in Singapore. "I would attribute this to the fast-paced, competitive society that we live in, where material success is emphasised, at times, at the expense of mental and emotional wellbeing."
Despite these stresses, seeking help can be difficult. According to a study spearheaded by the city-state's Institute of Mental Health in 2010, major depressive disorder, alcohol abuse and obsessive-compulsive disorder were the most common mental illnesses in Singapore. The study also found "a large gap in help-seeking behaviour", meaning that the majority of Singaporeans struggling with mental illness were not seeking professional help.
Pet therapy isn't a cure-all, of course, but having some animal companionship could be helpful for many stressed-out city dwellers. "Pets can help to alleviate loneliness and calm fears and anxieties. Studies also show that people who own pets tend to have lower blood pressure, heart rate and risk for heart disease," says Lee.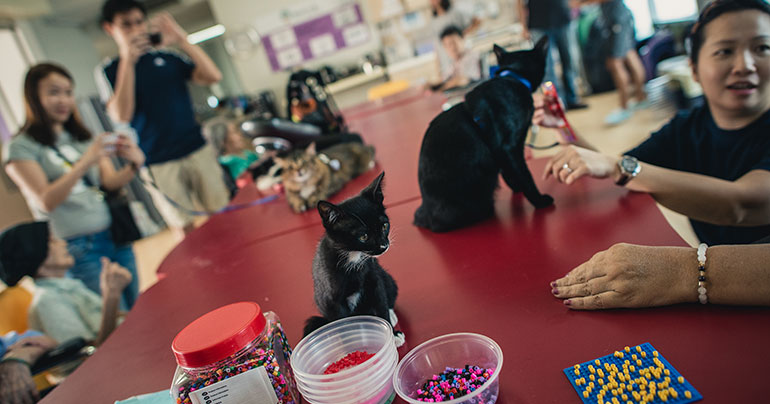 Owning a pet isn't always easy when one works long hours or lives with family members who might not want an animal in the house. This is where cat cafés come in, which first appeared in Singapore in 2013. The idea is incredibly simple: customers pay to spend time with cats while enjoying coffee and snacks.
Neko No Niwa, the country's first cat café, is next to the Central Business District, on the top floor of a shophouse by the River. Towering skyscrapers housing banks and offices surround it. Inside, 13 cats – all of them adopted rescue animals – lounge, play, doze and cuddle in a calm environment that emphasises their wellbeing above all else.
Tan Sue-Lynn, the café's owner and founder, says many of their regular customers are locals who can't keep cats at home or expatriates who miss the pets they've left behind. For such people, a trip to Neko No Niwa is a chance for some animal fun and companionship, a break from the non-stop demands of the city.
The café also holds cat care workshops every quarter, providing cat owners (or potential cat owners) a crash course in how to evaluate the nutritional content of cat food, understand cat behaviours and provide cats with the best home possible. "By doing so, we hope to encourage cat ownership, especially through adoption, and also improve the knowledge and quality of cat care," Tan says.
Back at Ren Ci Nursing Home, a cat named Mickey, a long-haired 14-year-old, lies flat with his head on his paws. He's unfazed as people take photos, scratch behind his ears and stroke him. Although the volunteers admit he's not always so well behaved, they say his mostly relaxed nature makes him a good therapy cat.
"They don't need training, they just have to be well socialised with humans… Kittens are easier [to introduce to therapy sessions] but when it comes to adult cats, you have to observe how they are beyond their comfort zone," says Fizah Ishak, a volunteer with the Love Kuching Project. It's also up to the coordinators of the therapy sessions to understand each cat's personality – some who might be comfortable around sedate seniors might not take so well to sessions with children.
But even the most placid cat has its limits. Gizmo, a handsome brown-haired boy, sits calmly as residents in Ren Ci's dementia ward stroke him, but suddenly hisses when someone tugs his fur the wrong way. He's been on duty for more than an hour by that point and is finally getting weary. A little later, even tiny Russ is done; he's curled up in his fosterer's arms, hugging a soft toy, all tuckered out.
It's a sign for the volunteers to herd their precious cargo back into their respective carriers and head home, where all the cats will be rewarded for their service with a delicious, well-earned meal.