Step into the lobby of the Projector and you will be inundated with visual stimuli, even before you have found your way through one of its three screening rooms. From the ceiling, a disco ball glints its assent to the soft, fluctuating red mood lights. A row of posters by the window displays the offerings for the month. And, like a symbol of the cinema's DIY aesthetic, squiggles on a whiteboard announce movie timings – "Green Book, 8:15 PM".
Located on the fifth floor of the old brutalist complex Golden Mile Tower, the Projector, which was founded in 2014, is more than a cinephile's delight. Intermission Bar, the foyer hang-out and event space, has become a haven for comedians, musicians and artists to show their work without censure.
"Alternative" is one descriptor sometimes associated with the space. Co-founder and general manager Sharon Tan does not shy away from that label, but points out that she and her colleagues "don't try to pigeonhole" themselves. The Projector, she says, has evolved organically and is about "letting people project their aspirations or hopes for what the space could be like". It's mid-afternoon on a weekday and the place is slowly coming to life around Tan, as staff amble past her, preparing for the evening's patrons.
One of them, on a ladder, arranges letters on the box office lightbox. The completed message is one of solidarity for the 14,200 people who were revealed by the Ministry of Health on 28 January to be affected by an HIV data registry breach: "WE STAND WITH ALL PEOPLE LIVING WITH HIV AIDS." This lightbox has become a way for the Projector to react to topical events and flash the cinema's quirkiness. Last year, during the fever over Crazy Rich Asians, which was shot in Singapore, the box office displayed: "CRAZY NOT RICH AND SIAN". "Sian" is a Singlish (Singapore-English) term with varied connotations, but loosely refers to feelings of boredom.
Oasis in the desert
Film enthusiasts have embraced the alternative to shopping mall cinemas. As filmmaker Ken Kwek says, "What you get at the Projector is this little pocket of true devotion to cinema culture in a country and in a market that mostly emphasises mainstream Hollywood movies. It's a place where, if you're a cinema lover, you get a real treat. Everywhere else feels like a desert by comparison."
Unlucky Plaza, Kwek's first feature, Boo Junfeng's Apprentice and Kirsten Tan's Pop Aye are among the local arthouse and independent films that have benefited from an extended run at the Projector, outside mainstream cinemas.
As part of its community outreach efforts, the cinema often hosts film dialogues, and it has not shirked from screening controversial fare, like Jason Soo's documentary 1987: Untracing the Conspiracy. The documentary features interviews with former political prisoners detained for years without trial under Singapore's Internal Security Act as part of a government crackdown on an alleged "Marxist conspiracy". The act, which allows the city-state to hold prisoners indefinitely without ever being charged with a crime, remains in place today.
In the age of streaming, the Projector's staff are well aware of the need to curate a movie experience audiences cannot get from the mere touch of a screen. When the Projector screened The Room, a 2003 film that has gained a cult following for being notoriously bad, plastic spoons were provided. Boisterous audiences threw them at the screen, laughed and, as has become the norm for fans of the film, shouted dialogue. The Glory Hoes, a collective behind a "series of queer film experiences", has organised dress-up and sing-along events around movies like The Adventures of Priscilla, Queen of the Desert – a strong statement in a nation where sexual intercourse between consenting male adults is still technically illegal.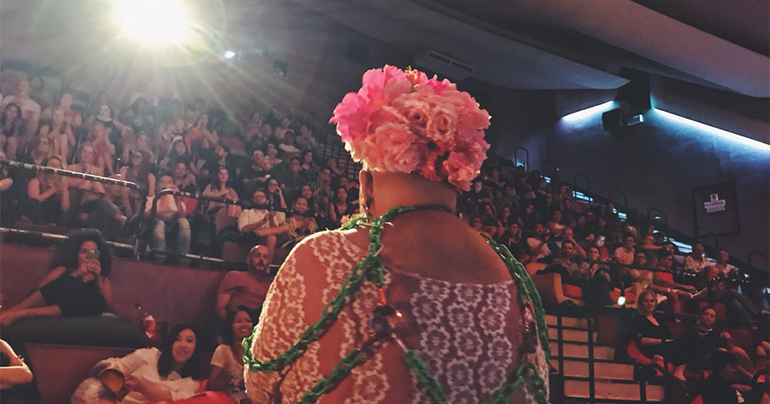 The Projector's vitality is remarkable, considering that it does not rely on government grants, as several art initiatives do, and that previous art house and alternative cinemas (The Picturehouse, Jade Classics and Cinema Europa, to name a few) have almost irrevocably shut down. The closest analogue to the Projector is probably Sinema Old School, a cinema that ran from 2007 to 2012.
Nicholas Chee, one of the founders of Sinema Old School, says they wanted to "play a part in audience development", screening anime film series and local films, and staging music gigs and even magic shows. Though able to ride the tide of the 2009 financial crisis, Sinema Old School eventually had to close in 2012 when its lease ran out, due to high Singapore real estate prices. When he later found out about the Projector, he was gratified that "someone could continue what we had to unfortunately end".
Feeling the vibes
DJ Ginette Chittick, who has played at Intermission Bar, says it's a space that is "comfortable" and "safe" for artists to show their work. "It's also got an underground vibe…and I think a lot of artists are more comfortable in spaces like this, which are non-judgmental." Since the public entertainment license was cancelled for Blu Jaz Cafe, a popular performance venue that was found to have exceeded capacity regulations in late 2018, the Projector has played an important role filling that gap, says Chittick, who is also the frontwoman and bassist for shoegaze band Astreal.
In 2018, show promoter Shaiful Risan brought Japanese "cheer punk" band Ni-Hao! to perform at the Projector – on the rafter in one of the screening rooms, to be precise. Shaiful, who runs the punk label Prohibited Projects, says the draw of the Projector has been its commitment to independence and openness. "You do not have some kind of naggy person telling you 'Eh, you cannot do this', 'Eh, you must do things by certain time'. There isn't that perimeter. Everything is a bit modular and flexible in that sense." He adds that "vibe" is important for a show. "You can't have a conservative touch to a punk show."
While some punks have expressed to him their discomfort with performing in a place they allege is "bourgeois" and "high-end", Shaiful points to the "sustainability" of the space. "They don't just do cinematic stuff. They've had exhibitions, they've had talks, they've had concerts… I'm not a business person, but I've been broke enough to know, in Singapore, you cannot just have one channel of revenue, whether you are an individual or a business. It's a survival thing."
It's telling of the emotional resonance of the space that both Chittick and Shaiful mention "vibe" in relation to the Projector. Kwek uses the word "feel" when describing the historical trappings of the space, such as the old projector retained from the previous tenant.
The Impermanence of space
Tan, her sister Karen and Blaise Trigg-Smith, who run the creative development consultancy Pocket Projects, sought to revamp the space while still paying homage to its history. In giving an old space life, did they ever worry about being seen as gentrifiers?
Tan, who used to work in the Urban Redevelopment Authority, is familiar with this tension between regeneration and gentrification, saying she used to think deeply about it as a student, too. "You have a lot of these case studies of places where artists go to and they spend a lot of energy, and they put a lot of heart in making a space really artistic and comfortable for themselves, and people find that really cool. And at some point it's too cool and the establishments that open are a little bit off. The vibe is a bit wrong, and then there's a downhill [turn]. It becomes too expensive for everyone and it's no longer inclusive."
She admits that when they first saw the place after being tipped off to it by the architect Randy Chan, who has an office on the third floor, they did envision that they could, in the future, be "too successful" for their "own good", when rent would rise so high that they themselves could not afford it. For their part, though, Tan says, the founders are intent on keeping that inclusivity that is so cherished by patrons. This long-term argument about gentrification could be moot, though.
Golden Mile Tower, the building the Projector occupies, is the subject of en bloc negotiations, a routine development in a country that is limited by space and often quick to replace the old with the new. As academics, artists and members of the public share their take on the heritage value of the brutalist complex, the Projector's cultural worth, notably, has become part of the argument for conservation.
Tan says the founders had envisioned at the start, too, the en bloc fever potentially affecting them. Among their priorities at the moment is finding a possible replacement venue, so that they are not left as "sitting ducks".
"Carpe diem" – that's how she describes her attitude towards the en bloc dilemma. "It's really about seizing the day…Enjoy the space and what we are doing here while it lasts. And then, when it's gone, just…treasure that."
Tan's face evinces stoicism that is perhaps characteristic of many Singaporeans' disposition towards development and its fraught relationship with heritage.
"We adapt to a lot of changes in our landscape. Because of that maybe we treasure it more or not. Or maybe we forget easily. It's a mix of everything. But if something is important to you, you will remember it."