Thailand insurgency
The forever war
From our print archive: As the battle for southern Thailand continues, the forces on either side seem not to care about the innocent victims caught up in their struggle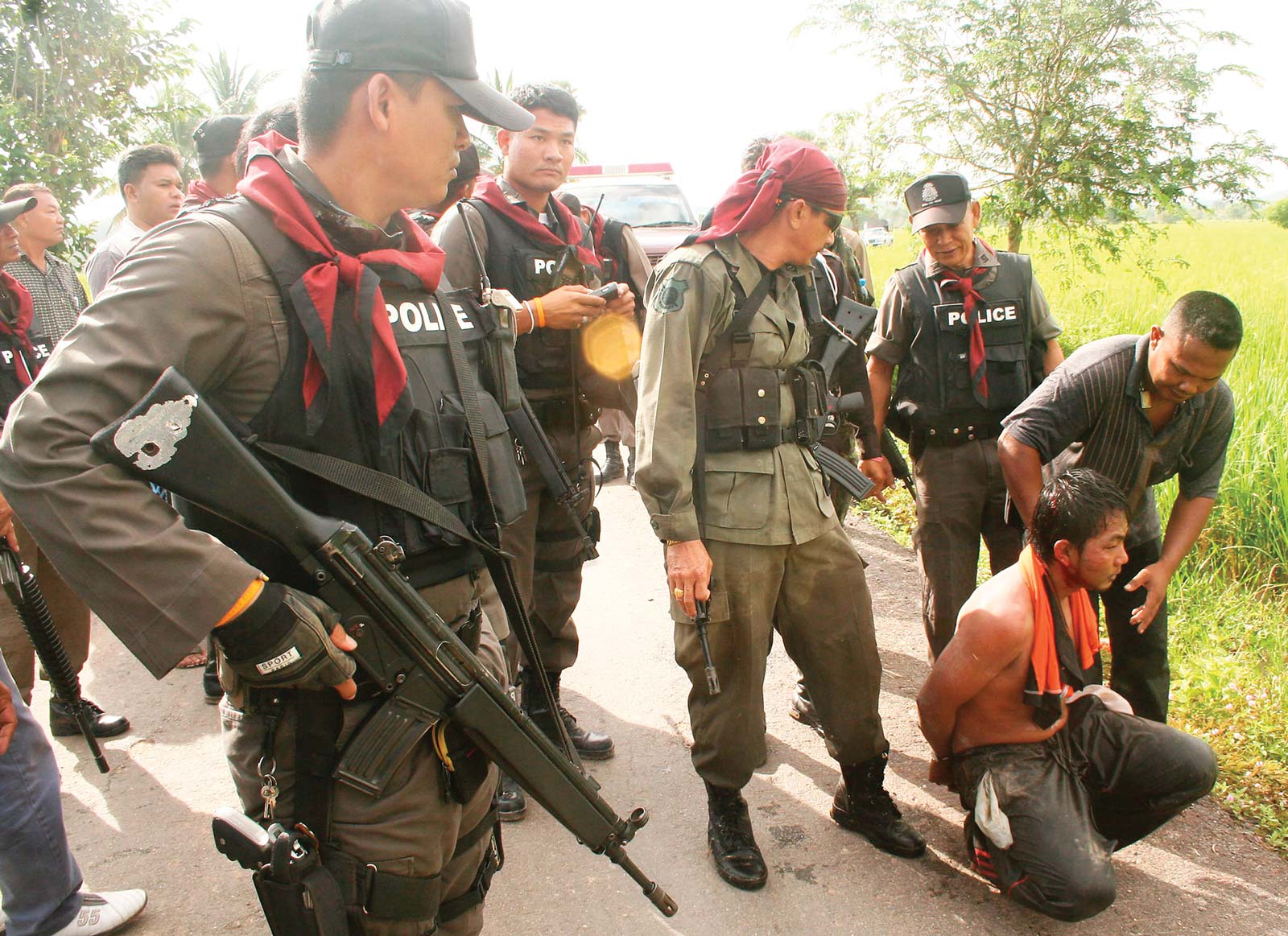 Editor's note: Earlier this month, a series of bombs exploded across Bangkok at the height of a regional security summit. Although no one was killed, the attacks were a chilling reminder of the high cost of an insurgency in Thailand's south that has seen Muslim insurgents fighting for their autonomy from the Buddhist nation for decades. Now, reports are emerging that the main rebel group has met with the government to discuss new peace talks. In September 2008, the late Norwegian journalist Torgeir Norling travelled to the nation's restive south to witness the horrors of a struggle without end.
Sixteen-year-old Muktar Maming and his friends were on their way to watch a televised football game when they heard the first gunshot. Throwing himself to the ground Muktar saw one of his friends get shot in the leg. Looking up he saw a Thai soldier five metres away pointing his rifle at him and pulling the trigger. That was the last image he will ever see.
Piercing his head, the bullet exited through his left eye socket. In the process, it shattered part of his skull and blew both his eyes out. Muktar woke up three weeks later in hospital, lucky to be alive, but blind. His brain has also been affected.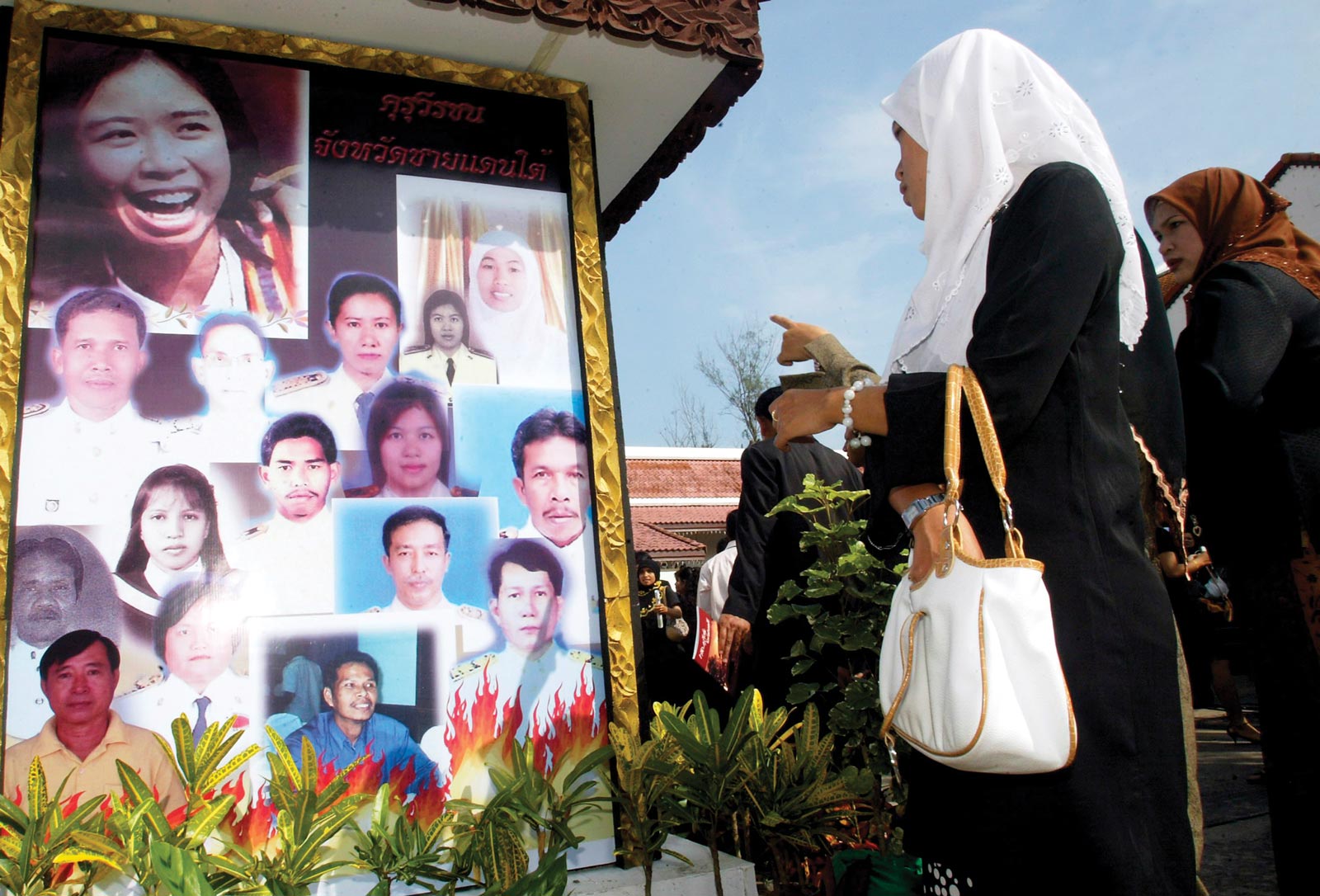 "I forget a lot, my voice is not good and it hurts around the exit wound, because much of the bone is gone," he says.
One year on, at Muktar's family home in the village of Bana near the city of Pattani, his father Jaema says the family has yet to receive an explanation from the government about what happened that night, when a unit of Thai soldiers allegedly opened fire without warning against the group of teenagers, killing two of them and injuring three. He does not know whether any of the soldiers have been reprimanded or if criminal charges have been laid against them.
"Maybe they were drunk, maybe they were angry because the militants had just burned down some telephone booths in the area," he says. Since the shooting, Jaema and his wife have had to leave their jobs in order to take care of Muktar, who now spends most of his time at home listening to the radio.
The family has received compensation of about $40,000 from the government, a laughable figure according to Muktar and far from enough to compensate for his ruined life. "I am still angry. I hope the soldier who shot me will have a bad accident and share my experience," he says.
That's actually not unlikely. "Accidents" happen frequently to soldiers, policemen, militants and civilians in Thailand's three southernmost provinces. The region, previously known as the sultanate of Pattani, was annexed by Siam in 1909 in order to create a buffer zone against British Malaya. The leaders of the sultanate were never consulted during the negotiations between the kingdom of Siam and the British colonial power, and local resistance was quick to flare up. 
Until today the population in the region has never been fully integrated into Thai society. Most speak the Malay dialect Yawi and are ethnically and culturally much closer to the people across the border in neighbouring Malaysia. The region is also among the poorest in Thailand with scant opportunities for employment or education.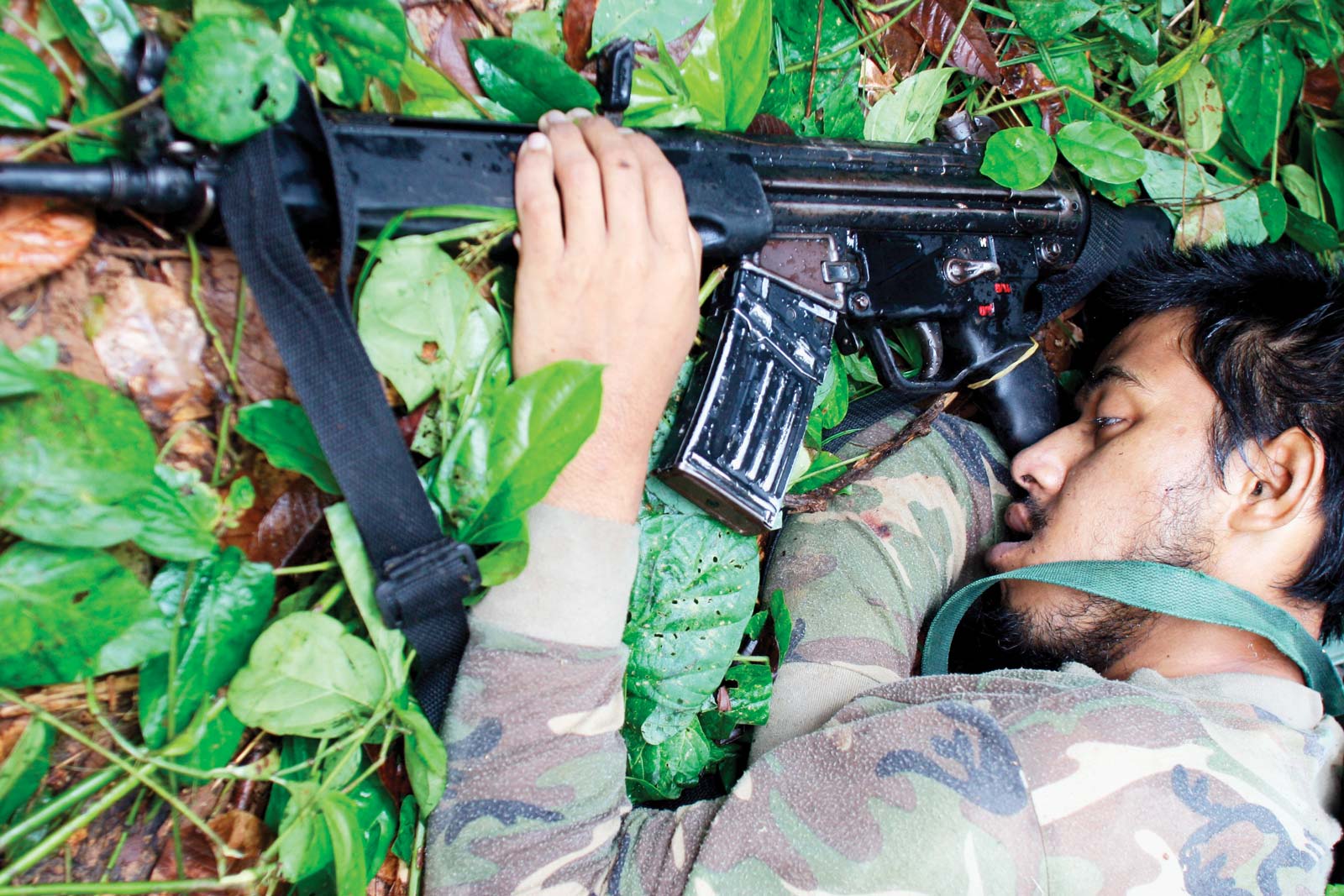 Separatist groups, among them the Pattani United Liberation Organisation (PULO), gained strength particularly in the 1970s and 1980s before being outmaneuvered by the Thai security forces in the beginning of the 1990s. Then, following September 11 and Thailand's support for the US-led war on terror, a new generation of militants decided to take the fight further. Since an initial raid on a Thai army base in January 2004 they have made the battle for a separate Islamic state more bloody and violent than before.
Four ambulances roll up in front of the central hospital in the city of Yala. Yet another bomb has exploded in the nearby district of Raman, killing one and injuring nine policemen. The insurgents had laid a deadly trap. After damaging a fruit plantation they simply waited in the bushes until a police patrol arrived to investigate the damage. They then detonated a bomb buried underground.
At the hospital the severely maimed victims are put on stretchers and rushed into the emergency ward. A paramedic says these incidents have become a daily routine. "It's happening all the time," he says.
Since the initial attack in 2004 more than 3,300 people have been killed and more than 5,000 people were injured. Hundreds of government schools have been burned down, hotels and nightclubs have been bombed. Village leaders, teachers, civil servants and even monks are routinely assassinated and their bodies often mutilated. Everyone and everything remotely connected to the kingdom of Thailand is, for the militants, a legitimate target.
"We just hope the soldiers will be able to protect us, but everybody here is living in fear," says a teacher at a government school close to the bombing. The school is guarded by a heavily armed soldier but the teacher is unsure whether the extra security will prevent an attack. "Violence and fear is just something we have to live with," he says.
Professor Srisompop Chitphiromsri at Prince of Songkhla University argues that Thailand's security forces have gained some ground in recent months. A better organisational structure, intelligence and better-targeted operations have led to more arrests of suspected militants and reduced the number of attacks significantly.
"The process has been effective to some extent. The number of violent incidents has decreased from about 250 a month to about 50 or 60. The insurgents can no longer move as easily or operate as they will," he says. The number of casualties, however, largely remains the same.
"The security forces are just able to control the small events, but they cannot stop more advanced operations that are meant to inflict severe damage. Before the militants tried to avoid confronting the army, now they are brave enough to challenge military units through ambushes or direct attacks," he says.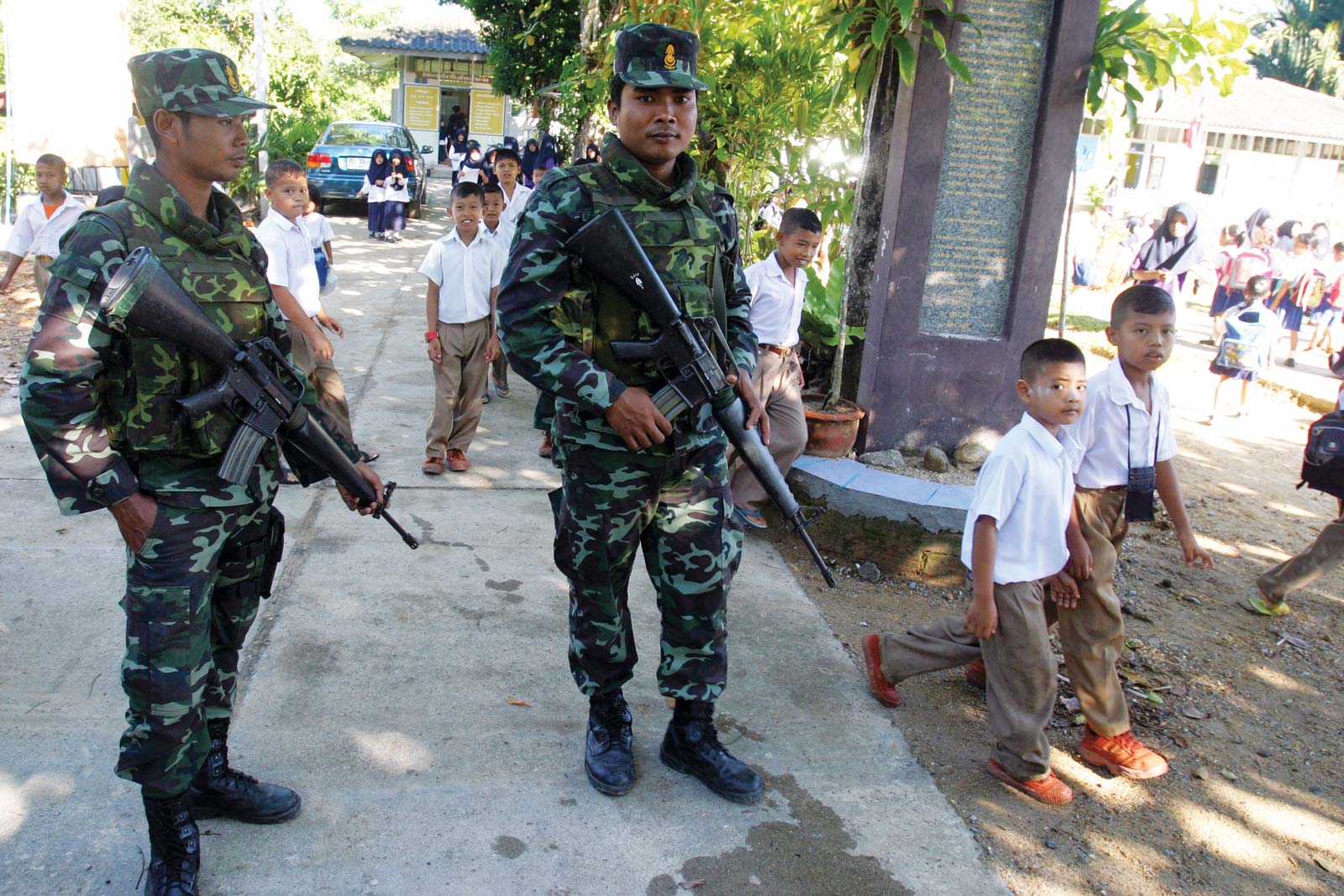 Lack of knowledge of who they are fighting also hampers Thailand's security forces. Until today, nobody has taken responsibility for any attacks. No insurgent leaders have come forward, and little is known about the organisational structure of the insurgent groups involved.
"It's perhaps one of the most mysterious separatist movements we have encountered. You always have some leaders and organisations coming forward, but here you just don't have it," Srisompop says. Thai authorities have met, and negotiated with alleged insurgent leaders abroad, mostly exiled leaders belonging to the old generation of separatists, but few believe these leaders have any influence on the more radicalised militants who perpetrate the current violence.
Little is also known about the insurgents' level of support among the Malay-Muslim population. "First of all they use violence, which is a very effective tool to control the population. Then they use nationalist justifications. They talk about Malay-Muslim identity, they talk about the glorious history of Pattani and they talk about Islam to justify their jihadist missions. Many believe in this. It is reasonable because we have to accept that we have a very bad government bureaucracy, there is a lot of corruption and abuse of power," Srisompop argues.
The behaviour of Thailand's security forces has further helped to fuel local support for the insurgents. Extrajudicial killings or the torture of people believed to have links to the insurgency are common, so are sweeps of villages and towns where hundreds of people are indiscriminately rounded up and detained. Incidents such as these, along with atrocities such as the Tak Bai massacre in 2004, when 78 detained demonstrators suffocated to death after being piled on top of each other in overloaded army trucks, has reinforced the notion that the Malay-Muslim population are perceived as second-class citizens by the ruling Thais.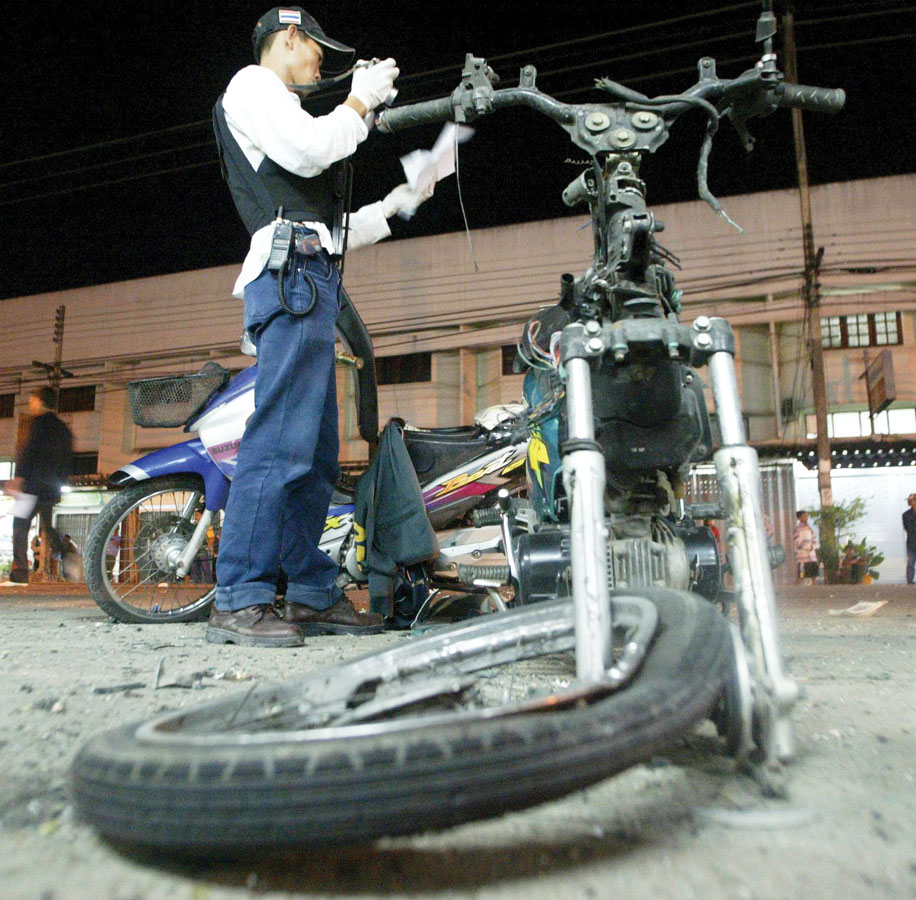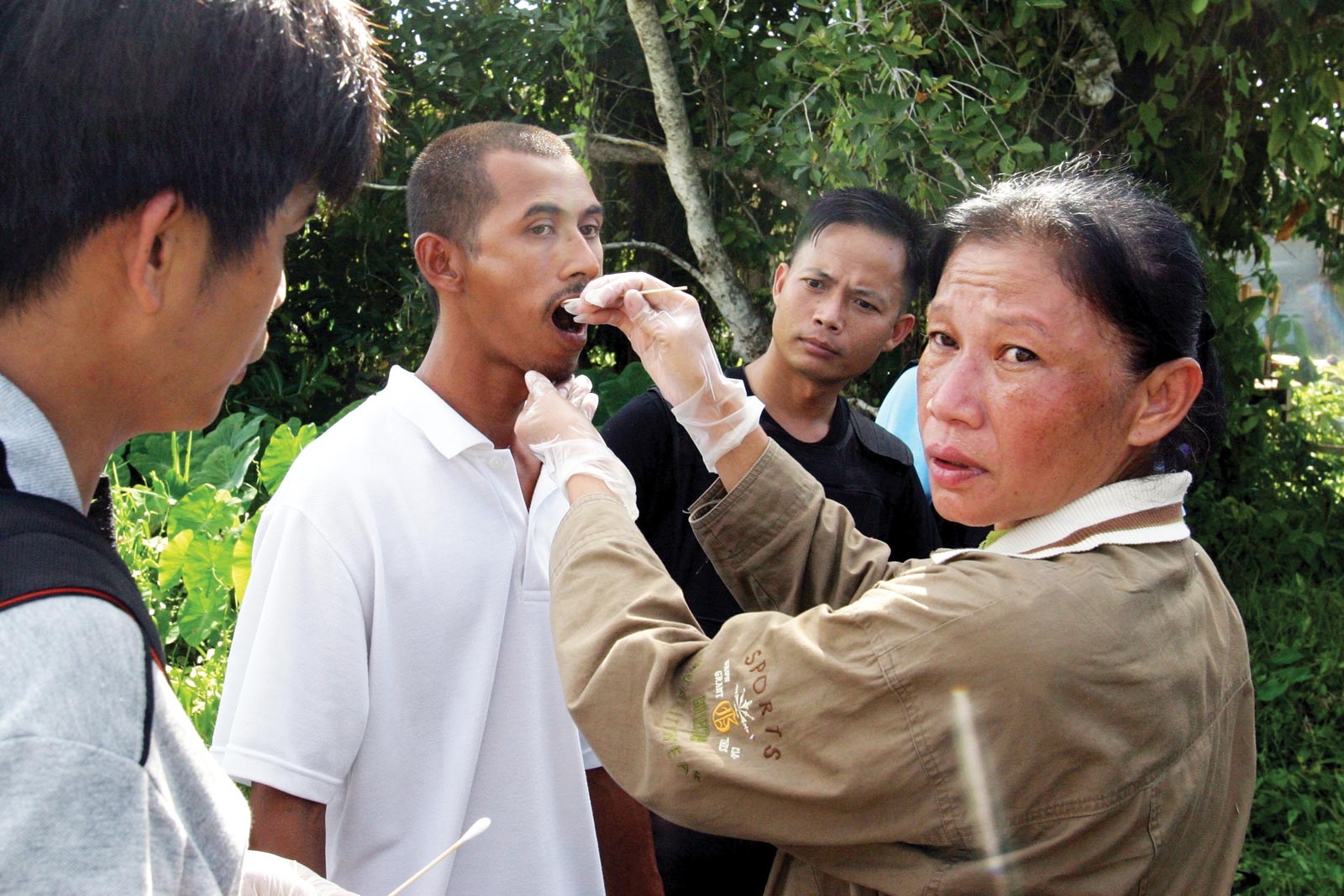 "As academics we try to emphasise the message that once the authorities use legal tools to solve the problem, they will be able to get more support from the local community. They need to be more disciplined and more serious about legal justice," says Srisompop.
The Thai government may have a long way to go to get the population on its side, but there are some signs of improvement. Just hours after the violent attack against the police patrol in Raman, another bomb explodes.
The device, attached to a motorbike, was detonated to cover the insurgents' retreat after opening fire on police barracks in Pattani's Yarang district. Motorcycle parts are spread over a large area and police at the site claim it to be a miracle that nobody was injured in the explosion. Three hundred metres up the road soldiers have detained a suspected militant. A forensic team from Thailand's ministry of justice, led by Dr Pornthip Rojanasunan is on the scene. DNA samples are taken from the suspect and his clothes and body are carefully screened for residues of explosives. The results are negative. The teenager had just been in the wrong place at the wrong time and is subsequently released.
Muktar, however, was not so lucky.
Back in the village of Bana his parents say they have applied for a grant from the queen of Thailand so he can attend a school for disabled people in the neighbouring district of Songkhla. Muktar admits he has to find a way to come to terms with his new life but, in the meantime, images of his old life are still vividly on his mind – family, friends, girlfriends and the soldier who shot him.
"I have to accept the fact that I will never see again," he says.
---
Be a Part of the Story
---
Southeast Asia Globe is powered by members.

Membership programs will be available soon. Until then, sign up for our weekly summary of stories from the region.
Donate and support independent journalism.

Donations help us keep our journalism free and independent. Support stories from Southeast Asia that matter.
---
---
Read more articles