Thailand's science and technology minister bears the burden of a $45-billion dollar challenge to keep the Kingdom's economic hub afloat this rainy season
By Sacha Passi
As Southeast Asia braces for its annual rainy season, the flood mitigation efforts of experts and policymakers in Thailand to minimise the monsoonal impact in the wake of the 2011 disaster, which brought the worst floods in half a century, will be increasingly under the spotlight.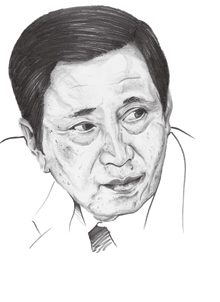 In response to the overflows that killed up to 500 people and caused an estimated $45 billion in economic losses, the Thai government introduced an agency in February 2012 to oversee and implement a national water management system that would avert a similar disaster.
Assigned chairman of Thailand's Water Resources Management and Flood Control Committee, Science and Technology minister Plodprasop Suraswadi, sits at the helm of a multi-billion dollar mitigation challenge that could either sink or float the Yingluck Shinawatra government's reputation for its ability to protect its people and safeguard the local economy from another destructive season.
"Thailand was hit by an unusually high number of storms, rainfall was around 35% higher than average," said Dr Robert Mather from the International Union for Conservation of Nature, an environment and sustainability organisation. "And reservoirs were not managed as effectively as they could have been in these circumstances."
With a $12 billion budget dedicated to mitigation efforts, Plodprasop has commissioned the knowledge of international experts to guide major initiatives to prevent another bottleneck in the nation's industrial heartland. "The cost of the 2011 floods was high, resulting in a sharp drop in Thai manufacturing production and exports," said Rajiv Biswas, an economic expert from IHS Global Insight. "Of course, major infrastructure construction will take several years to be completed, but it should significantly improve Bangkok's ability to cope with flooding."
An estimated $200 million has been allocated for spending in 2012 on improved water diversion through major industrial estates, with the dredging of canals and building of dykes and floodwalls earmarked as priorities.
In a statement released by the Thai government, Plodprasop said that in prioritising the economic hub, certain areas along the Chao Phraya River including Sing Buri, Ang Thong, Chai Nat and Nakhon Sawan, which were heavily inundated in 2011, could not be guaranteed protection from flooding under the government's 2012 mitigation plans.
Mather agrees it is an impossible task to protect all of the communities living in the known floodplain in such a short space of time, but longer-term strategies remain underdeveloped.
"The water has to go somewhere and the government has chosen to protect Bangkok as the major economic driver of GDP – consequently other areas will have to flood," he said. "But efforts should be made to promote an approach to 'living with the floods'… including improved land-use planning and housing design standards."
Longer-term solutions, such as natural infrastructure, are in the early stages of development. A consortium of Thai and foreign consultants will be commissioned to run Bangkok's water management and flood prevention projects, targeted to begin in 2013 with a $9.4b- budget.
Plodprasop has maintained the flooding situation in 2012 "would not be worrisome" following the lessons learned from last year's disaster, and has effectively ruled out the possibility of a repeat flooding event after meeting with forecast specialists in March. "There is only a 1% chance that Thailand will face another flooding and if it happens it will do 50% less damage," he said at a press briefing, as reported by the Bangkok Post.
And while climate experts agree that it is statistically unlikely flooding will occur to a similar extent, Upmanu Lall, a Research Scientist from the International Research Institute for Climate & Society, says the climate conditions that caused the recurring deluge last year were possibly weakening, but are still effective. "The minister's assertion may come true," he said "If nature cooperates".