In 1959, May Mayko Ebihara became the first American to write an anthropological dissertation on Cambodian village life. Published in two volumes nearly a decade later, Svay: A Khmer Village in Cambodia depicted a pre-modern agricultural idyll governed by family and religion, in which monks were seen as the "living embodiments and spiritual generators of Buddhism".
However, rapid economic development has led to a dramatic restructuring of social relations within the Kingdom. Urbanisation is siphoning people away from rural life, modernity is slowly consuming tradition, and more and more Cambodians are turning their backs on the monkhood.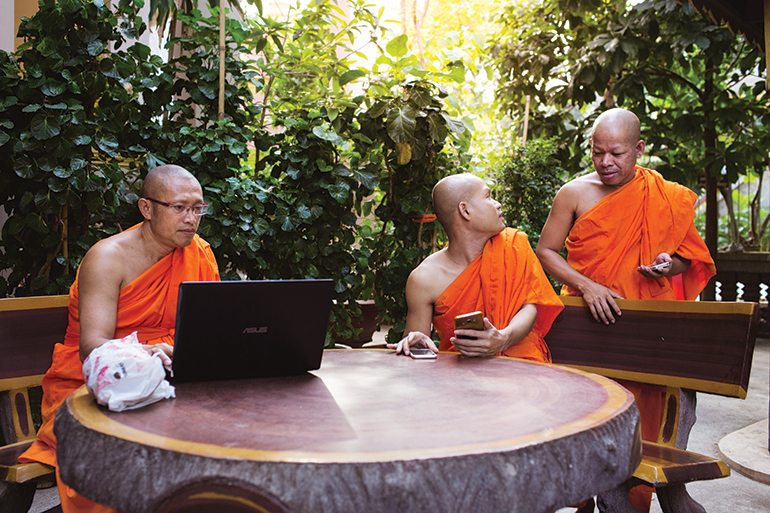 "Buddhism is not strong like before,"

Bunsin Chuon
"Buddhism is not strong like before," said Bunsin Chuon, a monk since 1996 who splits his time between the US and Wat Langka in Phnom Penh. "People have happier lives now because technology is so advanced, and fewer people want to become monks because to be a monk is not a happy life."
Before the Khmer Rouge, pagodas served as the moral, educational and cultural hub of village life and thus enjoyed a prominent position within society. Writing in Cambodge: The Cultivation of a Nation, 1860 – 1945, the historian Penny Edwards describes how the monkhood, or sangha, "offered one of the few paths to power outside of birthright", with completion of at least one Buddhist Lent in the monastery considered a male rite of passage. Boys would enter the monkhood as teenagers, learn about Buddhism and Khmer culture, then return to adult life.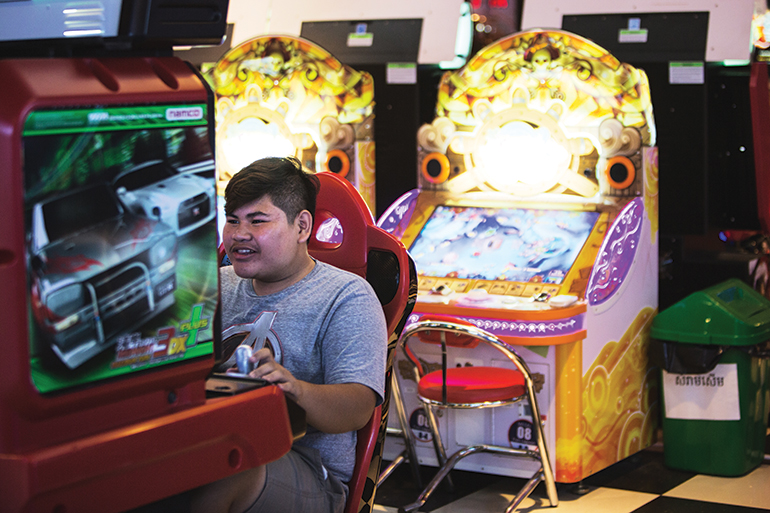 "If I didn't ordain as a Buddhist monk, I had no chance to study at high school and university,"

Sinen Neang
Sinen Neang, a 29-year-old from rural Kampong Cham province, joined the sangha when he was 17 and spent ten years as a monk before using what he had learnt to pursue a career as a human rights worker. As the first-born male in his family, tradition demanded that he become a monk. But it was the allure of receiving a good education – something beyond reach for many of Cambodia's rural poor – that convinced Neang to commit to monastic life. "If I didn't ordain as a Buddhist monk, I had no chance to study at high school and university," he said.
But the growth of non-religious schools and universities in Cambodia has seriously undermined the sangha's social and cultural influence. "Before, if anyone wanted to learn literature or any skill, they could go to the temple – there was an incentive. But now they have a lot of choice; they don't need to go to the temple," said Chuon, before estimating that the number of monks at Wat Langka in Phnom Penh had fallen from 300 to 100 in five years.
What's more, decades of robust economic growth have rewarded many Cambodians with such material and technological advancement that the prospect of joining the sangha has become even less appealing, according to Khy Sovanratana, a monk of 27 years and vice-rector at Cambodia's Preah Sihanouk Raja Buddhist University. "There are more jobs outside the monastery. Young boys can have a family and enjoy life, which they see as more attractive than being quiet, circumspect and restrained," he said.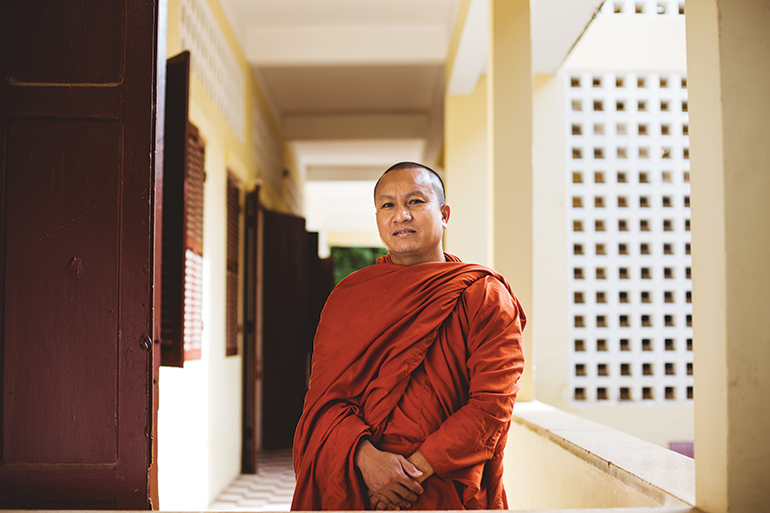 Sengkak Ly, a 20-year-old student at the National University of Management, laughed when Southeast Asia Globe asked if he had ever considered joining the sangha. "I have no time to be a monk," he said. "I have to study so that I can get a good job. I'm not really thinking about religion."
The idea of pursuing an ascetic life was also inconceivable for Rin Savath, a 25-year-old finance student at Build Bright University. "I've never been a monk, and I never want to be one, because when you become a monk you lose all your freedom and are treated differently by society," he said.
The sangha is also contending with a worryingly high level of criminal activity among its ranks.
In June 2016, Vong Chet, the head of a pagoda in Siem Reap's Kralanh district, was found guilty of raping more than ten young novices and sentenced to 15 years in prison. The case was not an anomaly – two other monks were charged with raping underaged girls and two more were jailed for drug offences in the second half of 2015 alone.
Buddhist authorities have long brushed off such acts as individual transgressions, but this has failed to temper the public's increasing disdain for monks, who are supposed to serve as exemplars of Buddhist behaviour.
Even those who do join the sangha often don't stay long. As a result, few monks learn the scriptures to a level that enables them to effectively perform their principal role as broadcasters of the Buddha's teachings, or dhamma. Sovanratana described the decline in the standards of monastic education as "a major setback to the progress of Buddhism and the standard of monastic life in the country".
Concerns about modern monks' limited understanding of dhamma and their lack of stringency in following the ten precepts, along with the perception that many monks take up the saffron robes purely to gain a free education and live off the generosity of others, appear to be gaining traction.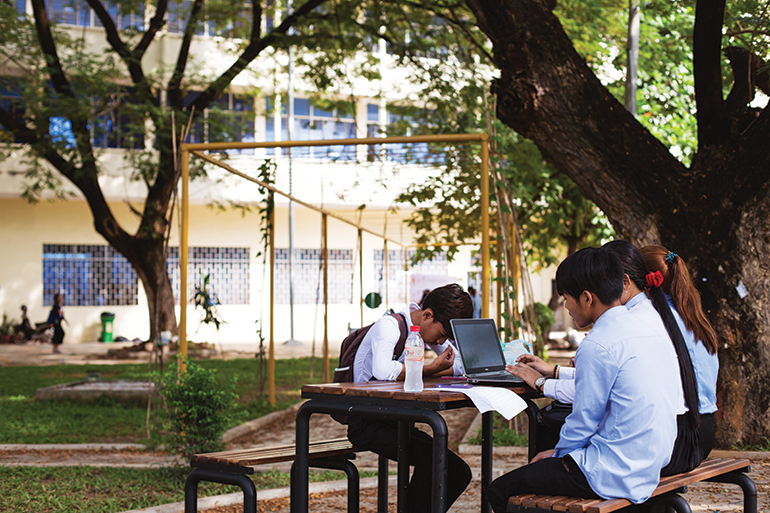 Echoing the sentiments of other Cambodians Southeast Asia Globe spoke to, Ren, a 26-year-old massage therapist from Phnom Penh, said monks no longer fulfilled their purpose as spiritual leaders. "The monks use monkhood as an occupation, but they don't try to learn the scriptures. We believe in this religion and we look up to them, and if they don't really know anything, then who do we look up to?"
Sovanratana said preceptors – monks who are qualified to teach other monks – needed to be more robust in checking the background of would-be monks in order to prevent "troublemakers" from joining the sangha. "Once the name is put forward, some preceptors just sign and perform their rituals. This has led to some problems," he said. "The preceptors must perform background checks of candidates. Drug addicts are not easily changed. It's not like you can possess such a man and become a morally behaved person immediately."
With increasing numbers of Cambodians eschewing the monastic life in order to enjoy the fruits of capitalist expansion, and more still questioning the authority of the sangha, it would be easy to conclude that Buddhism's influence is on the wane in Cambodia. But according to the Ministry of Cults and Religion, 95% of the population still identifies as Buddhist.
Philip Coggan, author of Spirit Worlds: Cambodia, the Buddha and the Naga, believes the decline of the sangha has not greatly impacted Buddhism in Cambodia because monks are simply seeking personal salvation and are "almost irrelevant to most major-life passages". Coggan believes modernisation has had a far greater impact.
"Going to the temple in order to dispel bad spirits when you have a bad dream or have bad luck – this is not Buddhism."

Bunsin Chuon
"A booming economy brings consumerism ('shiny objects') and so the ethical side of Buddhism ('reject shiny objects') takes a back seat to the 'magical' side, in which the spirit world is called on to channel 'luck', conceived in Buddhism as something real and malleable," he told Southeast Asia Globe in an email. "Buddhism's doing fine. People still turn out in huge crowds for Pchum Ben and [Khmer] New Year."
But Chuon believes that those who only go to the pagoda on holy days are not following "real Buddhism". "Many just go to the temple with their parents during Pchum Ben or Khmer New Year. They are not practising," he said. "Going to the temple in order to dispel bad spirits when you have a bad dream or have bad luck – this is not Buddhism."
Savath and Ly are prime examples of such Buddhists. Neither visit the pagoda outside holy days – unless down on their luck – and neither follow the five precepts of Buddhism, which are regarded by many monks, such as Chuon, as the religion's only non-negotiable 'rules'. However, neither Savath nor Ly believe these facts make them any less Buddhist, with Savath claiming "it's not necessary to follow all the five precepts, as long as you don't harm others" and Ly defending his beliefs by stating that he still "respects the Buddha".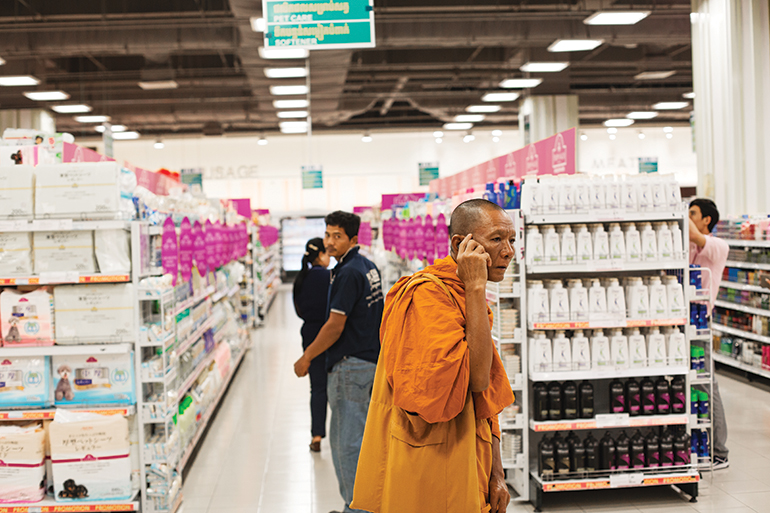 Scott Mitchell, who conducts research on Buddhist modernity at California's Institute of Buddhist Studies, said the debate over what constitutes a 'practising' Buddhist would likely never be resolved.
"In general, most Buddhist cultures define a Buddhist (practising or not) as one who has taken refuge in the three jewels of Buddhism – the Buddha, the dhamma and the sangha – and/or holds the precepts to some extent," he wrote in an email. "Having said that, I believe it's up to a religious community to determine what it takes, so to speak, to be a practising member of that community."
Whether Buddhism's influence in Cambodia is weaker than it used to be largely depends on how one chooses to define Buddhism. History has shown such definitions to be fluid and, according to Mitchell, this is one of the religion's greatest strengths. "Buddhist institutions and communities try to make the dhamma meaningful in whatever context they are located. The goal is not, necessarily, to change the societies in which Buddhism is located, but to direct individuals toward the dhamma," he said.
The fact that Buddhism survived the Khmer Rouge regime demonstrates that it is nothing if not resilient, and Sovanratana believes it will continue to exert a strong influence on Cambodian society. "The Buddhist tradition in Cambodia is still very strong despite some bad happenings," he said. "Some may turn their backs on it temporarily, but they will come back. Buddhism and Khmer culture are almost inseparable."