It's no secret that Thailand is a haven for sex tourism. Brothels are a common sight throughout the country, often hidden behind the doors of bath houses, karaoke bars, massage parlours or boutique nightclubs. Other establishments are more obvious – pulsing neon-lit gogo bars, blatant escort services, strip clubs that beam out into the night. But despite its prominence, prostitution is still illegal under Thai law. And after years of turning a blind eye, the police are on the warpath.

Lately, Thai authorities have tried to clean up the streets in order to paint a more wholesome picture of the country. Over the last few years, police have conducted raids on some of the nation's most popular red light districts. These raids haven't just been about combatting human trafficking – officers leading the operations have been searching for any evidence of prostitution in order to convict those found selling sex of their own free will.

Although the sex trade is undeniably huge in Thailand, the precise number of sex workers in the nation is difficult to calcuate. Some estimates say that there's anywhere between 800,000 to possibly two million sex workers in the Kingdom. Yet despite the industry's prevalance, a history of apparent acceptance, and clearly a lack of police enforcement, these latest raids have sparked a nationwide debate over whether sex work should be illegal at all.

Because according to the sex workers who choose to carve out a living this way, this heightened wave of legal suppression comes at a high cost. For those who have entered the sex trade voluntarily, the work is simply an honest way to get by. But lately, many sex workers say the police oppression is making the job even more difficult to navigate. For many of Thailand's sex workers, the solution is simple – decriminalise the work.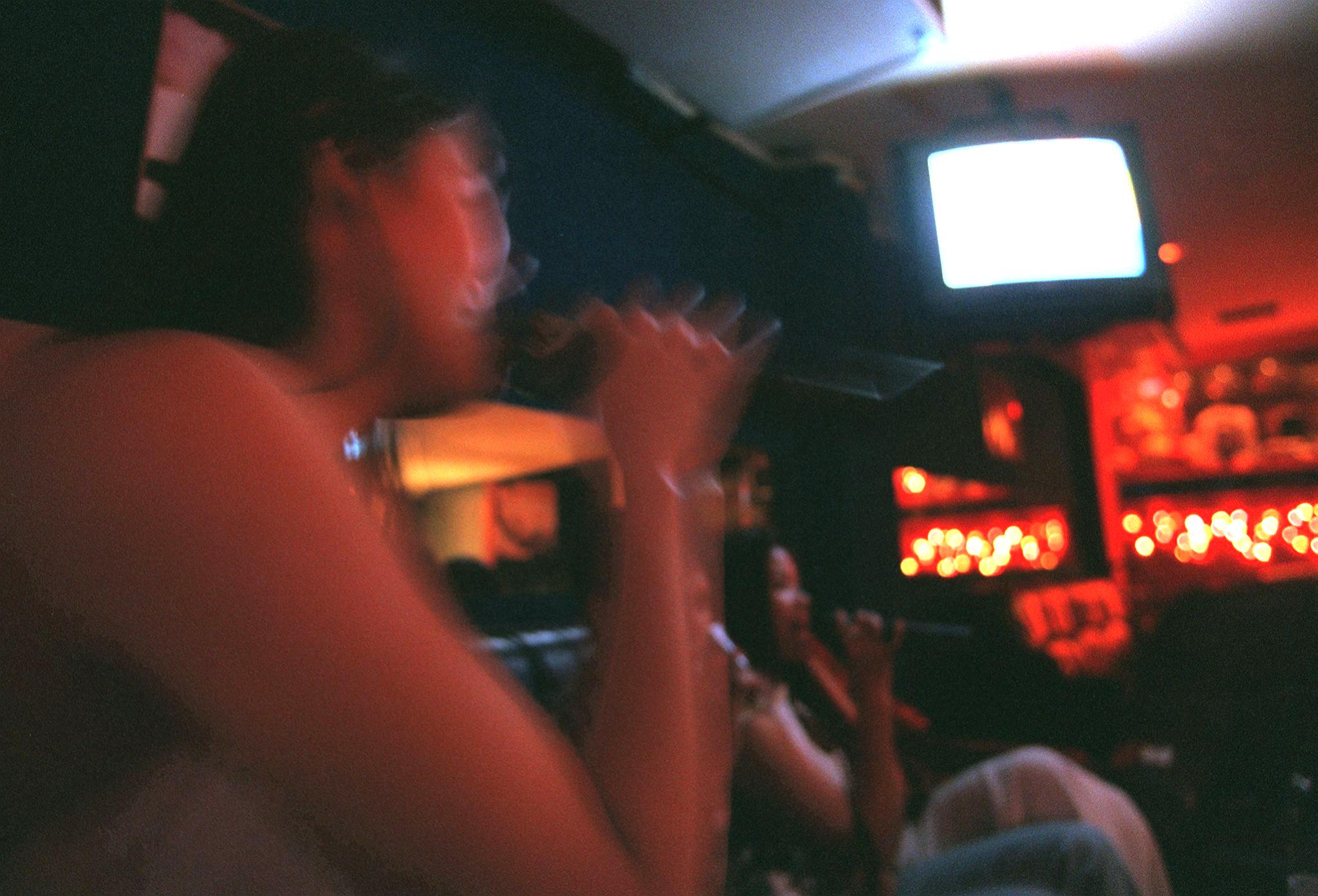 A Thai karaoke hostess entertains customers in a Bangkok bar. According to aid workers, tens of thousands of workers who have lost their jobs including more women, men and children, are turning to the sex industry amid the country's worst economic downturn in a decade. Photo: Pornchai Kittiwongsakul/AFP
Mai Chanta, a sex worker and activist at Empower, an organisation that has long advocated for sex workers rights, education and health, told Southeast Asia Globe that it was about time Thailand's Prostitution Act be repealed.

"There is no need for a new law to replace it, just repeal it and enforce the other laws we already have," she said. "If we are not treated as criminals, we can report crimes against ourselves or others, we can improve our workplaces, we could even apply for other jobs if we wanted to."

Mai entered the sex industry when she was 23. At just 15 years old, she realised that she needed to start working in order to help provide for her family. But finding a job that would actually allow her to support her family was no easy task – the wages were so low that they made it difficult to put her younger brother through school and help take care of her parents at the same time. So when she turned 23, she decided to make a serious change – one that to her, has made all the difference.

"[Sex work] is the job that gave me the most opportunities to support my family and also the freedom to study for my own school qualifications too," she told Southeast Asia Globe. "At the moment with the bad economy, other workers also understand our need to work and provide for our families. They may not approve of sex work, but they don't want to punish us as criminals either."

For years, a number of rights groups have also advocated for decriminalisation, arguing that research has shown that the criminalisation of sex work could lead to range of human rights abuses against the workers themselves. Understandably, there needs to be strong policies that combat human trafficking and exploitation, but they say that decriminalising the work would mean a more regulated trade that would result in systems that could better protect sex workers and keep dangerous traffickers at bay.

Amnesty International is spearheading the fight. They believe that advocating for the decriminalisation of all aspects of sex work is safer for all those involved. Based on evidence they found from extensive interviews with both sex workers, numerous organisations including abolitionist groups, HIV agencies, women's and LGBTI rights activists, anti-trafficking groups, and others, they believe that decriminalisation is a feasible way to protect sex workers around the globe.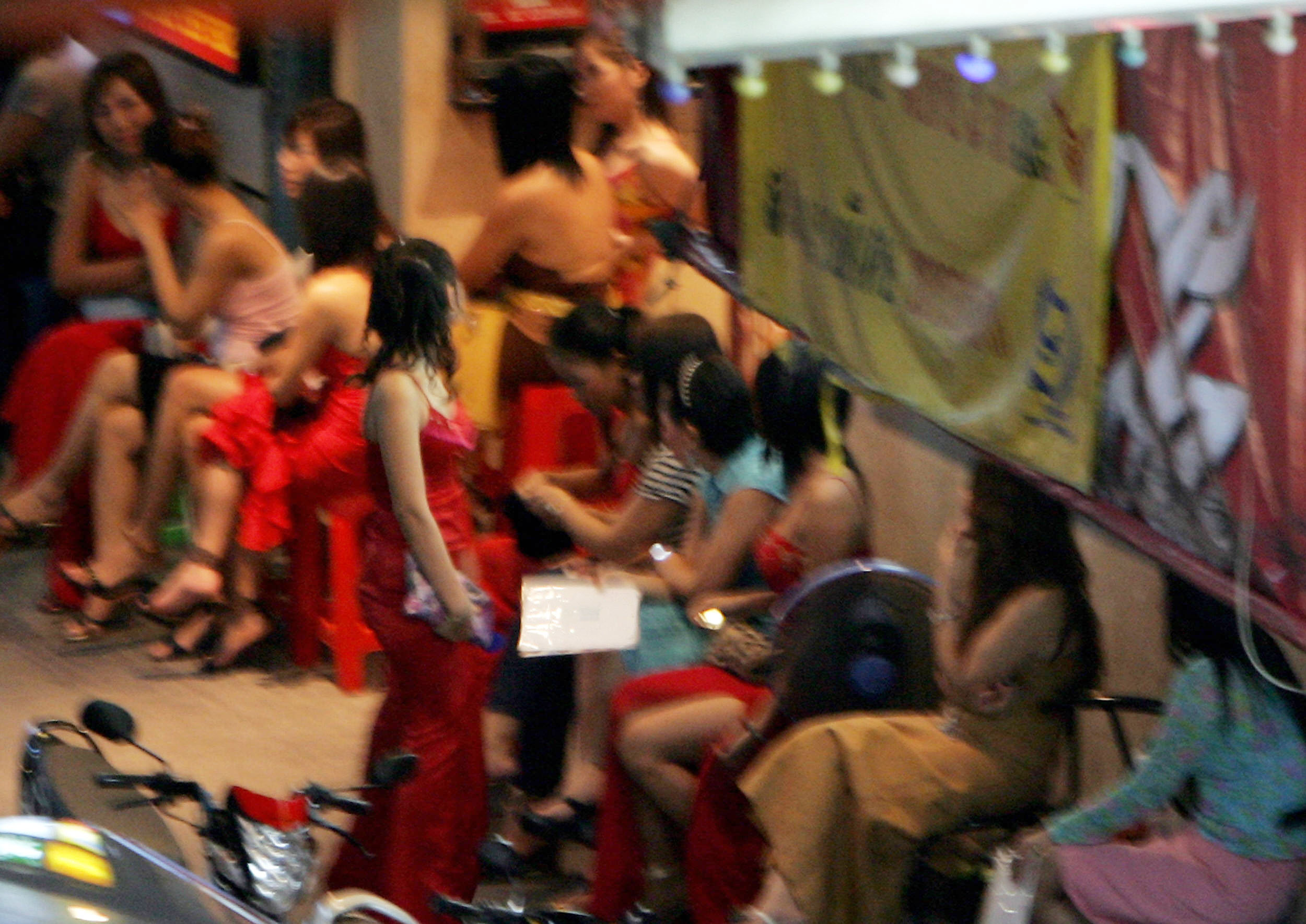 Research carried out by the group has shown that sex workers often face a litany of human rights abuses including rape, violence and extortion. Their 2016 study Sex Workers at Risk found that criminalisation can further endanger sex workers by stripping them of their ability to seek protection from abuse and depriving them of their rights to legal social services. The study found that the vast majority of sex workers routinely face some form of discrimination; everything from stigma, marginalisation and harassment to physical abuse. More than that, the illicit nature of their work makes access to basic health services or housing difficult.

But it's certainly not clear whether or not decriminalisation – or even full legalisation – could actually reduce or eliminate the deeply entangled systems of human trafficking and exploitation that permeate the sex trade.
"The Prostitution Act is a wall, not between us and sex work, but between us and our human right to access the same protections and benefits that other workers have"

Thanta Laovilawayakul, sex worker and activist at Empower
Kevin Bales, professor of contemporary slavery at the UK's University of Nottingham, has been studying this area for more than 20 years. After interviewing countless women in working-class brothels across Southeast Asia, he has a radically different perspective. Bales told Southeast Asia Globe that after researching both legal and illegal settings of sex work, he found that the trade is consistently damaging to women and children across the spectrum.

"Legalising or 'decriminalising' commercial sexual exploitation only increases this damage, opens up and supports larger areas of illegal exploitation, and creates a fertile ground for the criminals that deal in the extremely damaging, often deadly, trade in children and violent forms of sexual exploitation," he said.

"Decriminalisation is a bad idea and results in an increase in criminality and criminal profits, damage to the most vulnerable, and simply supports and furthers the worst motives and outcomes of misogyny," he said. " If there is a somewhat positive step it would be to enact the Nordic Model, which decriminalises selling sex while criminalising buying sex, thus somewhat redressing the inherent power imbalance of the exchange of sex for money."

In some parts of the West, legalisation is widely seen as a rational approach to the inevitability of the sex industry and the demand that drives it. Countries such as Australia, New Zealand, the Netherlands, Germany and Sweden have all legalised sex work. But they have slightly varying regulations and restrictions. For example, as Bales noted, Sweden's 'Nordic Model' legalises the act of selling sex – as long as it's not in a brothel setting – choosing instead to criminalise the person purchasing sex. This practice still positions sex workers as victims, arguing that they shouldn't be further victimised under prosecution.
In Thailand, the approach is quite the opposite. Thailand's Prevention and Suppression of Prostitution Act 1996 punishes sex workers for selling sex, but carries no consequence for the customer buying it.
But it's not just the workers themselves who could stand to benefit. Some observers have noticed that legalisation carries economic benefits as well, giving the government the chance to earn income tax by regulating legalised sex work. On top of this, those who choose to work in the industry legally would have access to health services. This added oversight could help make it more difficult for underage girls to join the trade.
Thai Tourist Police Corporal Kanjanawadee Pongkhunt known as 'Jinny' (L) patrols past Thai bar girls in Bangkok's infamous red-light district of Patpong. Photo: Emmanuel Dunand/AFP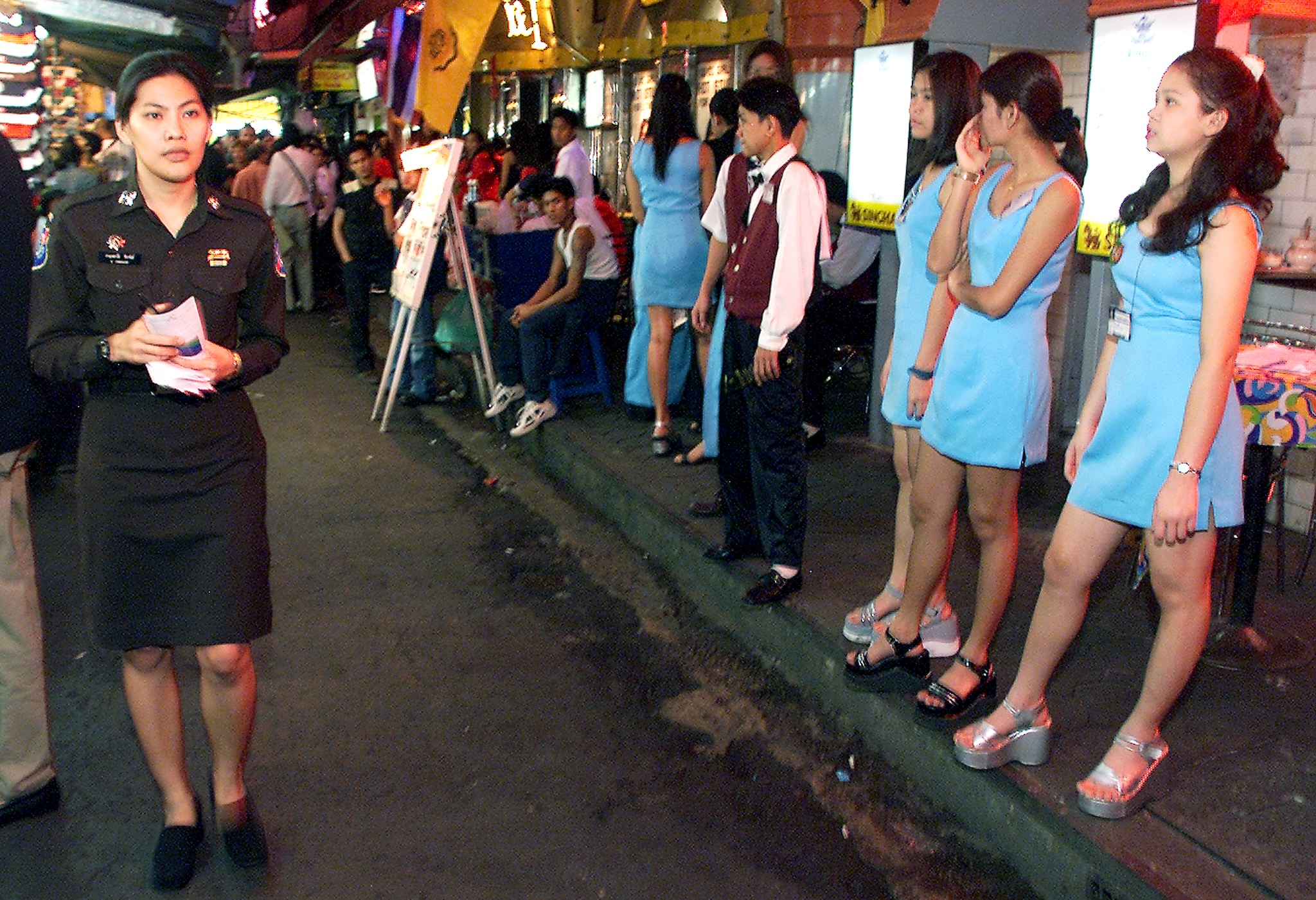 Emile Pradichit, founder and director of Manushya Foundation, an organisation that promotes community empowerment to advance human rights, social justice, and peace, said that decriminalisation would mean a truly safer landscape for sex workers to inhabit.
"Decriminalisation would mean that sex workers would stop being casted as criminals, would stop living underground, hidden to exercise their job. For those working in entertainment places, decriminalisation would mean they would stop being put in unsafe and indecent working conditions, from not having minimum wages to being victims of violent clients as well as abusive and exploitative working conditions," she said.
"[Decriminalisation] would finally treat with dignity the very workers boosting the sex industry and sex tourism in Thailand, representing 10% of the country's GDP."
Thanta Laovilawayakul, another sex worker and activist at Empower, told Southeast Asia Globe that she entered the sex trade as a single mother to take care of her two young daughters. For her, it all comes down to repealing the country's Prostitution Act. She says the "outdated and not necessary" law fuels corruption and encourages exploitation while blocking sex workers from working safely, ultimately treating them with disrespect, she said. But if the law gets repealed, she argued, the consequences for the countless women working in Thailand's sex trade could be massive.
"Empower has worked under 14 governments, but none have yet dared to put our rights as workers, mothers and family providers ahead of the old traditions of shame and punishment," she said. "The Prostitution Act is a wall, not between us and sex work, but between us and our human right to access the same protections and benefits that other workers have."