Even on the deck of Rotanak Ros's terrace house on the banks of the Mekong River, Cambodia's midday heat is stifling. Despite the blazing stovetop, the fans hang motionless in their cages so as not to disturb the filming of the day's cooking class. The camera rolls its gaze from the pumpkin lying in even clumps on her chopping board to the rich red clay pot on the stove. Chef Nak takes a breath, wipes the sweat beaded on her brow and smiles. Take two.
It looks like hard work, and it is. But Rotanak – who goes by Chef Nak – is adamant in her quest to draw traditional Cambodian cuisine back from what she fears is the brink of extinction. Her website, rotanak.co, is replete with recipes drawn from her childhood: kanh, a refreshing salad traditionally served with fresh duck blood; crispy shrimp cakes that were once all she ate on her long walks to school; and, perhaps most tantalising, a caramel stew garnished with black mushroom and bamboo shoots.
Nak is no stranger to the work of cultural preservation. For eight years, the self-taught chef worked with Cambodia Living Arts, an organisation founded by survivors of the bloody Khmer Rouge regime that has spent the past 20 years working to rekindle the Kingdom's fading cultural arts. It was here that Nak began to realise just how fragile the thread had become that binds together generations of Cambodian families.
"I understand the danger of losing so many art forms," she told Southeast Asia Globe after the day's filming was finished. "Because people in Cambodia, they pass through their knowledge verbally – most of the art forms don't last, because nothing is written down. So I kind of saw my role that I could do something, because I believe that cooking is one of the art forms. It's an art form that is passed through many generations and it's all about how daughters see their grandparents, their mothers, do things – and they take those lessons themselves."
Along with her homegrown cooking channel, which walks cooks through traditional Cambodian recipes collected from across the country, Nak offers visitors a chance to taste the fruits of her labours firsthand with private cooking classes and extravagant evenings feasting on her terrace half an hour's tuk tuk from the heart of Phnom Penh. Combining a five-course tasting menu and cocktails with traditional Khmer music – performed by musicians from Cambodian Living Arts – these evenings, dubbed 'Mahope by Rotanak', are designed not only to bring in extra revenue to fund her foodie fixation, but to cultivate a sense of intimacy with Khmer cuisine often lost in the Kingdom's high-end restaurants.
Cambodian families are going to lose the traditions of cooking together, eating good food together
For Nak, it is this ensemble performance – blending the gentle majesty of Cambodia's natural splendour with the sacred songs of lost generations – that reconnects Khmer cuisine with a past in which food, music and dance were all an indispensable part of the evening meals of the cultural elite.
"Mahope means 'food' in Khmer – but when people come here, the experience they should get is not only the taste of the food but the nature around them, the art performance," she said. "We want to combine the cooking arts and the performing arts together."
Although it may be tempting to blame the widespread famine and upheaval of the Khmer Rouge era for the decline of dishes dating back to the Angkor Empire, the economic boom that has ushered in two decades of prosperity has not left the nation's ancient culinary traditions unscathed either. As the liberalisation of the economy opens up Cambodia to a horde of international chains and fast food franchises keen to meet the needs of a growing middle class, a generation of urbanites is forsaking the home-cooked meals of their youth for easier fare.
"They've forgotten that they're now letting go of their culture of cooking at home and having the whole family involved in what the parents are doing," Nak said. "Cambodian families are going to lose the traditions of cooking together, eating good food together – and the way to address that is through education about good food; but also what I'm trying to do is to inspire people to cook again and to believe what I believe, which is that a happy family should be able to smell good food made by someone in that family."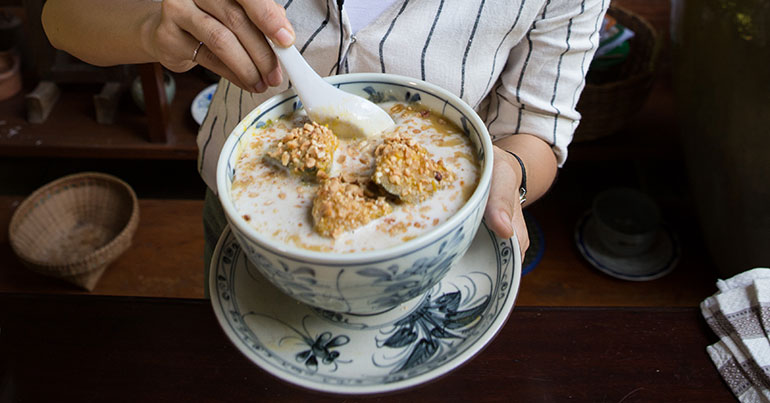 Through her cooking channel and a litany of lesser-known Khmer recipes listed on her website, Nak hopes to encourage younger Cambodians to see traditional cooking not as a labour-intensive chore best left to elderly relatives but as something more akin to a kind of meditation that also fills the bellies of family and friends. Nak hopes her platform will preserve recipes that are in danger of slipping from living memory, and also help regular Cambodians cultivate a more mindful appreciation for what they put in their bodies.
"I want to really go to the roots of the knowledge," she said. "There are many, many grandmas out there who have still survived, and still have the knowledge and still remember how it tastes and how it's cooked, and those people don't have a lot of time. So I want to do this quickly."
To this end, Nak outlines what she describes as a boomerang strategy. By growing international interest in Khmer cuisine through English-language recipes and videos, she hopes to rekindle local interest while causing a stir in the West with Cambodian staples. While more recognisable fare such as the peppery lok lak or fish amok – once the favoured dish of Cambodian royalty – are easy to track down in the tourist traps of Phnom Penh, finding Cambodian fare on menus around the world isn't so easy.
"The world knows all the food from the countries around us, but not Cambodia's," Nak said. "And I kept asking myself why, because I believe that Cambodian food is so incredible, and I'm not saying that I only love Cambodian food. I love Thai, I love Vietnamese, Italian, French – but the more I travel, the more I eat different things, the more I appreciate our local ingredients even more. And I really think that Cambodian food deserves a place in the world. I keep asking myself why it isn't there yet, and I'm trying to answer this question."
For now, though, Cambodian cuisine continues to trail behind the success of its neighbouring cuisines. Laughing, Nak described walking into Thai and Vietnamese restaurants around the world only to find them run by Cambodian chefs.
"Right now, people do not feel fully proud of what they are, of what they have eaten since they were young," she said. "And I'm so hoping that what I'm doing can inspire them to take that pride, to take that ownership, that knowledge that we are so special – and we should be happy and celebrate what we have rather than hiding in somebody else's clothes."