The Blue Circle says that the time is now for Southeast Asia to embrace renewable energy as the region's power demands grow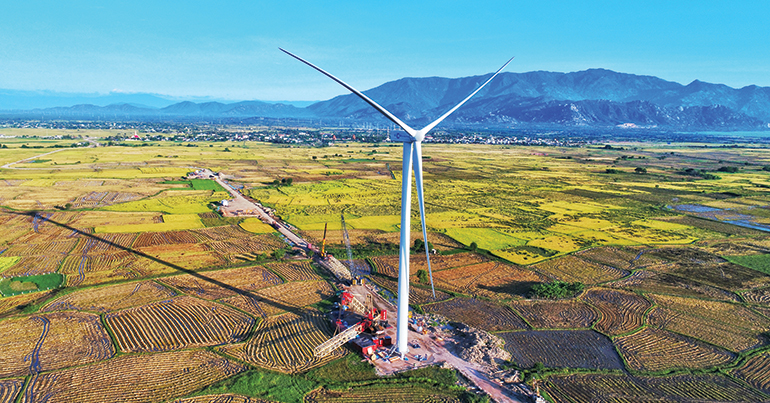 Rising 80m into the sky, with sleek blades cutting through the air, three great monuments point the way to the future.
Located in Ninh Thuan province in South Vietnam, these giant wind turbines make up what is the country's first foreign-owned wind power plant. A project of The Blue Circle, a renewable independent power producer based in Southeast Asia, the plant has the long term potential for installed capacity of 90MW, making Dam Nai one of the largest wind power plants in Southeast Asia.
This is just a drop in the ocean of what is required in Vietnam. But it is a start.
Southeast Asia as a region has incredible renewable energy potential, and yet it lags desperately behind much of the rest of the world in utilising these resources. With rising CO2 levels and an ever-increasing need for more power to match the rapid development, Southeast Asia is reaching a critical point in its history.
The Blue Circle believes it has the answer. It is looking to make an impact in the energy sector throughout the region and has set its sights on Cambodia, which the company claims has the potential to install more than 500MW of wind power, equal to approximately half of a nuclear power station.
Not such a dismissable figure. Gilles Beau, the chief development officer of The Blue Circle, says the time for Cambodia to embrace renewable energy is now.
"Technology is ready; it's cost competitive; there are plenty of renewable resources in Cambodia between solar, wind and hydro; and it's time for Cambodia to unlock its potential," says Beau.
The company is preparing to launch the first wind plant built by industry professionals in the Kampot region of Cambodia, which is set to be implemented in 2019.
"We have been taking measurements in Cambodia since 2014 and now we know that there is definitely wind potential in the country," says Beau.
He adds, "while this is not going to be the sole solution to Cambodia's energy needs, it can certainly play a big role in addressing Cambodia's ever-more-urgent energy demands."
And Cambodia's need for power is indeed great. Its demand for power supply is growing at nearly 20% year on year, and that figure is expected to remain steady for the next seven years.
The Blue Circle sees the solution to Cambodia's energy needs as being multifaceted. By combining the potential of solar, wind and hydropower in an interdependent system, the country can build a strong base of clean, renewable energy and become a pioneer in a region extremely vulnerable to the effects of climate change.
The company hopes that Electricité du Cambodge can undertake a large-scale multi-renewable energy grid integration study to get a clear view on how to effectively deploy renewable energy in Cambodia.
"There is absolutely no doubt that there is large potential for wind and solar energy to be deployed in an effective, quick and cost competitive way in Cambodia," Beau says.
"And The Blue Circle is keen to contribute to the green – or perhaps blue – revolution of the energy mix in the Kingdom."