Nearly a million people in Thailand's southern provinces have been inundated with heavy flooding, with escaped crocodiles posing a threat to nearby residents, according to experts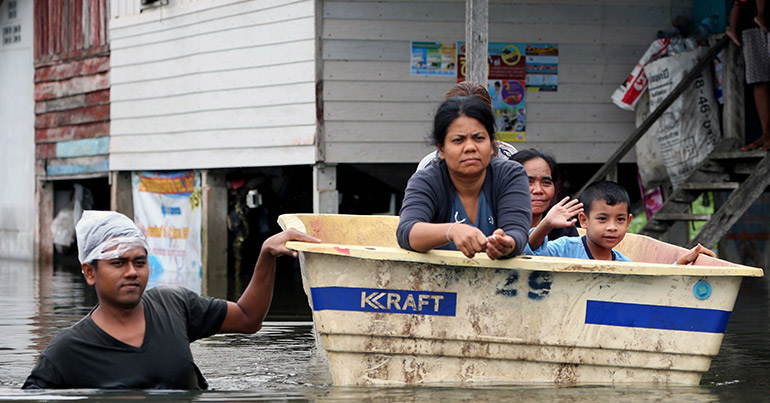 The death toll from heavy flooding in Thailand's south has now reached 21, with an estimated one million people in 10 provinces affected by the torrential downpours that began nearly a week ago. Thousands of villages have been partially submerged and the rainfall has even facilitated the escape of at least ten crocodiles from a provincial zoo.
"Severe flooding is because of the worst rainfall in more than 30 years," Prime Minister Prayuth Chan-ocha told RTE.
Military forces have been deployed to help evacuate victims, construct shelter and hand out emergency aid. In Nakhon Si Thammarat province, which was heavily affected by the flooding, two army helicopters were enlisted to help deliver food to families trapped inside their homes.
Bapha Suthiphanya, who has spent several nights in a government shelter, told AFP that she evacuated her home after floodwaters rose above her head. "I was so shocked and scared. I've never seen water like this, and I also cannot swim," she said.
On Saturday, at least 10 crocodiles escaped from Tha Lad Zoo in Nakhon Si Thammarat province, which was inundated with floodwater, reported the Bangkok Post. Muang district officials, who oversee the zoo situated inside Somdet Phra Srinagarindra 84 Public Park, warned local residents to be extra careful for fear that the crocodiles, some reportedly measuring up to five metres, may be aggressive towards people.
Simon Pooley, a UK-based professor of zoology at Birkbeck, University of London, and a member of the Crocodile Specialist Group, said that the crocodiles could be a danger to those close to the zoo.
"People in the area around the zoo must be alerted that large crocodiles are loose in the region and may pose a danger to them and their animals," he said. "They should keep away from the water's edge, at least three metres, whenever possible. Crocodiles can remain submerged for over an hour, so just because you can't see them doesn't mean they're not there.
"Crocodiles who have been captive for some time may well return to the zoo where they have long been housed and fed," Pooley added, "so setting walk-in traps baited with food in the vicinity of the zoo may be effective. If the area is flooded, going out at night by boat with a spotlight and noosing them is another option."
According to the Bangkok Post, there were also reports that local residents shot dead two crocodiles, each three to four metres in length, that had escaped from a private farm district during the flooding.