The 21st Angkor Wat International Half Marathon, sponsored by Manulife, saw more than 9,000 runners from around the globe come together at the ancient temples of Angkor to raise money for development projects in Cambodia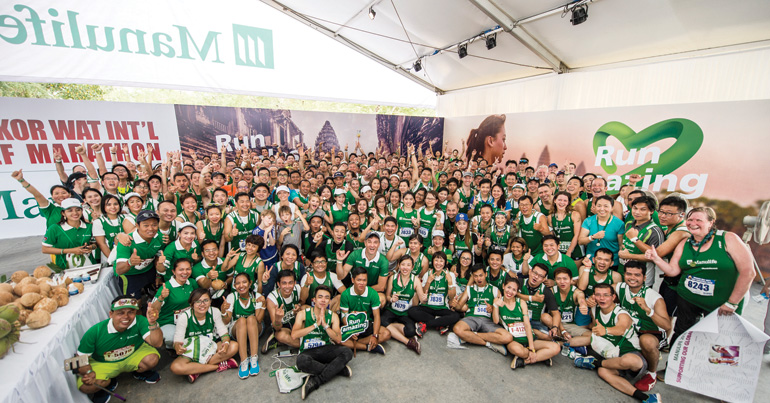 Advertorial
On a cool December morning last year, more than 9,000 runners from around 80 countries gathered at the ancient temples of Angkor to run in the 21st Angkor Wat International Half Marathon, an event that, since its inaugural run in 1996, has raised funds for local development projects throughout Cambodia.
As the sun rose behind the lotus-shaped spires of Angkor Wat, runners stretched and chatted before the event's MC began the race's countdown. Shortly after 6am, the first runners took off on the 21km half marathon, supported by lively spectators and other eager runners waiting for their turn to begin.
As the principal sponsor of the marathon, Manulife decorated Siem Reap in their signature emerald green hue in preparation for the event – their logo could be seen on tuk tuks, and the town's energetic Pub Street was adorned with beaming green lights and a sprawling banner telling passers-by to #RunDifferent.
The race's scenic route took competitors through the magnificent, crumbling Unesco world heritage site, from the towering Angkor Wat past the serene stone faces of Bayon temple. Participants could run an assortment of races: besides the 21km half marathon, there was a 10km road race, a three kilometre family run, a 21km wheelchair race and a 10km race for those with prosthetic limbs.
Manulife employees, along with Cambodian minister of tourism Thong Khon, gathered in the company's hospitality tent to present a cheque totalling $110,000 to Dr Nguon Chan Pheaktra, director of the Angkor Hospital for Children, which provides free healthcare to children in and around Siem Reap.
Shortly after the presentation, Robert Elliott, chief executive officer and general manager of Manulife Cambodia, said that the Angkor Wat International Half Marathon was part of a growing list of Manulife's charitable and sponsorship projects in the Kingdom, which includes donating to children's hospitals, supporting national business plan competitions and providing helmets to students, teachers and parents.
"We have donated over 4,000 helmets to Cambodian children, parents and teachers and we have also trained them on road safety and how to wear the helmets properly," Elliott said. "That's a very important thing to be able to do here, in a country that is growing very fast."
Echoing Elliott's sentiment was Roy Gori, president and CEO of Manulife Asia, who spoke of his company's commitment to health and wellness, citing its involvement in the Boston Marathon as well as the Danang International Marathon in August 2016, a colossal event that brought in 4,000 runners from 42 countries.
"The Angkor Wat Half Marathon supports many different charities, and we're particularly proud of our sponsorship and support of the Angkor Hospital for Children," Gori said. "It really is about helping the communities that we operate in and, at the same time, promoting health and wellness within the countries that we operate in across Asia-Pacific and beyond."