Sainam* knew it was time to fight for a change. It was a Sunday morning when he took his courage and left the house wearing the crop top that would change his life forever.
That Sunday, 18 July 2021, the 16-year-old joined thousands of other students and activists at pro-democracy protests, calling for monarchy reforms while wearing similar crop tops to mock the Thai king, who was seen wearing that outfit in public just a few months earlier.
Police met them with force.
"I was shot in the back with a rubber bullet. They [the police] threw me on the ground, beat me up with the bottom of the gun and kicked me with their riot boots," Sainam remembered. "I felt angry, but I wanted to be heard. Thailand needed to change 112."
That's Section 112 of the Thai Criminal Code – the controversial lèse-majesté law, which carries a jail sentence of three to 15 years for each count of royal defamation, a vaguely defined term that often includes calls for reform.
Today, Sainam is one of 18 minors who are currently charged or accused of breaking that law. Rights organisation Thai Lawyers for Human Rights (TLHR) reported in January that such prosecutions against minors "had never happened before".
What's more, although minors are legally subject to special criminal procedures, TLHR stated the experiences of those charged with lèse-majesté suggest this juvenile system is inadequate to protect them while exercising their rights to speech. Over the course of the protests and their aftermath, official obstruction included outright violence by police, intimidation through measures such as surveillance and psychological pressure applied through families and schools.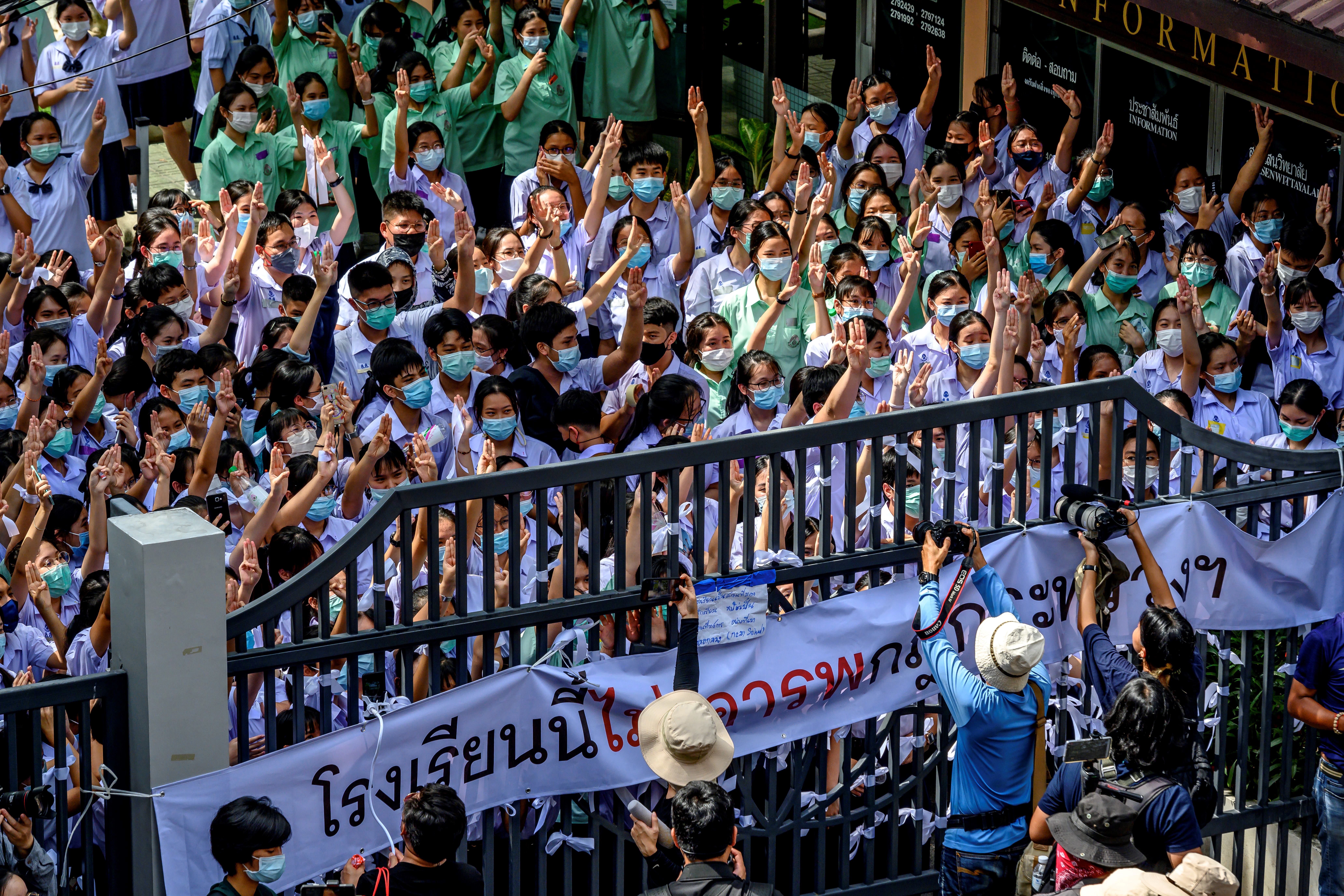 TLHR points to several cases of irregularities by the court and other authorities, pointing mainly to procedural issues with children's court hearings.
Unlike with adult trials, which are considered public, proceedings for minors are kept behind closed doors. This is ostensibly to protect the privacy of the child, but in practice serves to bar third parties including non-governmental organisations, human rights groups, embassies, and often even parents and other guardians from attending.
Children can appeal this rule and request to have people they trust in the courtroom with them. However, more often than not, the court rejects such appeals, explained Akarachai Chaimaneekarakate, international advocacy legal fellow at TLHR.
"We can only learn about irregularities or violations from the lawyers and the children themselves after the court session," he said.
Petch*, 20, is an LGBTQ+ activist sentenced for lèse-majesté after holding a speech when they were still 17 calling Thailand's political system an "absolute monarchy" and demanding reforms. Petch, who uses they/them pronouns, said their third-party request was denied not just once, but four times.
Petch had felt put on the spot with a "very conservative" judge at the central juvenile and family court who they felt had a preconceived idea of how he intended to close the case.
"I really wanted to have some diplomats or human rights organisations to observe the hearing to ensure transparency and fairness of the judgement," Petch said. "But that judge rejected all my requests."
The lack of transparency left them wondering about the fairness of their trial – especially when the guilty verdict came down, making them the first minor convicted under section 112. Petch was sentenced to enter a Juvenile Practice and Training Center vocational programme but was later granted bail with the support of the Ratsadorn Prasong Fund, or Will of the People Fund. They're now waiting for their appeal trial.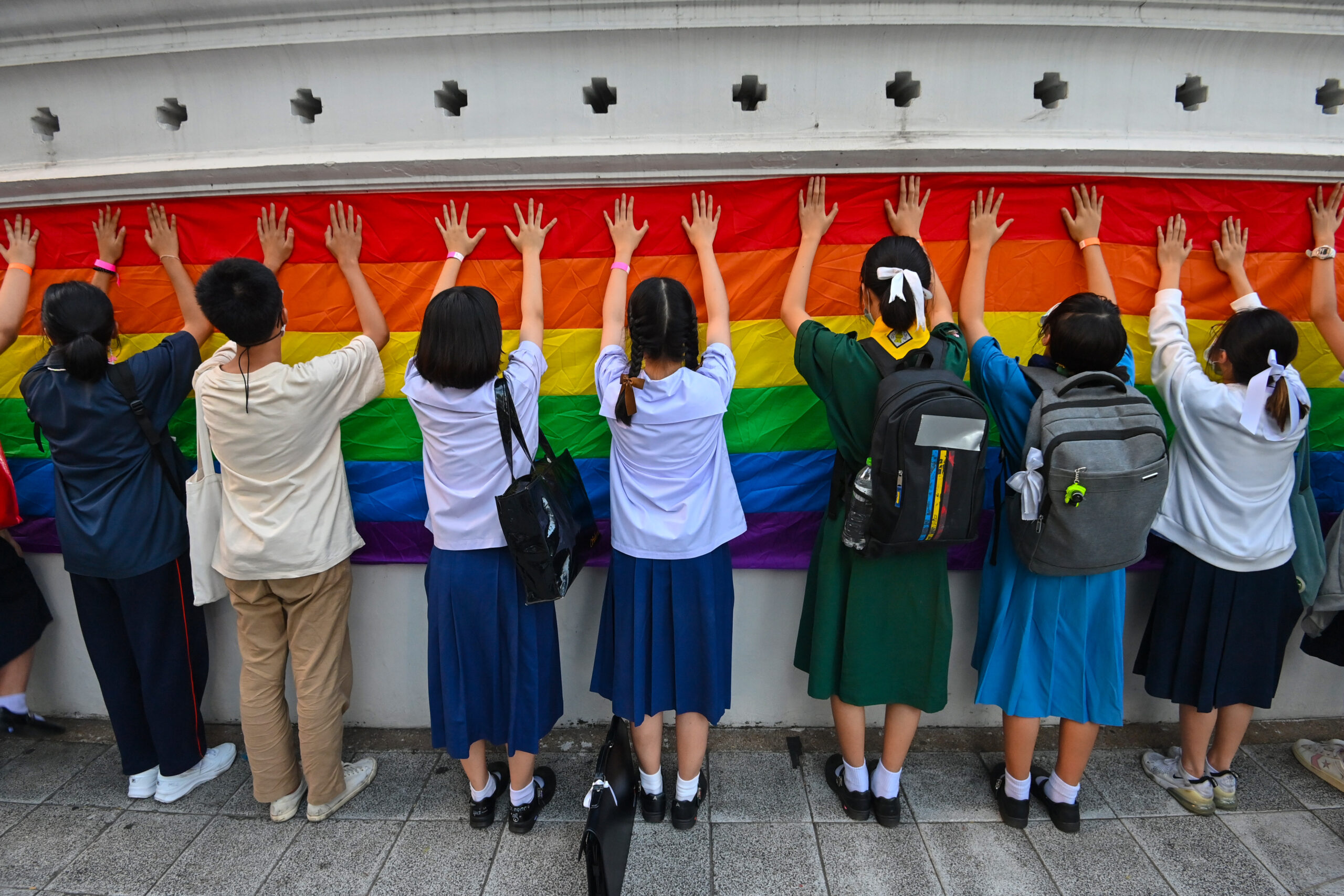 Uprise of child-led movements
Although the prosecution of peaceful dissidents in Thailand has been ongoing for decades, a court-based crackdown on political activists escalated after the 2014 military coup.
The latest restrictions of dissenting voices followed a pledge by Thai Prime Minister Prayuth Chan-o-cha that year to enforce "all laws and articles" against pro-democratic leaders and protesters. That approach was later evident in the violent repression of youths calling for monarchy reforms, education improvement and indigenous rights as major, minor-dominated movements began emerging in 2020.
While these mass protests scaled down by the end of 2022, ahead of Thailand's approach to national elections in early May, authorities are continuing to clamp down on political activists, including children, by accusing them under the lèse majèste law and sedition.
The latest target of this has been a 14-year-old girl, Yok*, who was summoned by Samranrat Police Station in early February accused of "violating 112" by activist Anon Klinkaew, leader of prominent ultra-royalist group Center for the People's Defense of the Monarchy.
The warrant did not specify the exact reasons for the summons, according to TLHR, which is following Yok's case.
"The child is worried about her education as she will finish her middle school in March and will be applying for high school in April," said Akarachai.
Children accused under 112 for participating in pro-democracy demonstrations between 2020 and 2022 such as Yok and Sainam are required to attend court sessions and meetings at police stations on a weekly basis. This measure not only has a serious psychological impact on children but can also be a key factor in decisions to quit school in several cases, Akarachai said.
Sainam knows how it feels to see career plans dashed for expressing a political opinion on the Thai monarchy reform.
"I wanted to go to a GED program abroad but my passport was suspended, so I couldn't go," Sainam said.
While the court is about to release a final verdict on 30 March for Sainam on one count under 112, most of the other cases against minors are still at an inquiry state – the very first stages of the criminal proceedings – reported Chanatip Tatiyakaroonwong, a regional researcher at Amnesty International.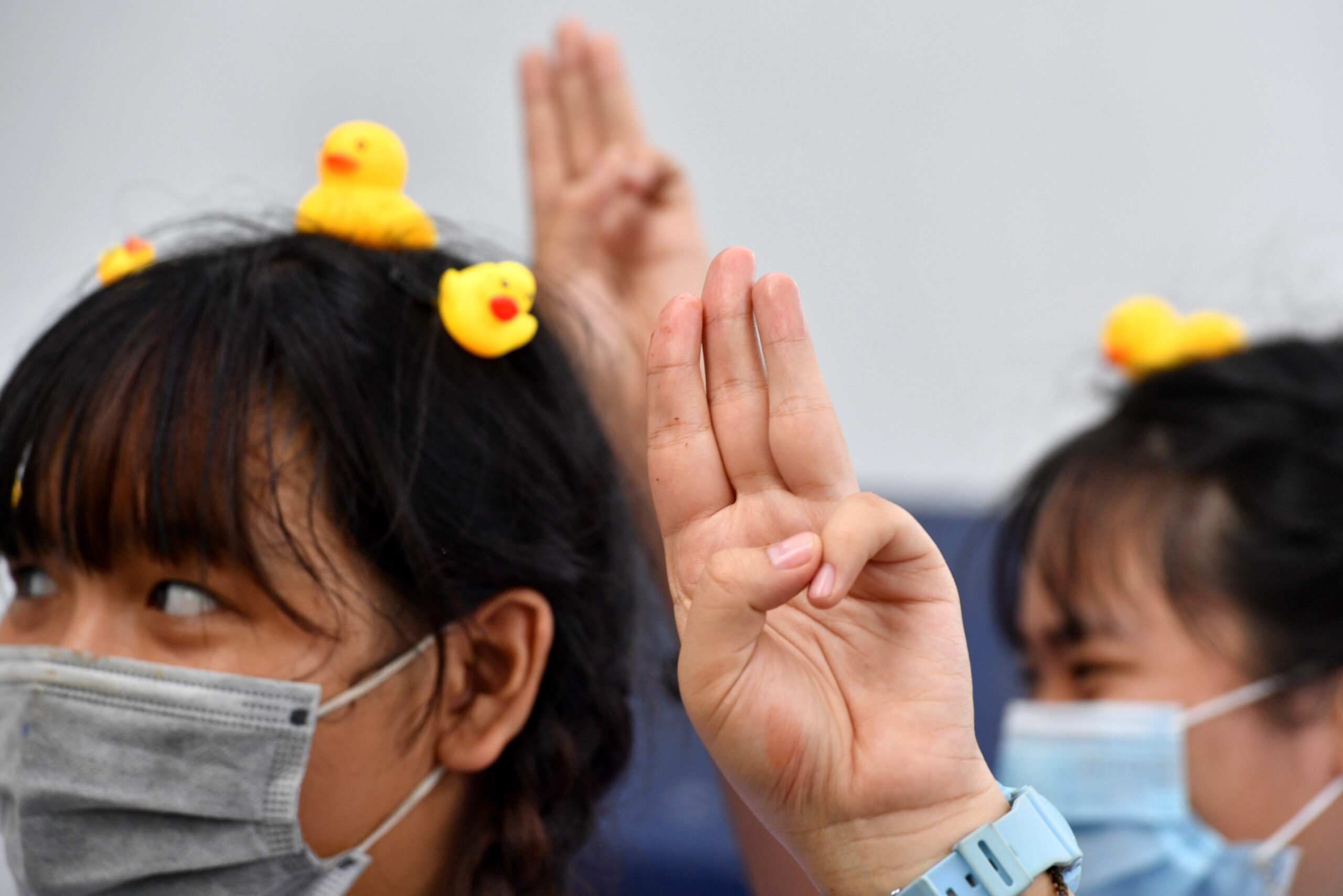 'They violated me'
Like many of their peers, Petch chose to not plead guilty to their charge.
Instead, they opted to fight their case in the judicial system rather than accept special measures available for minors in lieu of criminal prosecution, such as volunteer work or agreeing to not participate in further protests.
"I didn't want to admit guilt for a crime I didn't commit," Petch said. "The lèse-majesté is a problematic law, and I keep standing to fight against it."
They also didn't want to set a precedent for the court that would entitle it to persuade other children to plead guilty to a crime they hadn't done "just because I had allowed it to the court once."
During trial, Petch and their peers said they also experienced other intimidation tactics carried out by authorities, including judges and court psychologists.
According to Akarachai, children were forced to take urine tests despite being politically motivated charges such as lèse-majesté having nothing to do with drugs.
Petch said they felt particularly violated when the court psychologist asked them probing personal questions such as if they have had same-sex intercourse, and how many times, as if their sexuality was indicative of deviancy or tendency to break the law.
"They violated me by asking such personal and sensitive questions," Petch said. "My sexuality and my relationships had nothing to do with the trial."
Chanatip says authorities may also attempt to intimidate minor defendants outside of court. Amnesty International reported such children, especially those who are vocal critics of the lèse-majesté law, are often constantly surveilled in their daily activities.
"These actions are forms of intimidation and make the children fear the exercise of their rights," Chanatip said.
A glance into the future
Both Chanatip and Akarachai, as well as international human rights activists, agree that the arrest and prosecution of children under Section 112 are inconsistent with the country's obligation under the UN Convention on the Rights of the Child and the International Covenant on Civil and Political Rights.
For a law to be able to legitimately restrict rights under these two international agreements, it must be sufficiently precise and clear in its terms. But the major issue with Section 112, according to TLHR, is that its text is broad to the extent that is unclear in its content, meaning that under international human rights law, the prosecution or detention under this article is a violation of the principle of legality.
"No criminal charges should be brought against children for peaceful demonstrations," Chanatip said. "They shouldn't be deprived of the opportunity to attend school, go to university or find jobs."
Adults have long faced severe consequences for activism in Thailand. But when legal penalties are applied to children, they often face different challenges due to their age and dependence on others.
According to Chanatip, authorities also pressure parents and teachers to instruct children against their participation in protests, often creating tension in the family. Once accused, minors often end up experiencing domestic violence or being kicked out of their homes, he said.
"When I was looking for a job, nobody would want to hire me because of these charges," said the young activist Petch. "I almost lost hope."
While some have pinned hopes on the upcoming election, children like Yok, Petch and Sainam find it difficult to envision their future.
Still, Sainam is trying to keep his head up.
"I hope there will be a quick end to this, and that people in my country and abroad can see what is happening here," Sainam said.
*The full names of minor defendants have been withheld to protect their identities.