Rescuers have found all 12 missing teenage football players and their coach still alive nine days after the team disappeared in a cave in northern Thailand. Heavy flooding in the cave, however, will likely deter rescue efforts for several months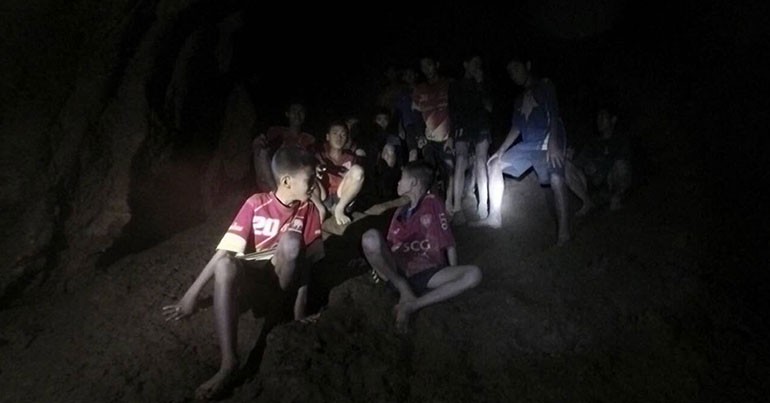 The boys were found late Monday night huddled on a mud mound deep inside the cave, where they managed to stay dry despite intense flooding. But because none of the boys can swim, rescuers are unable to guide them out of the cave under current conditions.
"They are all safe, but the mission is not completed," local governor Narongsak Osatanakorn told the press after the team's discovery. "Our mission is to search, rescue and return, so far we just found them. Next mission is to bring them out from the cave and send them home."
The Thai military is currently preparing to send food and medical supplies to last up to four months while rescuers train the boys to dive.
Medical teams have assessed the boys' health, documenting only minor injuries. One of the divers on site told BBC Newsnight that two Navy Seal doctors had "sacrificed themselves to stay with the kids" for the foreseeable future, helping ensure the children's continued health until the rescue mission can be completed.
"We called this mission impossible because it rained every day… but with our determination and equipment we fought nature," said Narongsak. "[But] if you ask me now while we are still assessing all sides then I don't think they will be home soon."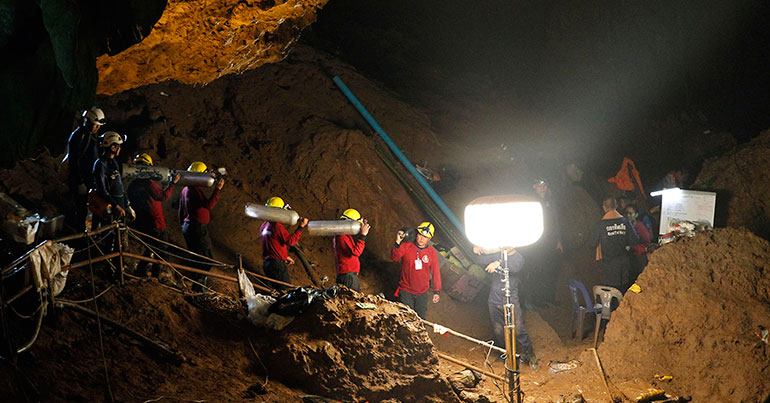 In a statement released shortly after news of the rescue was made public, the British Cave Rescue Council said that the boys' location, deeper into the cave than previously anticipated, made most immediate rescue options impossible to carry out.
"It is estimated that the boys are around two kilometres into the cave and somewhere between 800m to one kilometre below the surface," the statement read. "They are also located in a relatively small space and this would make any potential drilling attempt as a means of rescue very difficult."
According to Peter Wolf, national director of the Cave of Divers Association of Australia, leaving the boys in the cave for the upcoming months is the "best option" for their survival, but rescuers must ensure the boys' environment is warm and dry and that they are provided with clean drinking water, food, and clean air.
"The length of the cave and the conditions that they're actually diving in means there are probably very few people on the planet who can actually get those provisions to them," Wolf told the Guardian, noting that the kilometres-long dive in pitch black conditions required considerable training.
"But the cave divers they've got over there are some of the most experienced in the world, especially when it comes to search and rescue operations," he added.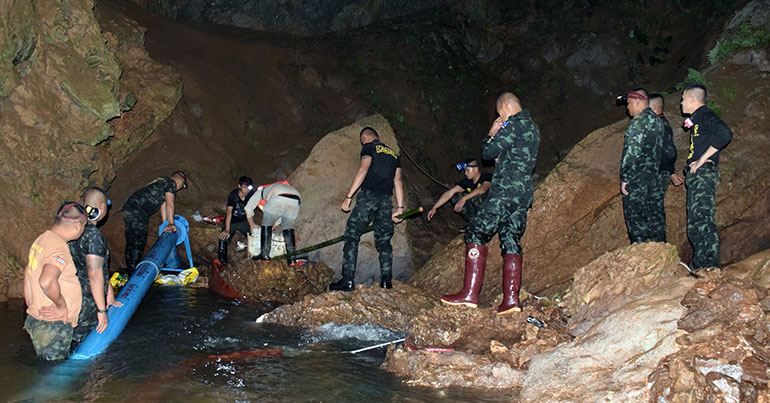 Efforts to drain the water in the cave and pump oxygen into the tunnels continue, as officials operate giant pumps to combat the floodwaters. It has also been reported that phone cables are being installed in the cave today to allow the kids to speak to their parents.
Dutch rescuer Ben Reymenants told the BBC that it was a "miracle" the boys had been found in seemingly in good mental health, though medical professionals warn that the children could see long-term effects similar to returning from "combat experience".
The boys, aged 11 to 16, and their 25-year old coach entered the Tham Luang Nan Nong cave in Chiang Rai province on 23 June, when heavy rains flooded sections of the cave and blocked their escape. They are believed to have bicycled to the cave after football practice, leaving their shoes and bikes at the cave's entrance.
[manual_related_posts]
Local media outlets have reported that over 1,000 personnel, including expert teams from Thailand, Britain, Australia, China, Japan and the United States, are involved in the rescue mission.
British divers Rick Stanton and John Volanthen, the duo believed to have first made contact with the boys in the cave, are receiving considerable support and thanks from the Thai community for their efforts.
Prime Minister Prayuth Chan-ocha thanked the many international response teams in an official statement this morning, saying "the Thai people are grateful for this support and cooperation, and we all wish the team a safe and speedy recovery."