Tell us a bit about what working as a marine biologist in Thailand's islands entails…
The path of a marine scientist in Thailand is not easy. There are many challenges. In an island area that relies on tourism, companies, hotels and tourist organizations have to be concerned about resources in terms of sustainability. Many people still think that feeding fish in the sea is a good thing to do, or even know that it's bad, but in the short term know that feeding can bring some tourist interest and good photos for PR. But this totally destroys the ecosystem. Lack of knowledge can cause disasters to natural resources like a butterfly effect. People in developing countries must be more concerned for their life security than environmental issues. But in the long term, the impact of environmental damage affects daily life. My job is to share conservation knowledge through CSR activities, and to advise our team and company operations on the path to sustainability.
What does marine life there look like and how often are you in the water interacting with it?
It has changed compared to ten years ago when I visited Samui and the surrounding area to do some research on coral reef diversity and the ecosystem during my master's degree studies. The coral reef was affected by tourism, the fishery and a coral bleaching event. At the resort, I conduct guided snorkelling tours at our house reef to educate our guests and associates twice a week. I am monitoring the sea conditions on a daily basis and advising our recreation team if they happen to find any dangerous marine life, such as jellyfish.
How has new technology impacted your work?
Innovation of green technology is important to my work. I must learn and get information for the new technology and select which to implement in my work and hotel operation. Of course, in terms of operation, the return on investment has to be considered, but we always include the environmental valuation in our assessment.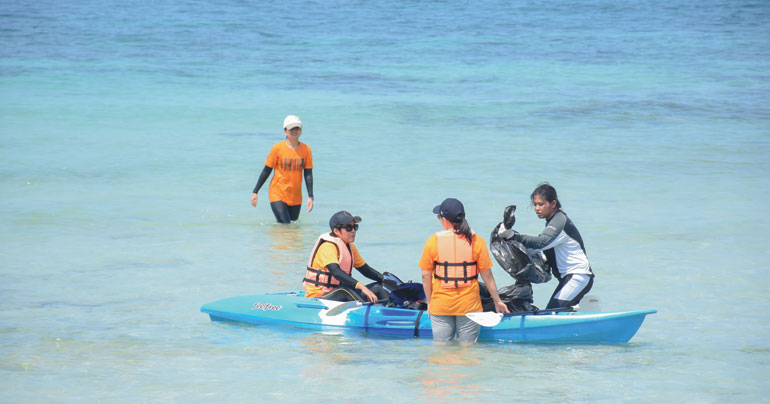 Why is marine biology important to Thailand?
Seventy-one percent of Earth is ocean. Life and food supplies start from the sea. The Maritime Zone of Thailand is 323,488.32 square meters – almost 40% of the country area. Besides the seafood supply from both fisheries and aquaculture, our natural resources, such as oil, natural gas, and reef and coastal ecosystems, are the main sources of energy and economy developing our country. We need the marine resources, especially for tourism. So the marine biologist is the key person that can bring and strengthen awareness to protect our treasure.
What does it take to be a successful marine biologist?
The keys to success are a passion to see the planet have a future; a willingness to learn and a love of new knowledge and experiences; and embracing opportunities that come into your life, and creating your own.
How has your work shifted as Koh Samui's tourism numbers have grown – reaching 2.3 million in 2016?
I have to work harder and try to create new methods and activities for speaking to the world about protecting the environment.
In July, the Thai government adopted new environmental measures to protect three of Thailand's most popular islands, including Koh Samui. What are these measures and what do they mean? Have they been effective so far?
This law was mentioned in the Environment Act of 1992 and this act was just updated in 2018 to adopt a new measure. From my basic understanding of this measure, there are 13 issues to protect marine and coastal resources, such as forbidding the abandonment of anchors, which cause harm to coral reefs, thus killing aquatic animals, and forbidding construction or any action that damages marine and coastal resources; forbidding feeding aquatic animals; not disposing of waste plastic, foam or wastewater from hotels, or oil from boats; and all diving operators, including scuba and snorkelling, are prohibited from damaging natural resources. I would love to see that this measure is effective and successful in terms of implementation and punishment. If the government is strict to everyone, it will be good for the environment. Our resort pushes our efforts to follow the law and maintain the protections for the environment.