Thailand has long been in the driving seat of Asean's automotive industry, but the Kingdom could be about to lose its va-va-voom to regional rivals
By Jennifer Meszaros
At a high-tech plant situated some 150 kilometres outside of Bangkok, a finely choreographed ballet of automated robots and white-suited workers add the finishing touches to hundreds of Ford Rangers rolling off the assembly line.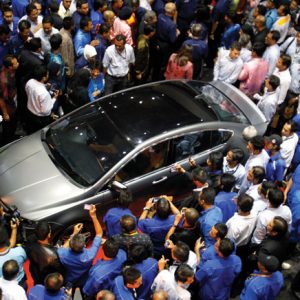 Meanwhile, at an auto parts factory north of Jakarta, a series of turbocharged diesel engines, destined for BMW cars, are in the final stages of production.
Daily scenes such as these have made Thailand and Indonesia synonymous with the region's automotive production. 
Since its entry into the automotive industry in 1961, Thailand has risen up the ranks to become a major manufacturing and industrial powerhouse for many of the world's top car and motorcycle companies. Nearly every Japanese car maker has set up manufacturing facilities in the Kingdom, along with US giants such as Ford and General Motors, and German producers Mercedes-Benz and BMW.  According to the Thailand Board of Investment (BOI), 17 companies now stretch across 23 factories, rolling out approximately 3.1 million vehicles
per year.
The automotive industry is one of the few success stories that Thailand can truly brag about. Not only was it ranked the ninth-largest vehicle producer in the world in 2013, it also boasts a state-of-the-art auto parts industry that manufacturers can tap into.
According to Thailand's BOI, there are 386 original equipment manufacturers (OEMs), commonly referred to as first-tier companies, that produce car and truck parts in the country, in addition to the 122 companies that manufacture both auto and motorcycle components. Joining the OEMs are 1,700 aftermarket manufactures and replacement equipment manufacturers, known as second- and third-tier companies.
"If you look at Thailand over the past couple of years, it has made a concerted effort to attract the automotive industry," said Matt Bradley, the president of Ford Asean. "The country has attracted the major manufacturers with incentives and economic zones, welcomed a supply chain network, established a very strong logistics and ports system and provides manufacturers the opportunity to produce and export out of large-scale hubs to all the markets in Asean and beyond. They are by far the most mature automotive industry in the region, with most of the global manufacturers manufacturing or recently deciding to invest in Thailand."
With such a well-established industry it is little wonder that Thailand has been dubbed the 'Detroit of the East'. On top of this, it also holds the distinction of being the world's largest manufacturer of one-tonne pickup trucks and the world's second-largest producer of light pickup trucks, behind the US. Pickups such as the Toyota Hilux, Mitsubishi L20 and the Ford Ranger have formed the backbone of the industry, with the pickup truck segment accounting for 50% of vehicle production according to the Thai BOI.
Among the biggest industry drivers are the Japanese automakers, which account for more than 80% of the total market share for both auto production and auto parts manufacturing.
"The market is very much connected to the Japanese brands, such as Toyota, Honda and Mitsubishi. They have invested heavily in their supply chains and have a strong lead over other manufacturers given their long-term presence in the country. People recognise the brand and they like the service," said Jessada Thongpak, a Bangkok-based senior analyst with IHS Automotive.
Despite Japan's dominance, it has not deterred US auto giants such as Ford and General Motors from investing heavily to expand capacity.
"If you look at the 600 million population of Asean, coupled with a rising middle class and a very low vehicle denisty, it's a great recipe for growth," said Bradley. "Asean is attracting so much investment and attention because many people are able to buy new vehicles."
According to Bradley, Ford's bestselling vehicle, the Ranger, is now the number-one pickup truck in the Philippines and Vietnam and accounts for roughly 50% of the company's Asean sales.
While Ford is experiencing growth in several Asean markets, Thailand's political crisis, coupled with rising household debt and lower consumer confidence, has seen domestic sales plummet.
"The political situation in Thailand since late 2013 has had a significant impact on the domestic market," said Thongpak.  "Local demand has been very sluggish and everyone must admit that it will take a year for the market to recover."
Thongpak estimates that Thailand's 2014 auto sales numbers will likely hover at about 900,000 – a far cry from 2013's figure of 2.5m.
Indonesia is now expected to surpass Thailand with roughly one million vehicles sold in 2014, making the archipelagic nation Asean's largest auto market.
"Indonesia has become the new export hub for Southeast Asia and other emerging markets. The country has a very large population, high purchasing power and one of the lowest vehicle penetration rates in Asia – 40 to 50 vehicles for every 1,000 people compared to Thailand, which is 150 vehicles per 1,000 people," said Thongpak. "Overall, Indonesia is a very attractive market for auto manufacturers."
Indeed, Indonesia has evolved into a key investment hub for many of Japan's top auto makers. General Motors and BMW have also set up operations to expand production and tap into a growing middle class.
"The ongoing rise in household incomes in Indonesia suggests that it could become a market of 2m light vehicle sales in 2020 and 3m in 2030," said Neil King, a London-based automotive analyst with Euromonitor International.
Indonesia's production capacity stands at about one million vehicles, with Japanese brands the undisputed leaders in manufacturing and sales. While European and American brands are slowly penetrating the market, the country's investment landscape does not inspire confidence.
"While improving, the business environment is difficult," said Sarah Boumphrey, head of strategic, economic and consumer insight at Euromonitor. "One of the major challenges is excessive bureaucracy, and Indonesia ranks poorly in the World Bank's Doing Business report – at 114th out of 189 countries in 2014, compared to Thailand's impressive ranking of 26th, which places it above the Netherlands, France and Japan."
Low commodity prices, high rates of inflation and weak infrastructure are also causing economic growth to drag, Boumphrey added.
Despite an unpredictable landscape, Indonesia recently attracted $600m worth of investments from Mitsubishi and is currently joining forces with Malaysia on the possible production of an 'Asean car'. Precisely what this entails is unclear, and both governments have provided very few details aside from welcoming a feasibility study.
Still, as the third largest auto market in Asean, Malaysia is no stranger to building vehicles. The country boasts two domestic brands – the Proton and Perodua – and is home to some of the world's top auto makers, including Toyota, Mercedes-Benz, Volvo, BMW, Peugeot and Volkswagen.
"The Malaysian auto market is rather anomalous in the region as it has far higher incomes per capita than all of its Asean neighbours, with the exception of Singapore. This translates into premium brands having a greater market share," said King.
With incomes rising across the region and a population eager to move from two wheels to a four-wheel dream mobile, global auto makers remain bullish about the future.
"If you look at Asean as a market today, with consumers buying vehicles, it's about 3m vehicles. Ten years down the road it's going to be about 6m. As the market grows there will be a need for capacity," said Bradley. "Asean will have production hubs certainly made up of Thailand, Indonesia and Malaysia. That's where the bricks and mortar are today. And that is where the manufacturers will look
to expand and potentially diversify their footprint." 
Keep reading: 
"Smile, you're Thai" – As Thailand's military government urges its people: 'Don't worry, be happy,' cracks are appearing that could be of significance to the entire region