A British journalist on his way to Mosul was arrested in Thailand for carrying a gas mask and plates for a bulletproof vest, which authorities say violates a law that classifies the equipment as weapons or war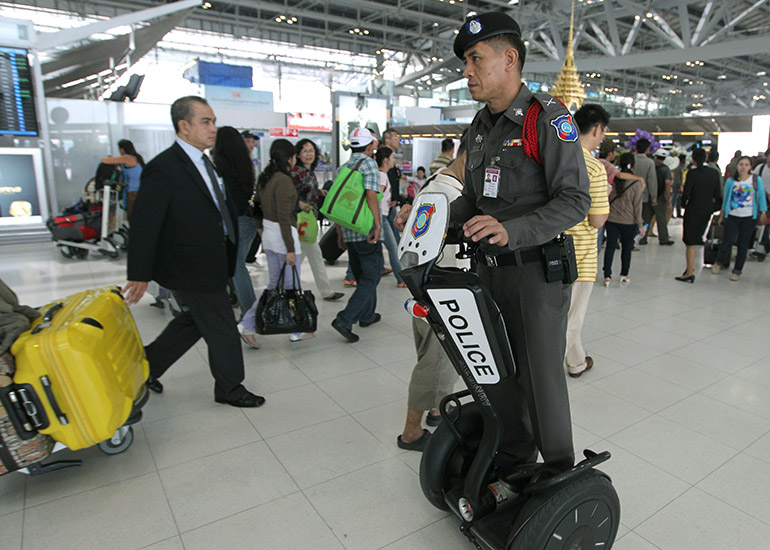 Thai authorities arrested Anthony Cheng, a British reporter for Chinese state broadcaster CCTV, Monday evening at Bangkok's Suvarnabhumi airport for carrying a gas mask and plates for a bulletproof vest as he made his way to the Iraqi city of Mosul to report on the fight against Islamic State, Thai police announced today.
A law passed in 1987 classifies the protective gear as "war weapons", and requires individuals to have a licence to carry them, which Cheng did not have. Cheng wrote in a post to Facebook that the masks and plates were "for use in Mosul where ISIS are well documented to be using gas".
"I was unaware either of those things were classified as 'war weapons'," he said.
In a photograph of his detention cell posted to his Twitter account, Cheng wrote "and i thought the danger would start when we got to iraq."
"Land of Smiles and dubious law enforcement," he wrote in another tweet.
If Thai courts find Cheng guilty, he could face up to five years in prison.
However, if past events are an indication, Cheng has reason to hope for leniency. In August 2015, a Hong Kong photographer was arrested in similar circumstances, deemed to have breached the law for carrying a bullet-proof vest and helmet while reporting on a bombing in Bangkok. In that case, the Thai courts eventually dropped all charges.
"Previous attempts by journo groups & diplomats to get Thai govts to address this 1987 law have had little success", Jerome Taylor, Southeast Asia correspondent for AFP, tweeted in response to the news.

BBC's Myanmar correspondent, Jonah Fisher, also took to Twitter in the wake of the announcement, calling the incident "ridiculous" and saying that Thai authorities lacked "common sense".
But government spokesman Major General Werachon Sukhonhapatipak told AFP the blame lay entirely with Cheng and his German colleague, who was also arrested.
"Journalists who feel they need to carry this stuff need to inform or contact the concerned authorities prior to travelling," he said.