Apatti, a contentious Buddhism-infused Thai horror film, has made the list of submissions for best foreign language film at the 89th Academy Awards, which take place in February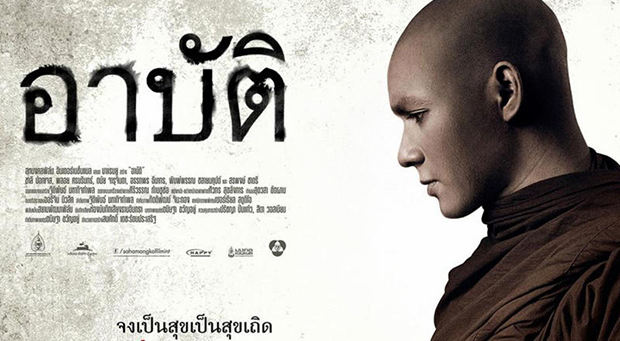 The Federation of Thai Film Associations has made a controversial submission for the best foreign language film at next year's Oscars – Apatti, the story of a young man forced to join a Buddhist monastery by his father.
Frustrated and adolescent, the protagonist proceeds to develop an intimate relationship with a young village girl.
Scenes depicting monks making romantic gestures, and involved in violence and alcohol abuse, embroiled the film in controversy. At one point, a monk is seen touching the head of a Buddha statue, which is considered an act of sacrilege.
Despite being made by little-known director Kanittha Kwunyoo, the film was a considerable commercial success, taking $1.45m at the Thai box office.
Last October, the film's release was delayed following pressure from religious groups and government censors. More than 100,000 people signed a petition in protest, and the film was eventually released after the cutting of two minutes of footage and a change of title
This wasn't the first time that Thai authorities intervened to block creative expression in defence of Buddhism's public image.
In 2006, Apichatpong Weerasethakul's Syndromes and a Century was banned for showing monks kissing, drinking and strumming a guitar.
Kong Rithdee, prominent film critic and editor of the Bangkok Post's Life section, outlined the issues surrounding representations of monks in Thai cinema.
"The portrayal of monks in Thai cinema is a long, long story; basically, if you portray monks as funny or sacred, it's OK, but when you question their moral bearing, sometimes it's not," he said.
He added that it would "be a big overstatement to say the Oscar selection means a victory of artistic expression" in Thailand.
Thai arthouse cinema has received global attention for the work of such directors as Apichatpong Weerasethakul, Pen-ek Rattanaruang and Anocha Suwichakornpong, who have screened at prestigious film festivals from Cannes to Toronto.
Rithdee said that Apatti caters to more mainstream tastes and was financed by a large, well-known studio rather than an independent producer.
Elsewhere in the region, the Vietnamese film Yellow Flowers on the Green Grass, by director Victor Vu, also made the submissions list for best foreign language film. The picture tells the emotive tale of fraternal competition between two brothers living in the countryside during the 1980s.