Growing tensions in the Thai political opposition broke into an outright schism Wednesday when the Pheu Thai Party announced its intent to break with the popular Move Forward Party in order to form a new governing coalition.
Analysts had speculated ahead of the move that Pheu Thai, the runner-up in the May elections, might drop its progressive counterpart in a bid to form a new government and end a political stalemate with the conservative establishment.
But the Wednesday declaration still sparked anger and protests from supporters of Move Forward, the largest party in the Thai Parliament. After the announcement, demonstrators burned effigies soaked in fake blood in front of Pheu Thai's Bangkok headquarters.
"I think this is much anticipated," said Napon Jatusripitak, a visiting fellow at the ISEAS-Yusof Ishak Institute, speaking of the break-up. "The only surprise factor is that it came earlier than expected. Many observers thought that it would take one more round of voting before Pheu Thai had a strong enough justification to kick the Move Forward Party out of the coalition."
Pheu Thai also stated Wednesday it would run Srettha Thavisin, a prominent businessman, as its prime minister candidate. On 4 August, parliamentarians will vote on Srettha's candidacy in a joint session – appearing to close the door even more firmly on the chances of 42-year-old Move Forward party leader Pita Limjaroenrat, who was already rejected as a candidate in an earlier parliamentary vote.
The move is the latest in an ongoing political drama that has consumed Thailand in the months since Move Forward's surprising electoral success, which marked a strong public rejection of the previous military-backed government, a legacy of the 2014 coup.
Move Forward and Pheu Thai had together been the foundation of an eight-party coalition that also included a cluster of six much smaller political parties. Now, despite being the largest party in Parliament, Move Forward will be pushed into the opposition by Pheu Thai's decision. The break-up of the coalition is likely to deepen resentments of the conservative bloc – most notably the military-appointed Senate – among opposition supporters and could spark blowback on Pheu Thai among its own base.
In a bid to soften the blow of cutting out their more popular partner, Pheu Thai leaders said in a statement that they intended to adopt many elements of the excluded party's progressive platform, including such points as ending military conscription and supporting LGBTQ+ rights. However, they made it explicitly clear that they did not intend to reform Thailand's strict lèse-majesté law, which prohibits speech deemed critical of the monarchy.
Move Forward has made amending the law, also known as Article 112 of the Criminal Code, a pillar of its campaign. This won the ire and resolute opposition of conservatives and had gradually driven a wedge between the party and some of the smaller parties of its coalition.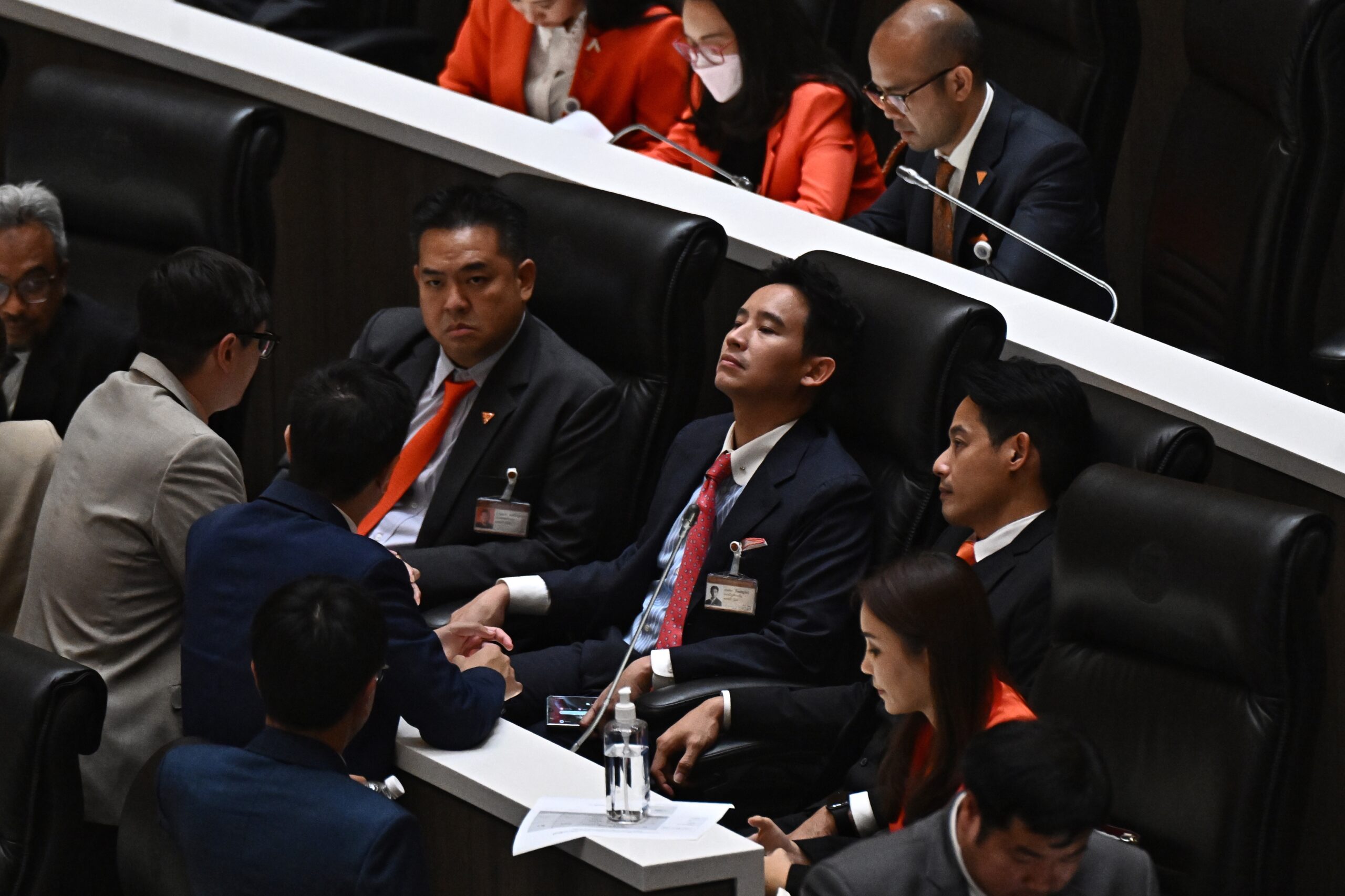 ---
On 22 and 23 July, the leadership of Pheu Thai met with representatives from every major party outside the coalition – with the exception of the Democrat Party due to its current lack of leadership – to discuss what it would take for them to support a Pheu Thai candidate for prime minister.
During these meetings and in press conferences afterwards, each of these parties made it clear they were willing to support a Pheu Thai candidate, but only if the coalition did not include Move Forward.
Pheu Thai leader Cholnan Srikaew had publicly denied that the meetings and subsequent press conferences were intended as an indirect method of encouraging Move Forward to voluntarily leave the coalition so that Pheu Thai can form a government. But it now appears that is exactly what was happening.
"[Pheu Thai] is basically borrowing other parties as a mouthpiece to try to exclude the Move Forward Party," said Napon, speaking before the Wednesday announcement made it official.
Whether the meetings were intended as political theatre or a genuine attempt to gauge support, the resolute opposition to Move Forward had left a slim-to-none chance of the eight-party coalition securing the 375 votes necessary to form a government, even if the party changed its divisive stance on the lèse-majesté law.
"Even if [Move Forward] were to withdraw on the pledge to amend Article 112, I don't think the coalition can expect to gain more seats as long as the Move Forward party is still in the coalition," Napon said last week.
With the path to government obstructed, tensions had simmered between the eight parties. Before the Wednesday announcement, the leaders of both the Seri Ruam Thai Party and the Plung Sungkom Mai Party called for annulment of the agreement that institutionalised the coalition.
However, the Thai Sang Thai and Fair parties sided with Move Forward and took the opposite position, proposing the coalition simply wait until next May when the Senate's right to participate in the prime minister selection process expires. They could theoretically then vote Pita into office with their existing support in the lower house.
They will be making a deal with the devil, so to speak, by partnering with parties from the other side of Thailand's bitter political divide."

James Buchanan, Thai politics analyst
Whatever the result of internal debates within the coalition, the unfolding attempt by Pheu Thai to put together a government that excludes Move Forward could be met with significant backlash by pro-democracy supporters of both parties.
"Many Move Forward voters also have a soft spot for Pheu Thai, and are probably former Pheu Thai voters," wrote James Buchanan, an independent analyst of Thai politics, in a message to Globe before the Wednesday announcement.
"Likewise, many Pheu Thai voters may also quite admire Move Forward. So it will be controversial if or when (I think 'when' far more likely) Pheu Thai decide to ditch Move Forward and try to form their own coalition. What makes it all the more controversial is that they will be making a deal with the devil, so to speak, by partnering with parties from the other side of Thailand's bitter political divide."
Public hostility towards any alliance made across this divide had already begun to manifest before Wednesday's announcement.
On 23 July, protestors stormed a joint press conference held by Pheu Thai and Palang Pacharat, demanding the party stick to its previous commitments not to form a government that would include Palang Pacharat and United Thai Nation. The protestors also threw talcum powder at Pheu Thai leader Cholnan Srikaew and Palang Pacharat lawmaker Thamanat Prompowand, and questioned whether Pheu Thai had forgotten the bloody crackdowns on its supporters in 2010.
Pheu Thai supporters had also begun to air their displeasure about such an alliance. Thida Thavornseth, a former chair of the United Front of Democracy Against Dictatorship (UDD) – an activist organisation whose "Redshirts" have been some of the most active supporters of Pheu Thai – warned Pheu Thai about the consequence of breaking with Move Forward.
In a Facebook post on 27 July she stated the Redshirts supported all parties with pro-democracy policies, not just Pheu Thai, and that if the party were to join forces with military-aligned parties the UDD would take its support elsewhere.
Even if Pheu Thai is able to effectively manage any backlash that comes from its decision to break with Move Forward, there is still no guarantee that Thailand's conservative establishment will allow them to form a government, said Buchanan.
"Of course, there is always a chance that Pheu Thai are being strung along by the elites, whose long game is to form a government with neither Move Forward nor Pheu Thai," he said.
---