With Yingluck out of the equation, Thailand's Prime Minister is keen to double down on the junta's powerful position, and has announced elections for next year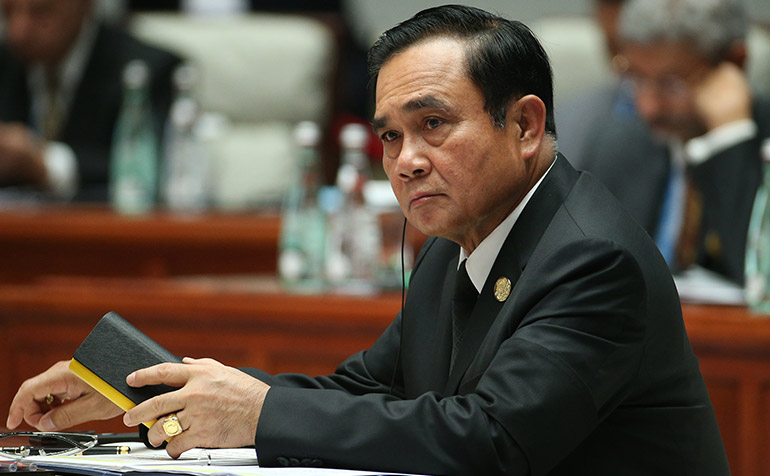 Thai Prime Minister Prayuth Chan-ocha has announced that the country will have elections in November 2018, after repeatedly delaying the decision since wresting power from the government of Yingluck Shinawatra in 2014.
"Around June we will announce the [exact] date for the next election," Prayuth told reporters at Bangkok's Government House.  "In November we will have an election."
The day after Prayuth met with US President Donald Trump, a joint statement was published on both the White House and Thai Foreign Ministry websites, committing Thailand to a roadmap that would "lead to free and fair elections in 2018".
However, when Prayuth arrived back in Thailand, he told reporters that he had instead promised his US counterpart that his government would only announce an election date at the end of next year, and that the elections would follow 150 days after the announcement, sometime in 2019.
Since leading a coup to oust Yingluck Shinawatra and installing himself as the country's prime minister in 2014, Prayuth has repeatedly assured foreign leaders and visiting dignitaries of the junta's commitment to democratic transition through free and fair elections. But the junta never fulfilled its promises.
During a visit to Japan in 2015, Prayuth said the junta would hold elections by the end of the year. A year later, he told then-UN Secretary General Ban Ki-moon that the junta would hold elections in 2017.
According to Thitinan Pongsudhirak, an associate professor at Chulalongkorn University's faculty of political science, the conviction in absentia of former prime minister Yingluck Shinawatra, for negligence related to a government rice subsidy scheme, meant the junta was in a good position to maintain "post-election control" if it called elections for next year.
"Pheu Thai officially becomes rudderless and will have to regroup under new leadership.  If it is not dissolved and if its leader is more compromising, then maybe Thailand can move on," he told Southeast Asia Globe last month, days after Yingluck's conviction.
"There is now a higher likelihood of [an] election next year because Pheu Thai is weakened and its leaders are exiled. The junta will want to maintain post-election control. Now they are in a better position to do it," Thitinan added.