In Thailand, the coronavirus pandemic has flared into a moment for social-media-savvy observers to put their liberty at risk and question their national monarchy, a pillar of the country's ruling system.
The kingdom has strict lèse-majesté laws that prohibit direct criticism or insult to King Maha Vajiralongkorn, punishable by up to 15 years in prison. But online commentators have made increasing use of the internet's relative anonymity to speak frankly about the head of state and his extravagant lifestyle – including tabloid tales of a quarantine with a harem of 20 concubines in the German Alps.
Romchalee Sombulrattanakul, known better as Yammy, has been living in exile from Thailand since 2014 when she left to escape legal backlash after publicly speaking out against the monarchy. She is a member of Thai folk band Faiyen and, while Yammy and her band-mates originally fled to Laos, last year they gained political asylum in France after the disappearance and presumed murder of three fellow Thai dissidents in the communist country bordering Thailand.
Yammy said that over the years there have been plenty of less-than-glowing stories about the king, who is also known by the dynastic title Rama X. Though she believed many Thais did not know "the disastrous truth" of his reign, in large part due to state pressure on domestic media, Yammy said the internet may change the conversation.
"In this modern era, there is a social network where people can access news around the world," she said. "Thai people are no longer in front of the television to follow the news of the lies of the Thai king; they are aware of [his] behaviour [sic]."
In her eyes, the spread of Covid-19, the disease caused by the novel coronavirus, and its toll in the kingdom has only added to that.
"By the situation of the coronavirus epidemic, in which Thai people face difficulties, famine, poverty, fear, and [then] when someone spreads the news of the Thai king who lives luxuriously in Germany, without self-control and with a large number of servants that follow, it causes Thai people to start thinking and daring to ask 'Why is the king here?'."
Andrew MacGregor Marshall, a journalist who has spent much of his career covering Thai politics and its monarchy, has at one point been accused of lèse-majesté himself. He now lectures at Edinburgh Napier University in Scotland but continues to report on Thailand from abroad.
"What Thais say publicly about the king isn't always what they really mean, but I think it's gotten worse when they see his behaviour now because it's gotten so ludicrous," he told the Globe. "It's such an extremity of behaviour, people are absolutely sick of it on all levels, and that includes royalists as well."
The king, who ascended to the throne in 2019 after his father's death three years earlier, was coronated with a reputation as a wealthy, often-eccentric playboy. He had by then been married three times and was said to have indulged in such uses of power as appointing his poodle to the military rank of Air Chief Marshal.
Earlier this month, journalist Marshall self-published an account of the king's time in the Grand Hotel Sonnenbichl in Bavaria, Germany, which the monarch rented out for himself and his royal contingent. The Thai king is familiar with the area as he owns a $12M mansion at the nearby Lake Starnberg.
According to Marshall's sources, that included a harem of some 20 official concubines who are "self-isolating" with Vajiralongkorn in the hotel. The German publication Bild had earlier reported the king had needed special permission from local authorities to stay in the hotel, as others in the area have been closed as a public health measure.
According to Bild, the king's wife, Suthida, has been staying at a different luxury hotel over the border in Switzerland.
---
Vajiralongkorn is believed to spend much of his time living in Germany, even as he presides as symbolic leader of the Thai people and head of a growing contingent of military units.
The king's absence has not gone unnoticed at home.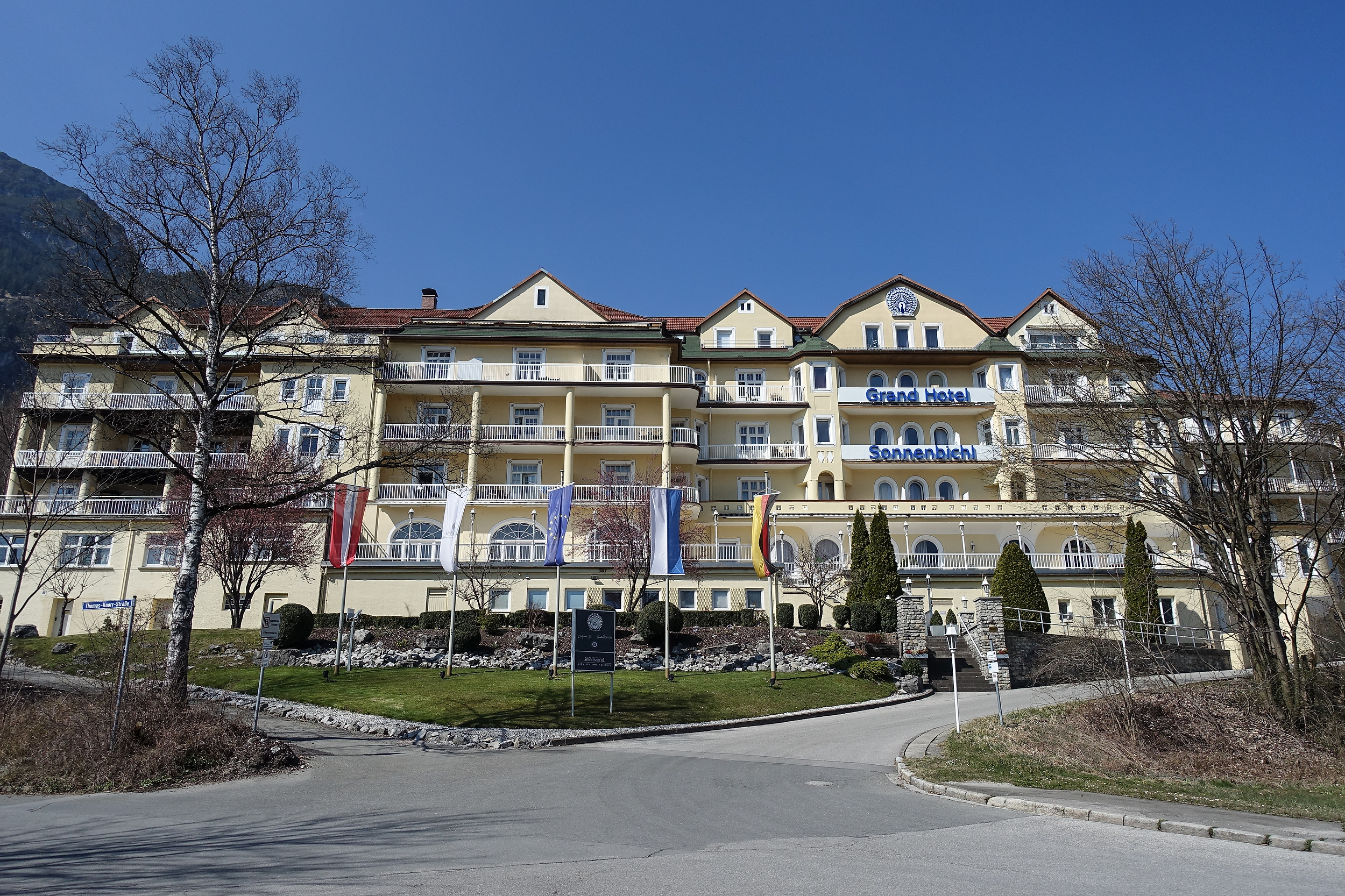 "Now, with corona, people are wondering 'Where's the king?'" Marshall asked. "The job of a monarch is to be with the people and this is kind of a symbolic thing, you're with the people and you're standing with them. But instead, the king is in the Grand Hotel Sonnenbichl in Bavaria with a harem of 20 women."
The king also courted controversy by returning home in early April, making use of a flight from Zurich to Bangkok believed to have been kept open for his personal use. As public health officials advised people to stay home and avoid travel, the king reportedly picked up his wife in Zurich before jetting back to Thailand for Chakri Memorial Day, the date marking the founding of his family's dynasty.
In a whirlwind trip of less than 24 hours, Vajiralongkorn presided over official ceremonies and royal rituals before flying back to Europe. And even though the royal family distributed food aid to Thais struggling to make their livelihood during mandated social distancing, Marshall believed it was merely a publicity stunt for "absentee monarchs".
He doesn't live in Thailand but this is a time of crisis, and during a time of crisis it's perceived as even more inappropriate that he's not in the country

James Buchanan, a researcher of Thai politics at City University of Hong Kong
James Buchanan, a researcher of Thai politics at City University of Hong Kong, said the king's lifestyle outside his home country has created "a lot of problems of legitimacy" that existed long before the ongoing pandemic.
"He's the head of state and doesn't even reside in the state he's meant to be head of," Buchanan said. In his view, that alone is a "bit of a PR disaster" even without pandemic.
"Then this covid crisis comes in and accentuates it further," he said. "He doesn't live in Thailand but this is a time of crisis, and during a time of crisis it's perceived as even more inappropriate that he's not in the country."
Both Buchanan and Marshall pointed to a Thai hashtag trending at the end of March that translated to #whydoweneedaking?, which emerged when the circumstances of Vajiralongkorn's self-isolation in Germany began to circulate in international media.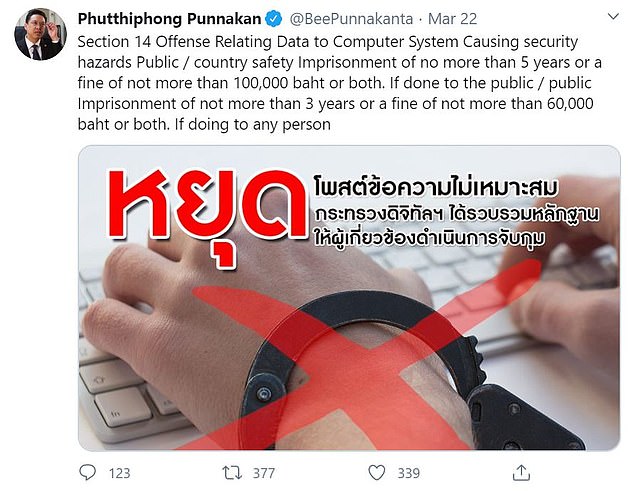 The hashtag had been tweeted 1.2 million times in 24 hours by March 22, according to data on Twitter. The flurry prompted Minister of Digital Economy and Society Puttipong Punnakanta to tweet a not-so-subtle warning to Thai citizens – a picture of a handcuffed hand over a keyboard.
Still, Buchanan pointed out this kind of criticism has a recent track-record in Thailand.
"This is not unprecedented and we've seen this kind of thing happening for quite a while," he said. "For maybe a year or two, steadily building up hashtag after hashtag, becoming quite a bit bolder in the criticism."
---
Thais looking to write or read about the monarchy usually turn to Twitter as their medium of choice, flocking to the platform for its ease of anonymity among users. While there are ways they can be traced by law enforcement, Buchanan thought it "at the very least gives a false idea of security" compared to more straight-forward sites like Facebook.
"If you look at arrests for people of things like lèse-majesté in the past decade or so, they're all focused on Facebook," he said. "Twitter is a bit new to [police], they seem a bit taken by surprise by what's happened there."
That's not to say Twitter is a truly safe space to get around restrictions on speech. That was quickly made clear when a 20-year-old user who wrote under the Thai username "Anonymous" and posted regularly about the monarchy was arrested earlier this year and charged in court under Thailand's Computer-Related Crime Act. The arrest sparked its own hashtag calling for the user to be freed and was seen as a grim precedent for online discourse.
To gain some plausible deniability when talking about the king, Twitter users may code their language under layers of in-jokes and references, often to pop culture.
Buchanan pointed to tweets referring the king as "Justin" – a comparison to pop star Justin Bieber drawn from side-by-side comparisons of the American singer and an infamous picture of the royal in an undershirt and festooned with fake tattoos – or screenshots of television shows to poke fun while avoiding direct references.
Still, the online backlash to the king's most recent exploits in Germany drew users to tweet openly and questioningly under #whydoweneedaking?.
"In a way it's unprecedented [to have this level of criticism of a Thai monarch], and the differences even on social media now compared to when he first came to the throne, it's incredible," Marshall said. "This hashtag had millions of tweets, and everyone was weighing in on it."
Even with more online exposure for a different narrative on the monarchy, dissidents like Yammy are not expecting any major changes overnight – especially while the legal system shuts down public conversation on the subject.
If there's ever to be a discussion of the role of the monarchy in the country, she thinks it would have to come in an environment of freer politics and speech. As someone who acknowledged having "long criticised and condemned the king", she'd begin by abolishing the lèse-majesté code.
"If Thai people should start thinking about change seriously, [it] begins with the lifting of the law," Yammy said. "It's time for Thai people and politicians to be brave and fight together on the real principles."