The cadet's body was returned to his family with organs missing, triggering suspicions that the army was attempting to cover-up his real death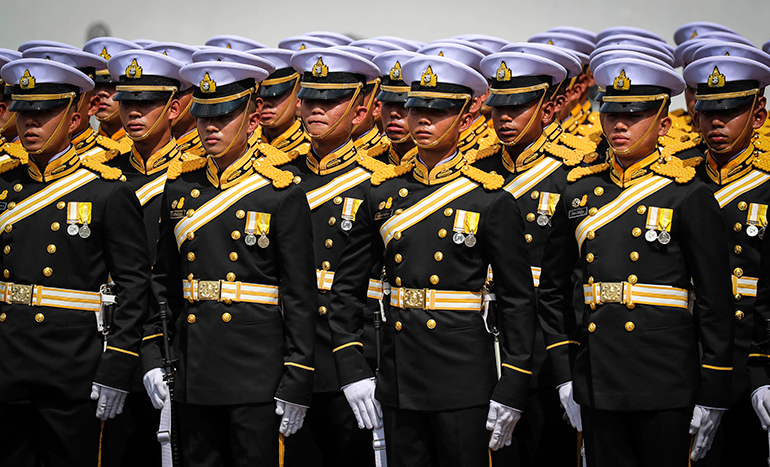 The body of the Thai army cadet, whose mysterious death has consumed the nation for the past two months, showed signs that were consistent with being physically assaulted, his family announced on Sunday.
The results of a second independent autopsy, commissioned by the family of the deceased 18-year-old Pakapong Tanyakan, were revealed to the press this past weekend ahead of the young cadet's long awaited funeral.
Supicha Tanyakan, the sister of Tanyakan, told AFP on Sunday that the second autopsy conducted by the Central Institute of Forensic Science confirmed that he was, as the family first thought, physically assaulted.
In the interview, she went on to say that the report found "internal bruising" and that the four broken ribs were not the result of the boy receiving CPR, a theory that was originally suggested in the military-run hospital autopsy.
The confirmation of the new findings adds to an increasing pressure that the country's military is facing to reveal what actually happened to the first-year cadet. It also supports the family's suspicions that Tanyakan may have actually died on 17 October after receiving hazing punishments from senior students at the Armed Forces Academies Preparatory School.
In a post on her Facebook page, Supicha said that investigations will continue into her brother's death and that additional results will be used for filing lawsuits against those involved.
"We will fight until the end and the autopsy results will be used in the court fight," she said in the statement.
Chawarat Marungruang, the chairman of a fact-finding agency of the Supreme Command, said he plans to invite representatives of the Central Institute of Forensic Science to testify about the autopsy results and plans to also assess the validity of the information that Pakapong's parents have received.
"If possible, we want to invite Pakapong's parents for questioning on how they received information [about the cadet's death] and if anyone has given them distorted information," Marungruang said, according to the Bangkok Post.
The agency explained that the next stage of the autopsy is expected to revolve around the inspection of the internal organs that were finally given back to the family after initially being removed and withheld in the first autopsy.
The results of the fact-finding enquiry will be based on the interviews of 40 witnesses, which will include testimonies from teachers and students who attended the Armed Forces Academies Preparatory School with Pakapong. These results will be revealed to the Supreme Commander General Tharnchaiyan Srisuwan on 14 December.
Related reading: