Malaysia's lack of social resilience would multiply the effects of a terror attack, says a leading terrorism expert
The 14 January terrorist attack in Jakarta exposed the reach of Isis in Southeast Asia. The attack, which resulted in the deaths of eight people and injuries to 26 others, was mitigated by the miraculously quick response of the Indonesian police. But even if the death toll had been higher, Indonesia's robust civil society, moderate traditions and pluralist tendencies give it tremendous social resilience. Indonesia could experience repeated terrorist attacks without it being an existential threat. While Indonesian security forces are working overtime, more attacks are inevitable as a critical mass of extremists returns from Syria. Yet, an Isis attack in Malaysia would be far more consequential as the country simply does not have the same social resilience as Indonesia.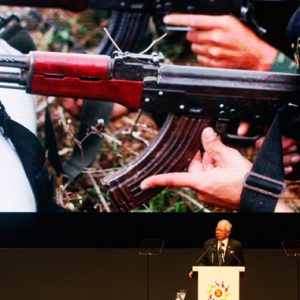 Since mid-2014, there have been four terrorist plots that were nearly executed in Malaysia before being disrupted by the country's security forces. These include the attempted bombing of a Carlsberg brewery, an attack in the downtown tourist district of Bukit Bintang and the recent arrest of a suicide bomber. Other planned Isis attacks in Malaysia included hostage-taking and attacks in a similar vein to the incident in Jakarta.
There are disproportionately more Malaysians than Indonesians fighting in the Bahasa-speaking Isis unit, Katibah Nusantara, based in Raqaa, Syria; roughly 75 compared to nearly 300. Katibah Nusantara's leadership includes Indonesian Bahrum Naim and Malaysian Muhamad Wandy Muhamad Jedi. Malaysians have comprised eight of the 12 Isis suicide bombers from Southeast Asia. These are the first ever suicide bombers from Malaysia and their exploits have been extolled in social media by Islamist extremists. In a two-week period, from December 2015 to January 2016, two Malaysian suicide bombers killed more than 32 people, including 12 Iraqi policemen.
In theory, Malaysia should be better able to cope with the growing threat. Indonesia is a much poorer country, with very porous borders and a teeming population. Indonesian prisons are overcrowded and serve as key nodes for terrorist recruitment. Resources for disengagement programmes are paltry and recidivism rates are nearing 20%. Of the more than 500 terrorism suspects recently released from prison, Indonesian security forces are unable to locate some 200. By contrast, Malaysia is a small and comparatively wealthy country, with Muslims making up only 60% of its 31 million-strong population. Its borders are secure – far more secure than Indonesia's – and its security forces are very well resourced.
And yet, a major terrorist attack in Malaysia could do far more harm than Indonesia, where both the government and the populace simply moves on after such incidents. There are six reasons that stand out:
First, the government of Prime Minister Najib Razak lacks legitimacy. He came to power in 2013, despite losing the popular vote, through shameless gerrymandering and vote-buying. Najib has since become embroiled in a massive financial scandal that further weakens him. This illegitimacy weakens his ability to lead in a time of crisis. More importantly, the government is at great risk of the public not taking the threat seriously, simply because they perceive it as an attempt to divert attention from the scandal-plagued government.
Second, the Malaysian government has dramatically increased its coercive powers, in part through the Prevention of Terrorist Act and the revised Sedition Act. But the government's over-reliance on these coercive tools, which allow for detention without trial and mandate compulsory religious education, are widely unpopular and further delegitimise the regime.
Third, a recent Pew survey found that there is nearly three times the degree of popular support for Isis in Malaysia than in Indonesia. While only 4% of Indonesians view Isis as legitimate, this figure grows to 11% in Malaysia. Malaysians enjoy far more prosperity, but their quasi-authoritarian government and its over-reliance on coercive powers has led a growing number of people to look to Isis as a model of governance.
Fourth, whereas recruitment for Isis in Indonesia relies on the same social networks established by Jemaah Islamiyah, in Malaysia recruitment is primarily done through social media. The consequence of this is twofold. First, the recruitment process, including indoctrination, radicalisation, and incitement to violence, is much faster. Second, recruitment is spread across Malaysia's socio-economic spectrum and includes middle-class professionals, women, workers, students and even members of the security forces. The pathways to radicalisation in Indonesia are far better understood than in Malaysia, a much smaller country.
Fifth, while the Malaysian government decries the threat imposed by Isis, its own policies allow the vitriolic ideology propounded by Isis to take root. The Malaysian government is intolerant and insecure. Its own religious authorities are determined to transform the country into an Islamic state. By banning Shias, the Ahmadis and other 'deviant' sects, the government fuels the sectarian narrative of Isis. What the government does is not dissimilar to Isis' use of takfir – labelling Muslims as 'non-Muslims'. While there is no violence on the government's part, it does coercively enforce religious re-education.
Sixth, any attack by Isis in Malaysia will be intentionally designed to cause ethnic friction between the Malays, the Chinese and Indian communities. The Indian and Chinese communities are already feeling beleaguered by the steady Islamisation of society. It is clear that the government – increasingly dependent on support from the Islamist party PAS – is unable or unwilling to protect the rights and interests of these minority communities. The government may believe that further inculcation of Islamic values will inoculate Malaysia from Isis ideology, but it is in fact sowing the seeds of deeper societal tensions.
Zachary Abuza, PhD, is a professor at the National War College in the US, where he specialises in Southeast Asian security issues. Follow him on Twitter @ZachAbuza.