In the Bahasa Indonesian language, tanah merah means "red earth". To Dini Aryani Criddle, this phrase represents the lava that boils within the thousands of volcanos that dot her country. It also represents the rich soil of the Indonesian mountainsides, one of the most prominent sources of global coffee exports. But while Indonesia has long been known for the quantity of coffee beans it shipped overseas, quality has not always been its trademark. Five years ago, Dini struck out to change that with Tanamera Coffee.
"We're famous for commodity coffee, which is not bad, but I really want to make Indonesia famous for speciality coffee," she said. "That's why we want to improve Indonesian coffee to the international standard. Because the potential is there, and the soil and everything is there. People just don't know."
In 2013, Indonesia exported 534,000 tonnes of coffee around the world, making it one of the top ten coffee exporters worldwide. That same year, local consumption had an unexpected uptick. "Consumption is rising. A 15% increase will be the conservative estimate, and we may see a maximum increase of 30%," one international dealer told Reuters at the time. This was the start of the third wave of coffee in Indonesia, a turning point in the local coffee industry that Tanamera is considered to have played a key role in.
Inspired by the robust gourmet coffee shop scene Dini had enjoyed during holidays in Australia – which sources a lot of its beans from Indonesia – Dini opened a quaint coffee shop in Jakarta's Thamrin City in early 2013 with the financial backing of her husband. She had a small staff and a big vision of both changing the local perspective on coffee and expanding her brand abroad within five years.

"The aim was to develop a 100% Indonesian business using Indonesian coffee [of] the highest international standard," she said. The idea was to be a local trendsetter – driving income for local coffee farmers and making gourmet coffee a part of Indonesians' daily ritual.
The hope is for many other [local shops] to do the same… to bring benefit to the whole Indonesian coffee industry. Because there are 2 million farmers – but most of them are very poor.
Initially, Tanamera's sole shop sourced coffee cherries from local farmers through middlemen, and processed and roasted the beans in-house. The beans were sold to local hotels and enjoyed by customers as Americanos, lattes and cappuccinos. But Dini wanted customers and farmers to be linked in some way. So with every order, baristas would share the story of where the beans of the day came from and the flavours that make each single-origin variety – meaning coffee from a specific region – stand out.
"We normally have two grinders. One is a blend and one is single origin," she said. "When we first opened… most of [our customers] didn't know cappuccinos, lattes or anything. A lot of them would drink their coffee with sugar."
As customers became accustomed to the daily explanation of their coffee's source, their palates became attuned and their understanding of coffee stretched beyond the basics of espresso styles to the flavour notes of a bean: was it chocolaty? Earthy? Spicy?
"Now, every time they order, [they ask], 'What is the coffee today? Is it Solok?' Solok meaning the area of [West] Sumatra. 'Or Kerinci, somewhere in Jambi, or Toraja, or Bali?'" she said, imitating voices of coffee customers.
One Tanamera customer came in with an extraordinary level of expertise on Indonesian coffee –right down to the hint of spice that the local soil gives the coffee beans. He'd worked as a coffee exporter to Korea for years. His name was John Lee.
One day, Dini asked him to evaluate a bean she was sending to an overseas competition. "He went through everything in detail: the resting, roasting, profile, etc…. And I really liked it when he actually explained about the green bean itself. So the next day I hired him."
With John leading the way, Tanamera started working directly with local farmers rather than sourcing through middlemen, teaching them how to amplify their yield and improve the quality of the beans they produce. Tanamera set out to find each farmer's flavour profile.
This started with farmers' coffee cherries, each of which cradles two "green beans" side by side inside their skin. John taught farmers to pick them from the coffee trees only when the cherry had fully matured to red from its initial green. John examined each batch of cherries bought from farmers, tossing any damaged cherries to purify the flavour of the beans that ended up in the roast. They would then be processed in house – washed, fermented, dried and rested – before being roasted and served as a Tanamera single origin or blend.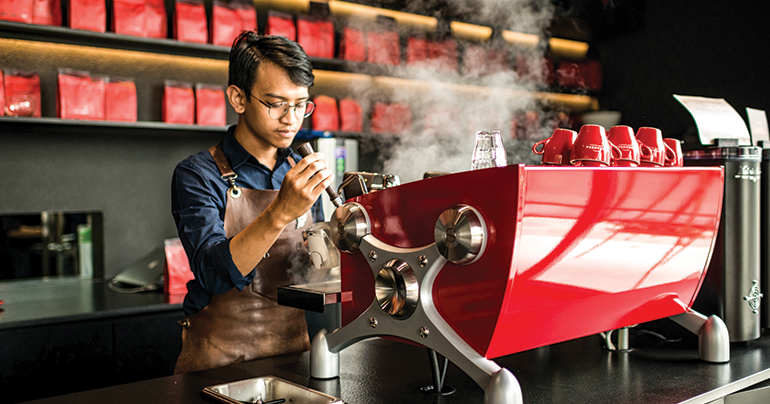 In 2015, Dini felt they had made enough progress to test the waters. They sent baristas to the Melbourne International Coffee Expo, where they took the title of Champion International Roaster in a blind taste test against hundreds of roasters from around the globe. In 2016, they stole the title again, and in the years since, they have won over 40 medals at various competitions.
Still in its infancy, Dini's company had transformed the way its customers thought about coffee, and its beans had achieved international acclaim. Tanamera also had partnered with high-end Seattle coffee gear producer Slayer, becoming the exclusive distributor of its high-end espresso makers in Indonesia.
Tanamera's brand continued to expand, with shops opening across Jakarta and Bali. By the end of 2018, there will be 15 shops, including its first international store in the centre of Singapore's financial district, and a staff of some 300 Indonesians. An additional 15 stores are slated to open in 2019. And as Tanamera has expanded, other shops have also popped up across Indonesia, jumping on board the growing interest in coffee. But Dini said this isn't competition – it's the movement she hoped to create.
Dini intends to continue moving overseas, but she's even more keen to hone the craft of local farmers to ensure the quality continues to increase back home. She said one of the biggest hurdles along the way was finding farmers worth investing in and building trust between them.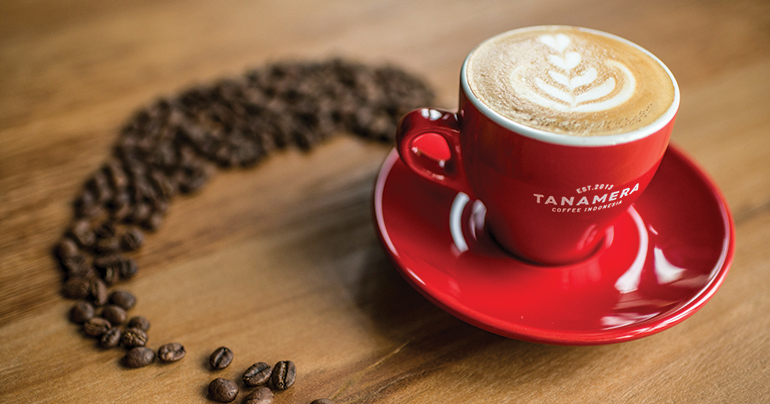 John has helped the roughly 15 farming communities with which they have built strong relationships and increasingly high-quality yields to continually perfect their practices. He's now helping some farmers build the infrastructure they need to process their own cherries so they can sell the processed green beans at a higher price. A perfectionist at heart, he's never quite satisfied with the current quality – but the growing value of the beans and recognition overseas should allay any concerns.
Still, Dini hopes to invest in farmers even more. She has plans to open a coffee school in the hills of Bali near a farming community they work with.
"We would like to build a school for coffee: for roasting, for coffee [growing]. Why? So the next generation does not just go to the city, but actually takes care of their village," she said. "They've already welcomed us, so I would like to do more and more [to give back to the farmers]."
Looking back on her achievements so far, Dini laughs.
"Achieving international recognition with the back-to-back awards… and only using 100% Indonesian coffee – I mean, honestly, I almost can't believe it. But for me, that's the best experience."
Despite her company's quick rise to fame, there's a long way to go until Dini will be satisfied that she has brought home the fame she feels her country's coffee deserves. Some might say her goals for the coffee brand have already been achieved in five short years, but it's clear Dini has barely scraped the surface of the tanah merah.