Hassan al-Kontar, the Syrian refugee who has been living in Kuala Lumpur International Airport since March, was arrested by Malaysian police earlier this week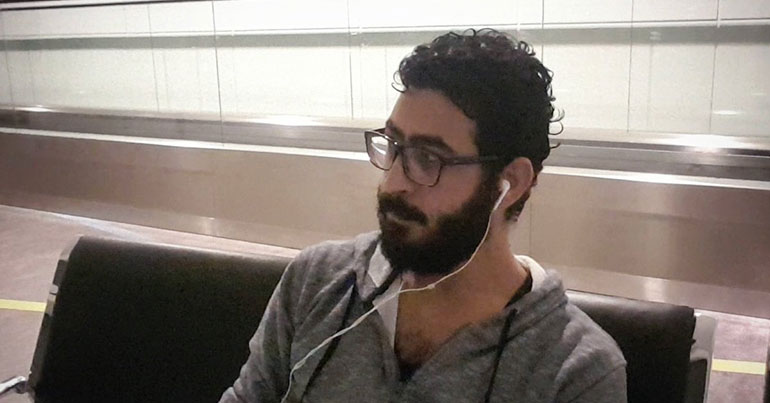 Malaysian authorities confirmed the arrest of Hassan al-Kontar during a press conference on 2 October, during which it was announced that al-Kontar will soon be deported back to Syria.
"In this case, we will communicate with the Syrian embassy to facilitate his deportation to his home country," said immigration director-general Mustafar Ali. "Flight passengers with boarding passes at the boarding area are supposed to get on their flight, but this man did not do so."
"He is situated in a forbidden zone, therefore the authorities had to take the necessary action," he added.
Al-Kontar had been living in KLIA's domestic transfer lounge since 7 March after being deported from the United Arab Emirates, where he had lived for 11 years.
While legally working in the UAE, al-Kontar, a self-ascribed pacifist, decided in 2011 not to return to his warring homeland and its compulsory military service, subsequently finding himself in exile. Deported from the UAE last year for overstaying his visa, al-Kontar pleaded with officials to be allowed to go to Malaysia, one of the few countries that allows Syrians to obtain visas on arrival.
Rather than seek asylum from Malaysian authorities, however, al-Kontar chose to continue living in the airport, and turned to social media to share his life story and raise awareness of his situation.
In his months living in the airport, al-Kontar washed himself in airport sinks, slept on a makeshift bed of clothing under a stairwell and lived off of meals given him by airport staff. Videos and photos of al-Kontar exercising on the airport's motorised walkways, tending to a small garden of potted plants and practicing his knitting can all be found on his Twitter feed, where his journey has been well-documented.
At least I know that I tried 💇‍♂️💇‍♂️..I could not do it 🤷‍♂️🤦‍♂️.. it's ok I like long Curly hair anyway 😍#syrian_stuck_at_airport #mystory_hassan pic.twitter.com/yeyBodJR59

— Hassan Al Kontar (@Kontar81) August 21, 2018

But his use of social media may have drawn the ire of Malaysian officials.
According to Mustafar, al-Kontar "shamed" Malaysia with his "statements on social media".
"The man claimed that he does not want to return to Syria because he is afraid of becoming a soldier there, or whatever his real reason is. But we need to have closure here," Mustafar told a local media outlet.
Representatives from the United Nations High Commission for Refugees (UNHCR) have told the media that al-Kontar is a person of concern and is in need of international protection.
A statement released by the UNHCR urged Malaysian authorities to "respect international laws relating to [al-Kontar's] situation", citing the principle of non-refoulement, or not forcing a refugee or asylum seeker to return to a country where they could be subjected to persecution.
[manual_related_posts]
Al-Kontar has been waiting to hear back about his refugee sponsorship application to Canada, which a group of volunteers filed on his behalf in April this year. The processing time for a refugee application to Canada is 23 months, and there is no guarantee his will be accepted.
"Keep going – that is the secret no matter where you are or what you're going through," al-Kontar tweeted in early June. "I will keep fighting for me and for my people. The day will come when governments will feel shame and start treating us as humans with rights.