Sun Chanthol, Cambodia's minister of commerce, marked one year in office this October – what has he achieved in this time, and what lies ahead?
By Tassilo Brinzer
When you accepted this recent assignment to take on a ministry that is key to investors, did you expect things to develop the way they have, and have you achieved what you wanted to?
Yes and no. We've made great progress at the ministry – in particular in setting the internal foundations we needed in order to move on in the coming years. We've now put 25 directors in place for the various departments, and they were all selected via tough evaluations of their qualifications and via a very transparent and open process. We've eliminated promotions through connections. We're continuing to reduce unnecessary paper work, are speeding up approval processes, staying open longer hours to service our clientele, and are developing digital-service platforms. Before we move to larger tasks, those are the things we need to take on. On the other hand, some reforms are not happening fast enough. The digitalisation of key processes, such as company registration and certificate-of-origin issuance are taking us longer to implement, because we still lack affordable experts who can speed it up. But we're not far behind schedule. A new and more comprehensive website has been set up. Overall, we've achieved a lot in a year that seemed to fly by.
Coming from a corporate, private-sector background with General Electric (GE) where you worked for almost 20 years in senior positions, how do you deal with what must be a more complex and slower process to resolve issues in government and administration?
At GE, it wasn't a case of overnight results, but certainly I can't make decisions now as fast as I'd like to. We need to balance the will for reform – which extends throughout our whole team at the Ministry of Commerce – with the tools and possibilities we have at hand. People tend to forget that despite the fact that Cambodia has made great progress over the past 20 years, we still don't have the resources a developed country such as, say, Singapore or the US can call on. Even if the will is there, our means are still limited.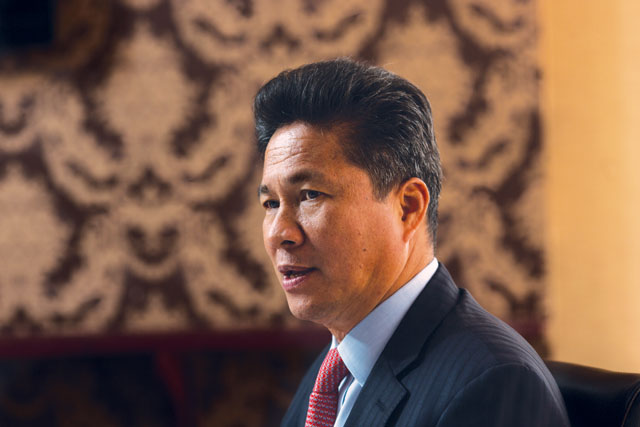 In recent years, Cambodia has lost points on the World Bank's Ease of Doing Business Index. This year, the country slipped two points while Vietnam, for example, jumped up two. Other Asean countries also moved up. How is it that, as the overall economy consistently improves, the Cambodian government seems to have slowed down its efforts to make the marketplace more efficient and investor-friendly?
The government realises that, while it's offering some of the most attractive incentives to investors here – such as 100% ownership of a company, long-term land leases, unlimited profit repatriation and tax incentives, among many others – on the regulatory side we need to improve and become much more efficient. Infrastructure and energy costs are also still a major concern for everybody. On a more positive note, we rank in the world's top 30 in terms of labour-market efficiency, and this is what matters to a lot of investors. We've made great progress here and are proud of it. But it's clearly insufficient and, yes, much more needs to be done – and will be done. You'll see this index move in our favour very soon.
Since the elections in 2013, the appointment of trained technocrats in key ministries indicates a fundamental change in how the most relevant sectors in the country are moving forward. Local media reports of anti-corruption initiatives, of school exams that are being tightly controlled by police, of regulations that are being enforced. Are these reforms ongoing or is this a tribute to the tight election result, meaning they will lose steam?
Cambodia is a very dynamic market and is changing every day. The private sector is moving fast – everyone can see that as soon as they arrive in Phnom Penh. The government and the administration also need to be able to respond to these changes with speedy and decisive reforms that facilitate further growth, in particular with a view to the AEC and to being more competitive with our neighbours and partners in Asean. We might have been too comfortable in the past, achieving annual growth of more than 8% per annum, but certainly today everyone in the government and in the administration is aware of the need for speed – the world is not waiting for us; we need to invite the world to feel comfortable and to do business here.
The economy still depends largely on the garment sector, which is a low-skill industry. Many other investors and companies raise the skills issue – they have a hard time finding English-speaking, technically trained, middle-management staff and workers that can produce and deliver higher-value products and services. How is this issue being addressed?
There's a range of initiatives that are currently trying to deal with this issue. The education ministry in particular has set its sights on improving the quality of all educational levels. We're also aware of the issue and are working with many stakeholders to find solutions. However, in the past few years, we've seen increases in every other industry – agriculture is contributing more and more, as are light manufacturing, food processing, transportation, the property sector and tourism. We'll become less dependent on the garment sector, which will also makes us less vulnerable to fluctuations in that industry. But it will remain a key sector that provides hundreds of thousands of jobs.
The AEC, which is on the horizon, will bring a host of opportunities, but also many challenges to developing countries such as Cambodia. How prepared is the country?
Well, we need to do much more – and fast. Some indicators say we're 70% to 80% ready. Personally, I'd like to be 120% ready – better education and training of our workforce, rapid improvements to our infrastructure and transportation capacities, leaner and more efficient government services for investors and businesses operating here, better preparation of our workforce for more demanding job requirements. All this needs to be addressed quickly. Modern technology and modern information tools, such as widely available internet, allow us to move much faster than economies 20 or 30 years ago. I'm optimistic that we'll meet the challenge and become a key partner within the AEC to investors and to the regional business community.