Industrial action in Vietnam is not often tolerated, but a week-long walkout 

at a footwear factory in Ho Chi Minh City has bucked the trend
Workers of Pou Yuen Vietnam gather at their factory on the fifth day of a strike in Ho Chi Minh City, where  hundreds of workers protested peacefully both outside and inside the factory of the footwear maker for companies that include Adidas and Nike and brands such as Converse, Reebok and Lacoste.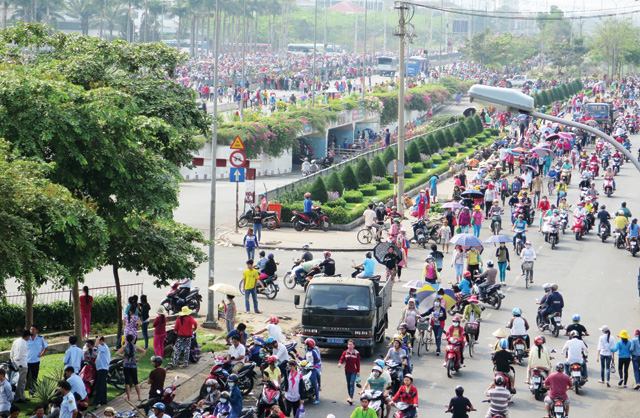 The employees are upset over social insurance legislation that is due to take effect next year, which limits the number of entitlements when they leave the company. The current law permits workers to contribute to a central fund and receive a lump-sum payout when they exit the firm.
The changes, according to the BBC, mean most workers would only receive such funds upon retirement and on a monthly basis. Only a minority would qualify for unemployment payouts. Workers claim they cannot wait until retirement for the payout due to the need to pay for living expenses, especially while they seek new employment.
The government subsequently agreed to request the National Assembly to amend the term in the law and permit employees to continue receiving lump-sum payments if they wish to opt out of the pension programme. Strikes are unusual in Vietnam and are usually stifled swiftly, making this week-long walkout significant.
The strike comes amidst Vietnam's attempts to attract big business with its tax advantages, cheap labour and potential accession to free trade agreements with its biggest export partners. In 2014, footwear and garment exports from Vietnam stood at $31 billion, or about 16% of the country's GDP, while Vietnam is among the top three exporters in the garment sector worldwide. 
Keep reading:
"Green is the new red" – As Vietnam commemorates the 40th anniversary of the end of the Vietnam War, there are accusations that the Communist party has lost its ideals and that it could be time for a radical overhaul