India's minister for consumer affairs, food and public distribution, Ram Vilas Paswan, has confirmed New Delhi's plans to import up to 100,000 tons of Burmese rice to supply its northeastern states, Nagaland and Mizoram
By Benedict Lynn
The final details are currently being hammered out, but the deal, which should see 200,000 metric tons of rice sold per month over the next five months, is set to come into effect by the end of October.
This will be the first time in almost three decades that the world's largest exporter of rice (a title once held by Myanmar) will have had to import the commodity. Construction work on the Guwahati Silchar railway project has created logistical bottlenecks hindering delivery from the mainland to the far-flung Northeastern states. The Food Corporation of India (FCI) is ferrying Indian rice through Bangladesh for Tripura, and has turned to Myanmar to supply Nagaland and Mizoram.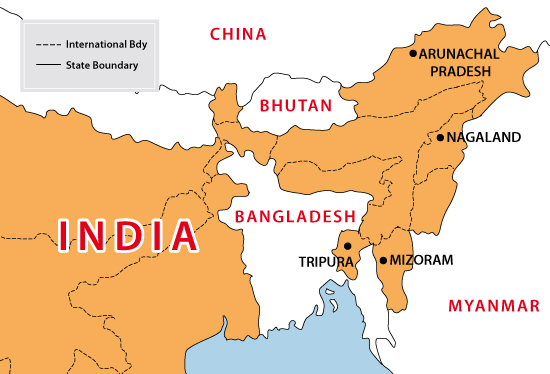 The Indian Embassy in Rangoon announced an exploratory tender for the rice imports last week. However, the region is a hotbed of political uncertainty and criminal activity, resulting in low bidder turnout and high costs. Just two Burmese companies bid for the sales contract, asking US$800 per ton of rice.
India has since turned to the Myanmar Rice Federation (MRF), the country's main independent rice industry oversight body. The MRF has halved the price, on the condition that India will be responsible for transporting the commodity from the border station.  Once issues such as tax rates and quality control have been agreed upon, the tender process will be reopened to Burmese firms.
This is exciting news for the newly outward-looking republic, a country where, according to a recent World Bank report, "the agriculture sector represents between 35 to 40 percent of gross domestic product (GDP) and that up to 70 percent of the labor force (of 32.5 million) is directly or indirectly engaged in agricultural activities or depend on agriculture for their income."
Despite an abundance of fertile land, however, hesitant investors, underdeveloped infrastructure and a shrinking global demand for Myanmar's low quality 25 percent broken grain have resulted in the country falling well short of its ambitious three million ton export target for this fiscal year. The republic hopes to export 4 million tons by 2020.
For a country as heavily reliant on agriculture as Myanmar, this deal, although temporary, is therefore crucial. According to the World Bank report, the republic has the "potential to more than double its rice exports." It is also, however, of critical strategic importance to India.
The 1,009 mile border between the two neighbors is the only border Asia's third largest economy shares with an ASEAN member state, making it India's gateway into Southeast Asia. India has long been trying to assert itself amidst growing regional influence from China, currently the world's top importer of Burmese rice. As such it has been turning its attention to its smaller neighbors, and Myanmar is no exception. Bilateral trade between the two has grown to US$2.18 billion in 2013-14, up from US$12.4 million in 1980-81.
"Improving agricultural productivity and promoting rice exports are top priorities for the Burmese government," notes the World Bank report. It seems India too stands to gain much more than just a temporary supply of rice. The potential of the northeast in further strengthening trade relations between the two countries has been thus far largely untapped. It will be interesting to see just how temporary this deal really is.
This article was first published on Asia Briefing.
Dezan Shira & Associates is a specialist foreign direct investment practice, providing corporate establishment, business advisory, tax advisory and compliance, accounting, payroll, due diligence and financial review services to multinationals investing in emerging Asia. Since its establishment in 1992, the firm has grown into one of Asia's most versatile full-service consultancies with operational offices across China, Hong Kong, India, Singapore and Vietnam, in addition to alliances in Indonesia, Malaysia, Philippines and Thailand, as well as liaison offices in Italy and the United States.
For further details or to contact the firm, please email info@dezshira.com or visit www.dezshira.com.