At 8am, Bangkok's Siam Square is heaving. Traffic slows to a crawl, commuters squeeze into the skytrain and the sweet, smoky smell of grilled street food wafts from the downtown district's labyrinthine sois. But on the Novotel Bangkok's sun-bleached rooftop, 20 floors up from the heady streets below, the still, almost serene atmosphere could not be any different. Most mornings here, a passionate group of hoteliers, microbiologists and engineers arrive to harvest one of the planet's oldest life forms, an algae called spirulina that some are hailing the 'kale or spinach of the future'. According to the hotel's general manager Manuel Reymondin, the Novotel's rooftop spirulina farm – conceptualised, set up and run by a small Thai startup called EnerGaia – is also showing that when it comes to marketing, partnering with sustainably minded entrepreneurs can be the best publicity manoeuvre of them all.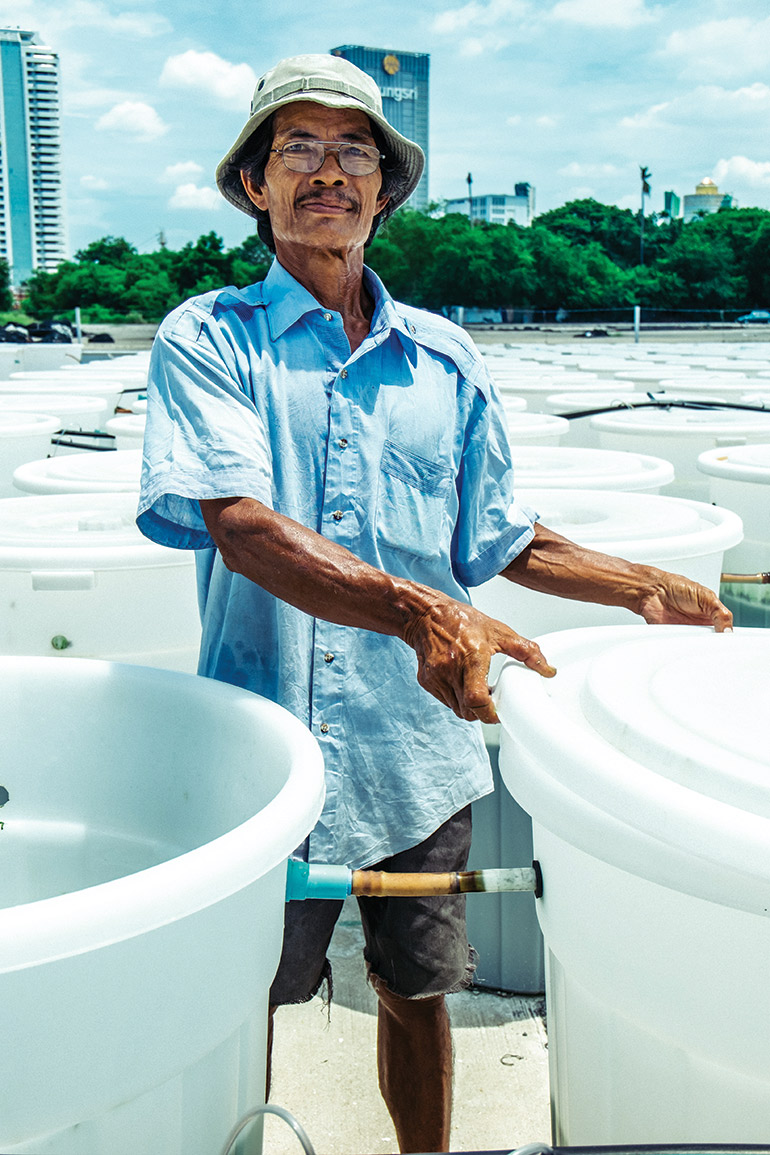 For four years now, the Novotel has been quietly renting its unused 80 square metres of rooftop space for a small fee to the innovative startup, and watching on as the greenish-blue, protein-rich edible microalgae grew and grew. This rooftop 'superfood farm' is one of three projects of EnerGaia: it runs a bigger spirulina farm in another of Bangkok's 'wasted spaces' – a concrete parking lot on Bang Krachao, the jungle-covered island in the middle of the Chao Praya river. There is also a rooftop farm at the company's headquarters further out in the eastern suburb of Suanluang, along with a research and development centre, offices and a fully equipped laboratory where the algae is both cultured and packaged after harvest.
Before us are two sets of 40 white barrels – closed tanks that hold 250 litres of liquid each and are connected via a closed loop system, with air and nutrients pumped through bioreactors to maximise growth. "Welcome to the farm," says Minh Buu, an enthusiastic young marketing and business development whizz from Paris who started out as the startup's intern but is now on staff. With us are two of EnerGaia's technicians, who are busy scrutinising the thick, custard-like green substance that bubbles away inside each barrel. The hot Thai sun is already beating down on us; early mornings are the only time one can farm in Bangkok. "After 10am there's no shade at all, and it's just roasting. This is okay for the spirulina, but not for us," Buu says with a laugh as rays of sunlight bounce off the shimmering Bangkok skyline.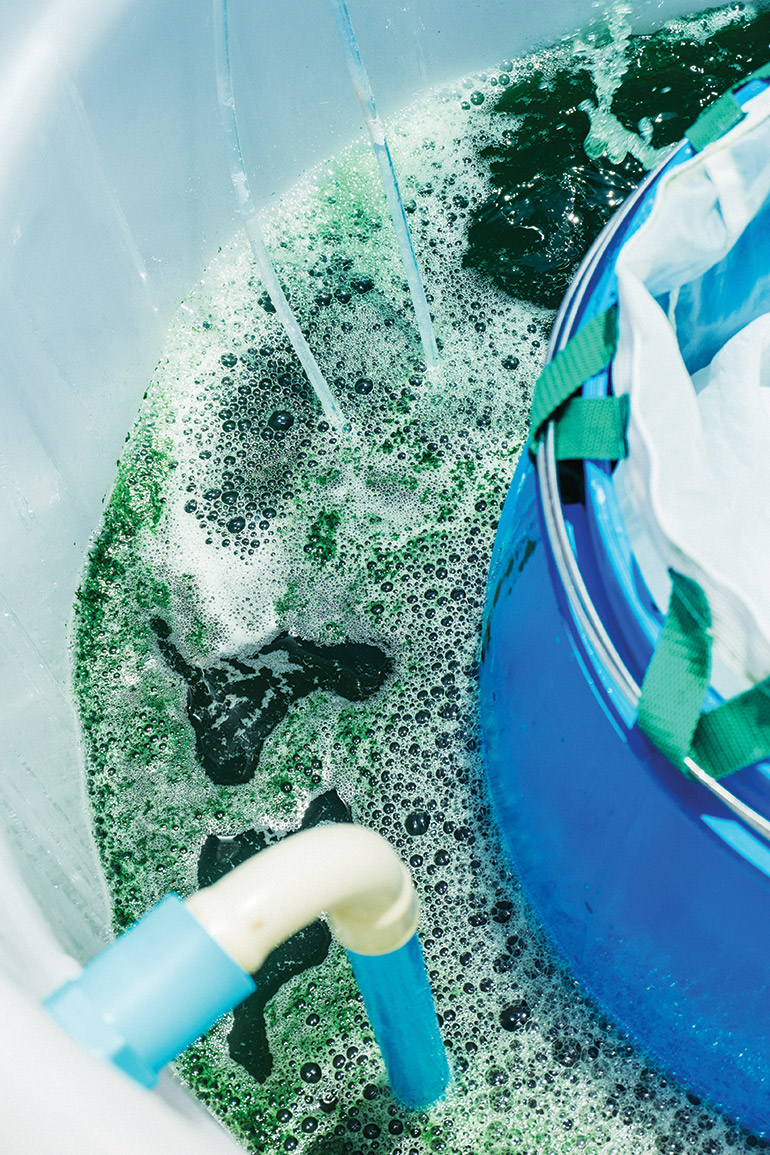 Growing spirulina is a quick process: the micro organisms are single-cell plants that can double their mass every 48 hours without any soil or fertilisers. They grow as fast as bacteria but can also photosynthesise.
The EnerGaia team are currently collecting about 50kg of spirulina a week, harvesting the product with a simple mesh cloth, although at full capacity they estimate they would be able to harvest 300kg a week. Back at the company's laboratory, they test, dry and package the fresh algae into jars that are sold under the Skyline Spirulina brand. These are stocked in health food stores around Bangkok, but there is also a steady list of consumers who buy directly from the source.
The allure of spirulina is surely its nutritional value. In its dried form, it has a protein content of about 60-65%, while fresh spirulina has about 18% (most raw meats, by contrast, have a protein count of about 20-25%). It is a complete source of fatty amino acids and Omega-3, and packed with other goodies such as vitamins and essential minerals. The Food and Agriculture Organisation arm of the UN has hailed it as a superb food source, while Nasa has even studied it for use as a food source in space. It's also about 3.5 billion years old and once formed part of the diet of the Aztecs and prehistoric populations in Africa. The algae grows naturally on a small number of natural lakes with very high alkaline levels, such as Lake Chad, and other lakes in Myanmar, New Mexico and China.
In terms of branding it's been tremendous… We've been covered around the world in newspapers, magazines and documentaries
Just downstairs from us at the Novotel's café and breakfast restaurant, the 'green jam' is spooned into fruit and vegetable shakes for curious guests. At the hotel's spa, therapists are using it in luxurious face masks – the high alkaline levels have proven excellent for detoxification. General manager Reymondin, an enthusiastic Swiss man who has called Thailand home for nearly 30 years, says pushing the product had proved challenging – not many people know what spirulina is and it is not the most aesthetically pleasing produce – but that interest in the algae was growing. "It doesn't have a sexy taste, but people are far more interested over the last few years in the whole idea of superfoods, and when our guests discover it's growing right above their heads, they are intrigued. It's a novelty. When I explain that one spoonful is their daily iron intake, they're pretty impressed," he says.
Yet the sale of the drinks and products using the rooftop spirulina was merely a bonus for the Novotel management team. The biggest boons of the partnership were the effortless press coverage the hotel received and the marketing of the property.
"In terms of branding it's been tremendous. We've been covered around the world in newspapers, magazines and documentaries. It's a very, very easy exercise… [EnerGaia technicians] come in the morning to harvest and are gone three hours later. They pay for water and electricity, and we charge a very minimal rental fee of around $10-20 to show the owners that we do collect something – but this isn't about making money. It's more of a friendship that has a positive impact on our brand," he says.
Indeed, along with all of the brand's corporate social responsibility (CSR) boxes being ticked, the project provided staff with an overall feel-good factor through utilising wasted space. Other than a handful of shiny sky bars, a bird's eye view of Bangkok reveals a huge patchwork of flat and forgotten rooftops.
The relationship between the hotel giant and the small environmental startup started serendipitously – a former member of the Novotel entertainment team had left the company to start his own CSR-focused consultancy and had met someone from EnerGaia who had expressed a desire for more space. "It piqued my interest immediately. We soon made some calculations and looked into insurance [EnerGaia pay for it] and technology and it all moved swiftly from there, literally within a few months we had the system installed," Reymondin says.
But for Saumil Shah, EnerGaia's founder and director, the partnership with the Novotel has meant so much more than press coverage and CSR. The articulate 42-year-old engineer from Atlanta in the US has a grander vision to take spirulina "to the masses". As the world's demand for protein-rich food increases and our meat supplies dwindle, he believes spirulina could be the answer. Fostering a relationship with a big brand such as the Novotel had not only helped spread his message, but also saved EnerGaia when the startup was on the verge of going bust.
It doesn't have a sexy taste, but people are far more interested in the whole idea of superfoods. When our guests discover it's growing above their heads, they are intrigued
The idea for EnerGaia was formed in 2007, when Shah read an article about how carbon dioxide emissions from a power plant could grow algae in a closed environment. He had graduated with an aerospace engineering degree from the Georgia Institute of Technology, later moving to GE, who in 2006 posted him to Bangkok. He quickly became besotted with Thai culture, the "nice and friendly everyday folk you interact with", and in 2008 decided it was the place to invest in and base his startup. By 2011 he had built a test system of "edible algae-producing, CO2-eating bioreactors" in the temple-studded old capital of Ayutthaya. Things were looking great for EnerGaia – they had secured a big grant with a European organisation and were in the process of scaling up the project. Shah poured his savings into a big facility in a former Ayutthaya rice mill.
Then disaster struck. The catastrophic floods of late 2011 washed away the entire project. "Everything was covered in two metres of water for a month. So we lost everything and had to restart and re-grow all the cultures and algae," he says.
"I then had this idea that we needed to be in an urban setting. I thought if we grew a tasty product, and found all these rooftops, there would be great exposure. I had this naïve mentality of 'if you build it they will come'. But I soon learnt that familiarity was a big problem – people didn't know what spirulina was," he adds.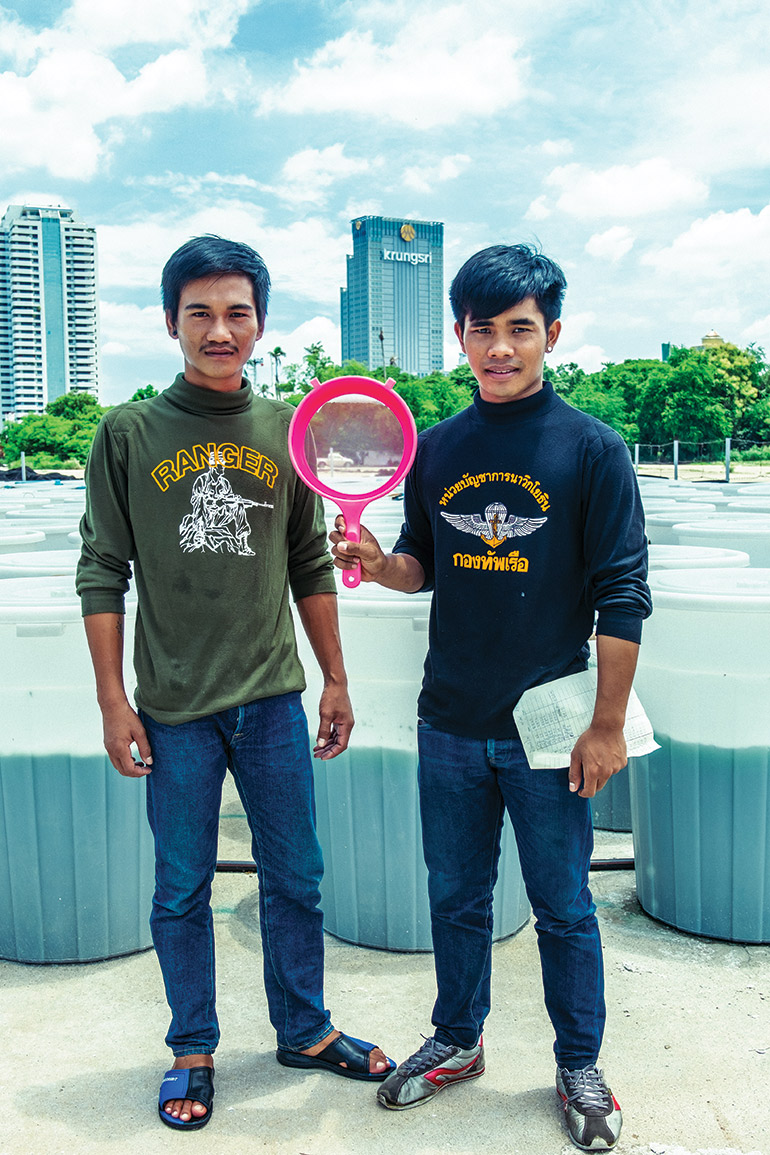 Shah and his team switched their focus from technology and production to product development and marketing. They did the rounds of farmers markets, hotels and organic food stores, and slowly it paid off.
Shah says the secret to their superior product could be a combination of factors, but he is certain a major reason is the closed-tank system they use. EnerGaia's tanks use potable water and filtered air – there is no chance that anything can fall into it. No preservatives are added, with the spirulina simply rinsed and spin-dried using modified washing machines.
Shah says he was surprised, that while marketing spirulina had proven a challenge, there had been many benefits to basing his startup in Bangkok. Capital investment was lower – the rents were lower than cities such as Singapore or Hong Kong – and Thailand has a number of highly regarded microbiology departments at universities, meaning the talent pool was wide.
Perhaps most exciting, though, is the fact the EnerGaia system can be installed anywhere, as long as the temperatures are above 32°C and below 38°C. EnerGaia was recently asked to work with Antenna Technologies, a Swiss research organisation with a focus on technological, health and economic solutions for marginalised populations in developing countries.
Shah and his team are now busy organising the shipment of their system to France for testing to prove their contamination-preventing techniques. If successful, they will be able to partner with NGOs and multi-governmental agencies including the UN and the World Health Organisation to deploy their urban farming system in Africa and India on a trial basis.
"For us, this is really our dream and our vision. The main lesson I've learnt is to have a lot of grit and passion. My plan has always been a long-term one. In 20 years' time I want spirulina to be known like spinach or kale is. In the future there will be heavy constraints on our meat supplies. I think this is a solution, and I want it to be consumed by a lot of people."
Other hotels and businesses seem to have taken note of the EnerGaia-Novotel rooftop farming success. Just next door to the hotel, atop the shiny shopping mall Siam One, a rooftop garden has recently been built. Concrete has been carpeted in soil and grass, and planter boxes are full of chillies, herbs, fruits and vegetables.
On the banks of the Chao Praya river, the Anantara Riverside Resort has just unveiled a sprawling, 2,800-square-metre commercial hydroponic farm in partnership with the Bangsai Agricultural Centre with aims to supply the resort kitchens and those of its sister properties with organic produce.
Reymondin says he has noticed Bangkokians being more environmentally aware, but admits there is still a long way to go: "There are many sad spaces in the city that are screaming out for a bit of green."
"The most important advice I'd give businesses wanting to take on something like this is that it's not about making money," he adds. "Your role is about helping the startup succeed – their success will be your success too. CSR is not a business."