With the groups for next month's SEA Games announced over the weekend, Southeast Asia's football fanatics are turning their attention to the biennial competition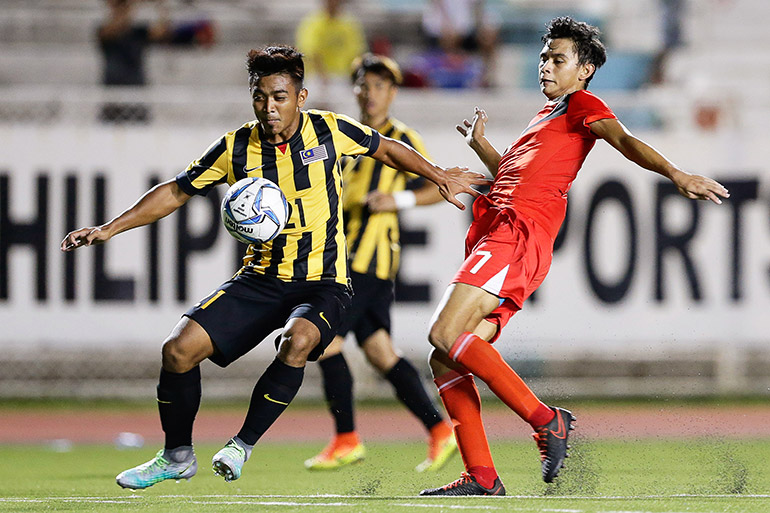 Defending SEA Games champion Thailand, ranked 131 in the world, will have a tough road to the final this time around, finding itself in a group with the region's other top two sides, the Philippines and Vietnam, which are ranked 126 and 133 respectively.
Host country Malaysia, ranked 167 according to world football governing body Fifa, will have to beat Myanmar, which is 10 spots higher in the global ranking and came away with the silver medal in the 2015 games.
With group A also having only five teams compared to six in group B, Malaysia will also have less games to play if it hopes to repeat its 2011 championship performance in front of the home crowd.
Other teams in Group A are Singapore, Laos and Brunei. Group B is composed of the region's top three teams along with Cambodia, Timor Leste and the Philippines.
SEA Games Football Prelims
(world ranking)
Group A
Myanmar (157)
Malaysia (167)
Singapore (169)
Laos (171)
Brunei (188)
Group B
Philippines (126)
Thailand (131)
Vietnam (133)
Cambodia (173)
Indonesia (175)
Timor Leste (196)
Reacting to the draw, Malaysia's head coach Ong Kim Swee said he expected difficult matches and that every team in the field had a shot at gold.
"We need to be at the top of our game if we were to get past the group stage. On paper, all fingers are pointing at Singapore and Myanmar as our toughest challengers, but do not underestimate Laos and Brunei – they are well capable of creating upsets," he said, according to the SEA Games website.
"With all teams currently preparing intensively for the games, we can expect tough matches."
Cambodia's new national head coach, Leonardo Vitorino, also noted the particularly tough draw for his club, but said he looked forward to having his players match strides with some of the region's top talent and learn from the experience.
"It's a strong group but it's better to play in a group like this if you are looking to the future. Strong games, strong players and better future," he told the Khmer Times.
Thailand, which has collected 15 SEA Games golds over the years and the last three in a row, enters the tournament as the odds-on favourite despite lying four rungs below the Philippines in the Fifa rankings.
However, Thai coach Worawut Srimakha said he was was focused first on just making it past the preliminary round given the tough draw.
"I am worried after seeing the draw, to say the least," he told the Bangkok Post. "Right now, I focused on devising game plans for so many matches. I am more concerned about winning matches than playing beautiful and attractive football."
Preliminary matches will be played at the Shah Alam Stadium and Selayang Stadium beginning on 14 August. The final match will be held at the National Stadium in Bukit Jalil on 29 August.