Deteriorating relations between the US and Cambodia reached a new low this week with the shuttering of a US-backed democracy organization. At the same time, President Trump has embraced Southeast Asian leaders with plenty of their own baggage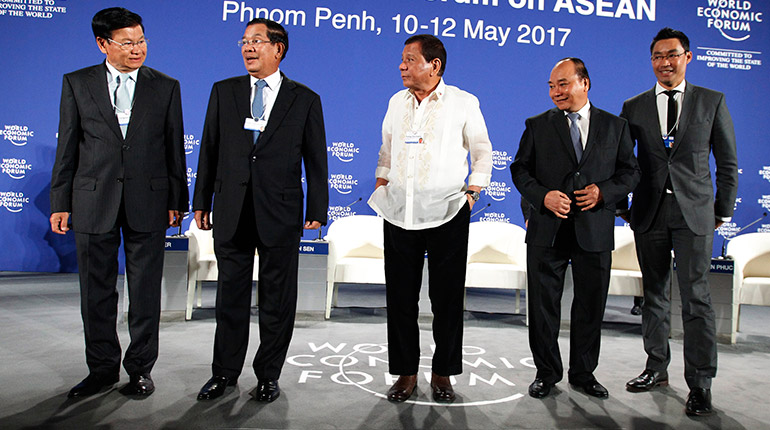 The US State Department expressed their "deep concern" this week over the recent closure of the National Democratic Institute by the Cambodian government amid a barrage of threats against election monitors and media organisations.
It was a sentiment shared by a broad range of organisations and observers watching Cambodia. However, it was somewhat unexpected coming from the administration of Donald Trump, which has a remarkably inconsistent record when it comes to condemning abuses of democracy and human rights in the region.
In the same week that Cambodia got a verbal lashing from Washington, Malaysian Prime Minister Najib Razak received an invitation to visit Trump in the White House.
This is despite the human rights situation in Malaysia having "substantially deteriorated" in the past year, according to Human Rights Watch. Facing a massive corruption scandal that has led to calls for his ouster, Najib has used vague legislation to arrest those who criticise him and to block newspapers and websites that have reported on the scandal.
Nonetheless, the White House issued a statement on Wednesday saying that President Trump "looks forward to celebrating the 60th anniversary of United States-Malaysia bilateral relations and discussing ways to strengthen and broaden our bilateral relationship and expand regional cooperation with one of America's closest partners in Southeast Asia."
Trump has also sent White House invitations to Philippine President Rodrigo Duterte, who has overseen a 'war on drugs' that has have left more than 7,000 dead, and Thai Prime Minister Prayuth Chan-ocha, who took control of the country in a military coup and has so far failed to deliver promised elections.
Since the 2014 coup, Thailand has fallen on just about every index of freedom or rule of law. The junta is suspected of detaining hundreds and possibly thousands of government opponents, and has also mounted increasing threats against critical media in the country. In April, the Ministry of Digital Economy and Society announced a ban on any form of online engagement with three prominent government critics. The award-winning Thai journalist Pravit Rojanaphruk also faces charges over a critical Facebook post.
"The new U.S. administration has said little about the Thai government's crackdown on the press," noted the Council on Foreign Relations. The administration has already shown that it is prepared to take a more confrontational approach toward Cambodia, with the State Department this week calling on the government to drop threats to shut down the Cambodia Daily over allegedly unpaid taxes.
Miguel Chanco, lead Asean analyst at the Economist Intelligence Unit, told the Southeast Asia Globe that "this dichotomy is more a reflection of the US' more transactional foreign policy under the Trump administration."
"The US' economic links with the much larger economies of Thailand and Malaysia are far more important to Washington than that of its links to Cambodia," he said. "What's more, Thailand remains a US treaty ally despite the deterioration in that country's democracy since 2014."
Cambodia has also moved firmly into China's corner, best illustrated by its support for Beijing amid rising tensions in the region over the South China Sea. Prime Minister Hun Sen has also made a habit of publicly blasting the US during public appearances over the past year.
He has used nationally televised speeches to lambast the US for carpet bombing Cambodia during the Vietnam War, and for its insistence that Phnom Penh repay a debt accrued during that time. He has also accused the US of causing global instability and the spread of terrorism with its wars in the Middle East.
At the same time, Hun Sen has gone to great lengths to show his appreciation for China, which ostensibly offers aid with "no strings attached," sparing him public scolding from donors with democratic agendas. This has all led many to speculate that Cambodia is taking an intentional shift away from the West, despite decades of balancing support from superpowers.
However, government spokesperson Phay Siphan has dismissed the notion of a pivot to China, writing on Facebook that the claim was being manufactured by the West to turn Cambodia into a geopolitical battleground reminiscent of the Cold War – a period that would give rise to the Khmer Rouge.
Intentional or not, the discord between the countries appears set to escalate even further. Within a day of NDI being shut down, news broke that the US was imposing a visa ban on four countries who had been refusing to accept citizens deported from the US. Cambodia was on the list along with three countries in Africa.