After winning gold at the Asian games and capturing the imagination of Cambodia, Sorn Seavmey has the world at her feet and a plan to make her dreams become reality

From Discover Magazine 2015
Bounding down the corridor of an inner-city beauty salon en route to a makeover session, statuesque Sorn Seavmey promptly walks straight into the glass door being held open for her. A great "doiiiing!" sound rings out as face smooshes into glass and a nervous silence settles over the makeover team.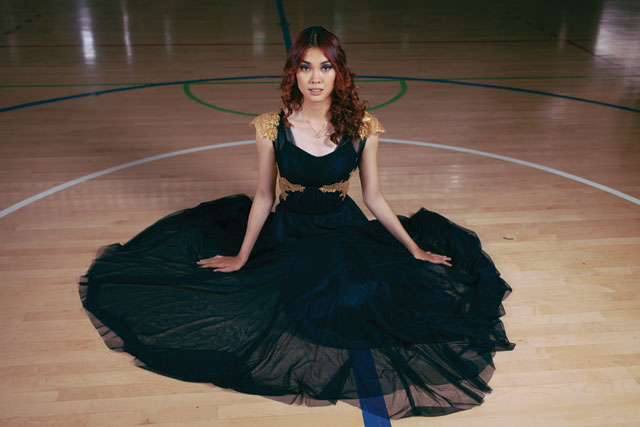 We eyeball each other uncomfortably, before taekwondo star Mey, as she's affectionately known, giggles and carries on with the conversation she was having with her manager.
At just 19 years old and standing at an impressive – especially for Cambodia – 180cm tall, Mey has become the country's hottest property after winning gold in the women's taekwondo under-73kg competition at the 2014 Asian Games in Incheon, South Korea. The victory was all the sweeter as it also marked the Kingdom's first Asian Games medal win in 44 years. Everyone from excitable school children to Prime Minister Hun Sen has been enthralled by the teenager's story, which begins with humble origins in a modest house on the outskirts of Phnom Penh.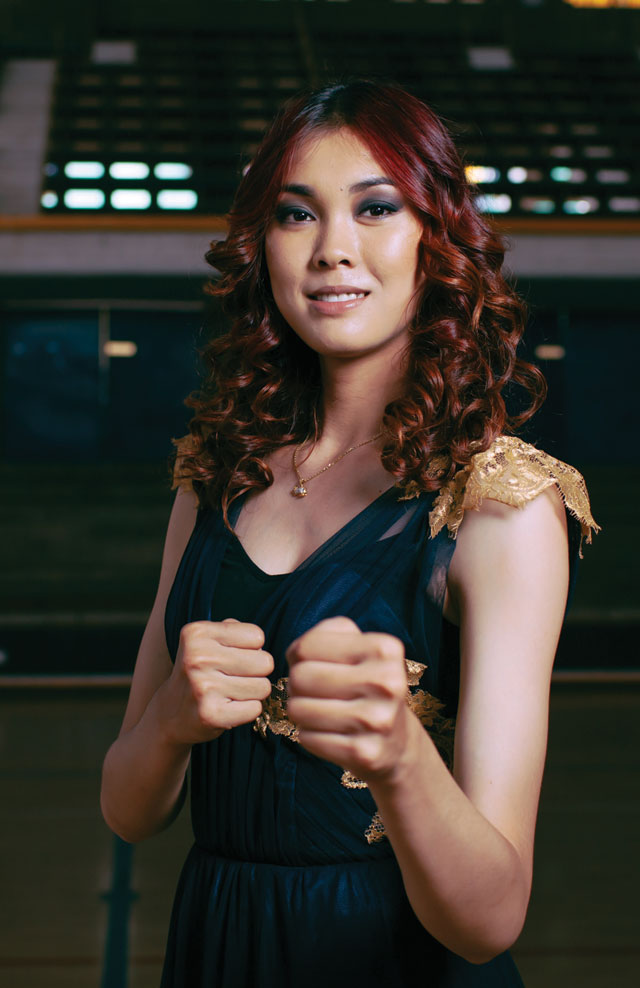 The youngest of six siblings, Mey says that for much of her young life she was largely uninterested in sport. One of her sisters, on the other hand, took up taekwondo in the hope of earning a little extra money for the family, since they were enduring some tough times.
"I watched her train for seven years before I finally decided to join her and I realised that I loved it," Mey says, perusing a tray stacked high with doughnuts as her ruby-tinted hair is twirled around a pair of hot tongs.
Leading up to her appearance at the Asian Games, Mey was slogging it out at training three times a day, six days a week. Although it took a while before she truly appreciated the martial art's subtleties, she insists she now finds strength in taekwondo's ancient rhythms.
"I didn't find taekwondo enjoyable before I started practising it myself. Now I have found that it is a calm and soft sport, from the way we warm up to the way we learn about the art," she says, adding that the blue and red of her country's colours provide her with the oomph she needs in trying times. "Every time I feel tired and want to give up, I just look at the uniform and it gives me energy and motivates me to continue striving to achieve my goal."
As part of her bounty for winning the medal, Mey received 80 million riel ($19,600) from the Cambodian government, which she says she will use to further the promotion of taekwondo in the Kingdom.
"In due time, I will use my fame to open one or two taekwondo clubs. I've already had a lot of requests to do this from young people who want to get into the sport."
Pouting for a final slick of lipgloss, Mey glances out of the sixth-floor window at the humming Phnom Penh traffic below.
"I do see that I am a role model now. I am the one who has brought taekwondo to life in Cambodia and I think a lot of Cambodians will be interested in the sport now." Her newfound fame seems like a gathering weight on her slender shoulders.
Clutching at the midnight-blue and gold gown we have brought for the athlete to wear for the first photoshoot granted to a publication since her win, Mey appears a little perplexed and a lot out of her comfort zone. This is despite the fact she looks like she has just tumbled out of the pages of a glossy women's magazine, all cascading curls, smoky eyes and flowing layers of chiffon.
She zips herself into a hoodie, her gown jutting out from the bottom, and we head to the Vann Molyvann-designed Olympic Stadium – where it all began for Cambodia's newest golden girl.
Small children who are preparing for an indoor football match run up to the star, checking whether she is, in fact, the same Sorn Seavmey they have seen on the TV. Rouge-covered cheeks and camera flashes are quite the change from her usual dobok (taekwondo gear) and sweaty brow.
Taking direction from the photographer, Mey pulls some of her killer moves and swiftly collapses in a ball of laughter – her dress is not quite the attire she's used to. While everyone wants a piece of Sorn Seavmey – and her manager, Nhan Sokvisal, keeps a  watchful eye on her at all times – it's clear the youngster is focused on her sport and elevating her country to the level she believes it deserves to be at.
"I want to be the one who shows people that it's not only other countries that can [achieve sporting greatness]. Cambodia can do it too."
****
Find this story and the complete Discover Cambodia 2015 by downloading our free app